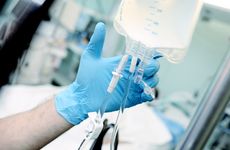 NEW YORK – Refractory multiple myeloma patients now have two CAR T-cell treatment options following the US Food and Drug Administration's approval Monday evening of Janssen Pharmaceuticals' and Legend Biotech's Carvykti (ciltacabtagene autoleucel).
The agency approved Carvykti as a fifth-line treatment for relapsed or refractory multiple myeloma patients who have received a proteasome inhibitor, an immunomodulatory agent, and an anti-CD38 monoclonal antibody. This is the second CAR T-cell therapy approved for refractory multiple myeloma, following the approval of Bristol Myers Squibb's and 2seventy bio's Abecma (idecabtagene vicleucel) last March.
Both therapies involve harvesting patients' own immune cells, using a viral vector to engineer the cells to target the B-cell maturation antigen, or BCMA, on the surface of multiple myeloma cells, expanding these engineered cells ex vivo, and then reinfusing them into the patient's bloodstream as a one-time treatment following lymphodepleting chemotherapy.
Due to high demand, the sponsors of Abecma have struggled over the past year to quickly scale up manufacturing of the only commercially available multiple myeloma CAR T-cell therapy. It remains to be seen whether Janssen and Legend will face similar challenges, but Carvykti's sponsors insist they've prepared for potential issues scaling up their product. Either way, the availability of two CAR T-cell therapies for advanced multiple myeloma patients is better than one, said experts.
When BMS and Bluebird bio spinoff 2seventy launched Abecma on the market last year, the demand was immediately high. The firms split between them about $150 million in Abecma revenue during 2021, and they are expecting drug sales to nearly double this year. The companies set Abecma's wholesale acquisition cost at $419,500 at the time of its approval.
"One of the things that we underestimated was just the incredible demand that we've seen for Abecma since its launch in 2021," 2seventy CSO Philip Gregory said. "We've unfortunately struggled to meet the demand for all of the patients who have come forward with interest in receiving a CAR T-cell therapy."
Bottlenecks in accessing the viral vectors needed to engineer patients' harvested immune cells into Abecma CAR T cells have been the main challenge, according to Gregory. "At any given time, one component part of the entire manufacturing supply chain may be limiting the number of patients you can treat, [and] at the moment, the vector is the limiting component," he said.
BMS and 2seventy are trying to address this by shifting from manufacturing their vectors using an adherent cell culture to a suspension cell culture approach, which could mean higher throughout, Gregory explained.
But with autologous cell therapies, manufacturing changes have regulatory implications, and Gregory noted that the sponsors are shifting to the suspension cell culture approach having submitted the necessary data to the FDA. "For any change that you make to your commercial drug process, you need to provide the appropriate regulatory information to support that change," he said. "We've been well-engaged with the agency in terms of what they wish to see, and we are well on our way to making that process change."
2seventy's partner BMS has also addressed Abecma's scale-up problem. In a call to discuss 2021 financials last month, Chris Boerner, BMS' chief commercialization officer, said the firm is working closely with its contract manufacturing organizations to accelerate capacity for the viral vector, and that BMS and 2seventy expect to be in a "much better position" to meet demand by about the middle of this year.
The median turnaround time for creating and delivering the one-time Abecma treatment is 33 days from harvesting patients' cells to reinfusion. Currently, around 70 treatment centers in the US can offer Abecma, although the availability of the therapy varies at these centers given the viral vector bottlenecks.
Perhaps, having seen the supply chain pressures facing its competitors, Janssen and Legend have said they will launch Carvykti first at a limited network of certified treatment centers in the US and gradually scale up production capacity to ensure they can "provide Carvykti treatment to oncologists and their patients in a reliable and timely manner." While the firms declined to share how many treatment centers they've targeted for the initial Carvykti rollout, they reiterated they're taking a "phased approach" to bringing the treatment to market.
Janssen has set Carvykti's wholesale acquisition cost at a premium to Abecma's, at $465,000, believing that Medicare and commercial payors will reimburse the treatment at that price, because it "reflects the significant clinical value of this cell therapy in addressing an unmet medical need."
Despite the steep price tag for both Carvykti and Abecma, demand may be high enough to boost sales of both drugs. "There are going to be more than enough patients for both of the now-approved CAR T-cell therapies in this space," said Gregory.
Even so, Abecma and Carvykti are ultimately competitors on the market, and the real-world experience of patients using these treatments will help doctors refine when to prescribe one over the other. From an efficacy standpoint, the two therapies are hard to compare in the absence of a head-to-head randomized trial. Even though cross-trial comparisons come with a host of caveats, Carvykti did result in a longer duration of response in its pivotal trial than did Abecma.
Specifically, in the pivotal Phase I/II CARTITUDE-1 trial, 98 percent of advanced multiple myeloma patients had some response to Carvykti, and as of the most recent analysis, 83 percent experienced a complete response. After a median follow-up of 18 months, the median duration of response was 21.8 months. After two years of treatment, the median progression-free survival time has not been reached.
"This is a major advance from my point of view," said Sundar Jagannath, director of the multiple myeloma program at Mount Sinai and the principal investigator of CARTITUDE-1. According to Jagannath, his very first patient on Carvykti is still in remission and has no signs of minimal residual disease after four years. Two additional patients Jagannath prescribed Carvykti for are in complete remission and still MRD-negative after nearly three years.
"This is amazing," he said. "This does not happen in this relapsed, refractory patient population."
Abecma's approval, meanwhile, was based on the Phase II KarMMa trial, in which 73 percent of patients responded, and 33 percent experienced complete responses. The median duration of response was 10.9 months among all patients and 21.5 months among complete responders. After two years of follow-up, patients on Abecma lived for a median of 8.6 months without progression.
Regardless of how drugs perform in a controlled clinical trial environment, that's not the only thing an oncologist relies on when deciding which drug to prescribe, noted 2seventy's Gregory. "It's not just about response rates," he said. "Physicians will make a treatment choice based on their own personal experience."
"If they've had great experiences with Abecma in the last few patients they've treated, I'm sure they'll continue," he added, emphasizing that Abecma has the advantage of a year's worth of real-world evidence supporting its use, not just in terms of efficacy but also safety. In the pivotal trials of Abecma and Carvykti, there were similar rates of serious side effects such as grade 3 or higher cytokine release syndrome.
Despite his personal involvement with the Carvykti trial and excitement over the seemingly longer durable remissions seen in CARTITUDE-1, Mount Sinai's Jagannath encouraged advanced multiple myeloma patients and their oncologists to use whichever treatment is immediately available to them.
"Based on the results and all the hoopla surrounding it, patients may say they prefer [Carvykti]," he said. "But if their disease is bad, and they can get [Abecma] right away … my God, they are better off getting [Abecma] and staying alive."
Moreover, the field is advancing rapidly. Should multiple myeloma patients who receive Abecma or Carvykti experience recurrence, by then there may be even newer commercially available therapies, such as BCMA-directed bispecific antibodies.
"Just get into remission with whichever CAR T is available," Jagannath said. "Because the future is good, but opportunity is only available to patients who are alive."