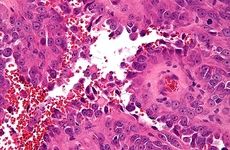 NEW YORK – Angiosarcoma, a rare cancer that materializes in the inner lining of blood vessels, occurs in about 300 patients a year in the US. Because of the relatively low case numbers and the geographic dispersion of patients, the disease has been notoriously difficult to study, according to Corrie Painter, the associate director of operations and scientific outreach for the Broad Institute's Cancer Program.  
A few years ago, the Broad partnered with other institutions to launch an effort called Count Me In, with the goal of leveraging online tools to remotely engage patients and collect samples ─ along with other data ─ of cancers that have been hard to study and lack treatment options. The Count Me In approach has been applied with success to studying metastatic breast cancer since 2015. Using the same methods, several hundred angiosarcoma patients in the US and Canada have now registered to partake in a project with hopes of advancing understanding of their disease. Patients have submitted samples that have been sequenced, revealing mutations with potential therapeutic implications. 
The experience to date with the Angiosarcoma Project was described on Monday in Nature Medicine. 
Painter, the lead author on the paper, brings her own experience with the disease to the project. She was diagnosed with angiosarcoma of the breast in 2010, the year she was supposed to graduate from her PhD program.
"I thought it was a terminal diagnosis at the time. We all did," Painter recalled. Surgery is curative for some patients like herself, she said, but many angiosarcoma patients become metastatic.
There is a dearth of targeted treatments for the disease, and since the patient population is so small, Painter said there is no standard of care. Most patients will receive chemotherapy agents like taxanes or anthracyclines, but resistance develops quickly. Sometimes patients will cycle through different therapies used to treat sarcomas.
In the data reported by patients within the Angiosarcoma Project, the most common treatment was the taxane paclitaxel, followed by the anthracycline doxorubicin.
Angiosarcoma can occur anywhere in the body, though it tends to have a primary site. The largest demographic of patients are elderly white people, who often get head, neck and scalp angiosarcoma. "It's a very grim scenario where it just spreads through their skin," said Painter.
The prognosis can differ depending on where the cancer manifests in the body. Generally, the prognosis for angiosarcoma is poor, said Painter, though there's too little data to pin a number on it. She estimated that between 5 percent and 30 percent of patients will be alive five years after diagnosis.
Painter stayed at her graduate lab an extra year while she figured out if she was going to live or die. "And then I kept living, graduated, did a postdoc in cancer immunology, and then saw this opportunity at the Broad Institute of MIT and Harvard to help them conceive of and launch these patient-partnered research efforts that were really geared at providing infrastructure in areas that do not have infrastructure," she said.
The model that experts at the Broad and Dana-Farber Cancer Institute came up with was to incite a grassroots data collection campaign combining social media, advocacy partners, and word-of-mouth. The first such effort was the Metastatic Breast Cancer Project, where more than 30 advocacy partners helped spread the word within their patient populations. They especially hoped to reach patients in rural areas that don't have major academic institutes studying their disease.
"There's so much unmet need in exceedingly rare cancer that can't be addressed through traditional academic research methods for many reasons, [such as] funding and the geographical dispersion of patients and the lack of incentive for people to do that research," said Painter. "We thought that we could leverage that platform that we built for the metastatic breast cancer project and basically just face it toward this other disease community. And we built it with patients in my own community and launched it."
Between its launch in 2017 and the start of this week, 500 patients have signed up for the Angiosarcoma Project. The Count Me In initiative is spearheaded by social change organization Emerson Collective, the Broad Institute of MIT and Harvard, the Biden Cancer Initiative and the Dana-Farber Cancer Institute. In addition to metastatic breast cancer and angiosarcoma, the initiative has also launched projects for prostate cancer, esophageal and stomach cancer, and brain cancer. The team is planning to launch the osteosarcoma project at the end of the month.  
When patients sign up for the Angiosarcoma Project, they can provide information about their experiences and give permission to researchers to access their medical records and tumor samples stored within their treating institutions. They are sent a saliva kit, through which they can provide researchers a sample. Using the saliva samples and the procured tumor samples, researchers then perform whole-exome sequencing and compare the genomic profiles of patients' normal and cancer cells.
Sometimes, the researches will collect blood samples from patients for cell-free DNA analysis. The project sometimes sends participants a self-collection kit, or participants can go to a Quest Diagnostics lab to have their blood drawn and sent to the Broad for genomic analysis.
In the published dataset, the team performed whole-exome sequencing on 70 obtained tumor samples. Due to sample quality, the available data of 47 samples from 36 patients were used for subsequent genomic analysis.
The analysis flagged 30 genes that were recurrently altered. These include genes like KDR that have been previously implicated in angiosarcoma, as well as genes that have not been previously reported to be mutated in the disease, such as PIK3CA, GRIN2A, and NOTCH2.
Painter highlighted that 90 percent of PIK3CA mutations were identified in primary breast angiosarcoma patients. PIK3CA happens to be one of the most commonly mutated genes in breast cancer, suggesting that a tissue-specific context might be driving cancers.
PIK3CA, along with TP53 and KDR were the top three commonly mutated genes in patients. About 89 percent of KDR missense mutations were found in primary breast angiosarcoma samples, while 82 percent of TP53 missense mutations were not primary breast.
Angiosarcomas of the head, neck, face, and scalp (HNFS) had the highest tumor mutation burden, which researchers believe may be due to the damage from ultraviolet (UV) light. Previous data has indicated that high TMB may be a possible biomarker of response to immune checkpoint inhibitors, and upon reviewing the medical records of two patients with HNFS angiosarcoma, the team reported that they had received pembrolizumab (Merck's Keytruda) off-label and had experienced durable responses. This, the authors noted, presents the potential of using immune checkpoint inhibitors for HNFS angiosarcoma.
As Painter's team makes such discoveries, they share it with patients on the same social media channels they used to recruit participants into the project. In this way, patients can then take this information to their doctors to explore if sequencing or panel testing may be an option to identify potential therapeutic options.
"We want to look at all features, both in the somatic space and in the germline space and in the clinical space to understand as much as we can about this disease and put that out for the medical community to then turn around and hopefully develop into clinical trials," said Painter.
According to Painter, there are three clinical trials that have spun out using the data that the Angiosarcoma Project has generated (because it has been out on the pre-print server bio-Rxiv now for over a year).
There are two trials still being designed. One already existing trial was inspired to add angiosarcoma as Cohort 51 in a study investigating the effects of PD-1 inhibitor nivolumab (Bristol Myers-Squibb's Opdivo) and CTLA-4 Inhibitor ipilimumab (marketed as Yervoy by Bristol-Myers Squibb) on rare cancers.
"The value that comes from working so closely with patients to build, launch, and see a project through can't be overstated," Painter said. "Sometimes you just have to build it with them for there to be a path forward."