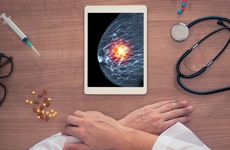 CHICAGO – In a study presented Tuesday during the American Society of Clinical Oncology's annual meeting, molecular subtyping identified a group of breast cancer patients who can safely forgo radiation therapy following breast-conserving surgery.
Timothy Whelan, a professor of oncology at McMaster University in Canada, presented results from a multicenter cohort study, dubbed LUMINA, showing that patients over age 55 with low-grade luminal A-type breast cancer could fare just as well with endocrine therapy alone, rather than endocrine therapy and radiation, post-surgery.
The study, which was jointly sponsored by the Canadian Breast Cancer Foundation and the Canadian Cancer Society, tracked 501 patients who had undergone breast-conserving surgery. These patients had node-negative breast tumors defined as luminal A subtype, meaning they expressed estrogen receptors in at least 1 percent of cells; expressed progesterone receptor in more than 20 percent of tumor cells; were HER2-negative; and, importantly, expressed the Ki67 protein marker on up to 13.25 percent of cells. The Ki67 testing was centrally performed via immunohistochemistry.
Patients whose tumors fit these molecular criteria received endocrine therapy after surgery without radiation. After a median follow-up of five years, 2.3 percent of patients experienced local recurrence — the study's primary endpoint — meaning cancer that recurred in the same breast as the surgical resection.
"This is the first molecularly stratified test and trial showing whether we can go beyond clinical and pathological variables to identify this patient population [that doesn't need radiation]," noted Corey Speers, an associate professor of radiation oncology at University of Michigan Health, in a presentation to members of the media Monday morning.
Investigators compared this rate to the one they'd assumed: a 3.5 percent local recurrence rate. This study "supports that such patients are candidates for omission of radiotherapy," Whelan said, adding that these results could apply to as many as 30,000 to 40,000 women each year "who could avoid the morbidity, inconvenience, and cost of radiotherapy."
Looking into other endpoints, Whelan and colleagues noted that the five-year overall survival rate was 97.2 percent, and just one patient died from breast cancer.
"These are amazing results from a well-thought-out and well-conducted study," Jennifer Bellon, director of breast radiation oncology at the Dana-Farber Cancer Institute, noted during a discussion of the LUMINA data. She did, however, go on to highlight past studies that, with longer follow-up, have shown a benefit with radiation therapy for preventing local recurrence. She highlighted, for example, a previous study showing that low-risk patients who received endocrine therapy alone versus endocrine therapy and radiation went on to experience higher rates of local recurrence 10 years later. "But even if local recurrences continue to increase over time, it's highly unlikely there will be any compromise in distant disease or overall survival," she said, suggesting that patients' personal values and preferences should accordingly play into the decision-making process for omitting radiation. That is, if patients care strongly about preventing a local recurrence, even if that local recurrence is highly unlikely to spread or impact their survival, added radiation therapy may be preferred. 
In a presentation given to members of the press Monday morning, Whelan acknowledged that it will take asking individual women what's important to them, and that he can't make a blanket statement about their openness to de-escalating therapy. But from his personal experience enrolling and conducting the LUMINA trial, he recounted that "most women with very small cancers were very comfortable avoiding radiotherapy if the choice was [omitting] daily treatments for 5 weeks with associated side effects. … We didn't have a problem with enrolling women in this study, and I suspect that many women after surgery on endocrine therapy may want to avoid the side effects of radiation."
Whelan and colleagues are continuing to follow patients enrolled in the LUMINA trial to assess the longer-term implications of forgoing radiation in this subset of patients.
Cutoffs, considerations
Using a very precise cutoff for Ki67 protein expression with immunohistochemistry — a cutoff of 13.25 percent of cells or less — was a deliberate choice, Whelan explained during a panel discussion session on Tuesday morning.
"I know that, commonly, 20 percent has been used as a cutoff, but we wanted to be very conservative in this," he said. "When you have a cutoff of 20 percent, sometimes a pathologist will just eyeball the cancer and say it's 20 percent or less."
For this study, pathologists counted 500 cells, and Whelan acknowledged the time this took. "This takes maybe eight to 10 minutes, but it can be an automated process as well. … We think going forward there are ways to make this more streamlined and easier." For instance, he told members of the media that using an automated process for the cell counting could make the Ki67 testing more feasible to be implemented widely, even though the study adhered to a centralized, stringent testing process.
"I suspect that this could be introduced very widely and could be done very reliably," he said.
The LUMINA study results come as genomic subtyping to guide therapy de-escalation becomes more common for early-stage breast cancer. For example, Exact Sciences' Oncotype Dx gene expression assay has been validated as a method for deciding which early-stage breast cancer patients can do well without adjuvant chemotherapy. Whelan and colleagues are studying those gene-expression approaches for guiding radiation de-escalation, too.
But, in the meantime, he pointed out the reason to use Ki67 expression as a de-escalation biomarker. "For many patients with small tumors that are grade 1 … they weren't going to have Oncotype testing," he said. "We wanted to have a biological predictor. We also chose it because for healthcare systems that can't afford multigene parameter studies, we wanted to have an option for them."
The study that Whelan and colleagues are working on to evaluate Oncotype Dx for radiation decisions is enrolling patients with node-positive cancer, contrary to the node-negative eligibility criteria required of LUMINA. Oncologists hope that that trial, along with a number of others that are nearing completion, will continue building out clear evidence and criteria for guiding how much therapy these early-stage, low-risk breast cancer patients really need, and which therapies with the associated toxicities and cost they can safely avoid.