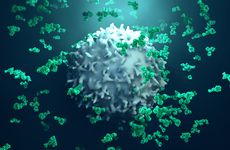 This story has been updated with additional comments from Elaine Mardis during the plenary clinical trials session of the AACR annual meeting. The headline has also been updated.

NEW YORK − BioNTech's personalized cancer vaccine RO7198457 combined with the PD-L1 inhibitor atezolizumab (Genentech's Tecentriq) appears to be active and well tolerated in patients with solid tumors, according to new data presented at the second virtual session of the American Association for Cancer Research's annual meeting last Friday.
Although only two patients saw their tumors shrink in the Phase IB study, the vaccine appeared to stimulate immune responses in most evaluable patients, according to lead researcher Juanita Lopez from the Royal Marsden NHS Foundation Trust and the Institute of Cancer Research. Lopez and her colleagues are conducting biomarker analyses to try to better identify patients most likely to respond to the vaccine-immunotherapy combination.
The Phase IB study enrolled 144 patients with a range of advanced solid tumors, most commonly non-small cell lung cancer, melanoma, triple-negative breast cancer, and urothelial cancer. Patients were enrolled in the trial regardless of their PD-L1 expression status or whether they had received prior checkpoint inhibitor treatment. Most enrolled patients had previously received an average of three treatments, including immunotherapy, and the majority also had low levels of PD-L1 expression on both tumor and immune cells.
RO7198457 is a messenger RNA-based cancer vaccine that is intended to stimulate the patient's immune system to produce an anti-tumor response. "Mutated neoantigens can be recognized by the immune system as foreign and induce strong T cell responses," Lopez said during a press call on Friday. "Most of these mutated neoantigens are not shared between patients. Therefore, targeted neoantigen-specific therapy requires an individualized approach."
The vaccine is developed for each patient based on the mutations characterizing his or her tumors. Patients first get their blood and tumor samples sequenced, during which up to 20 tumor-specific neoantigens are identified based on the patient's somatic mutations. The selected neoantigens are encoded into mRNA molecules, which are used to make the vaccine. The vaccine then delivers these neoantigens preferentially to antigen-presenting cells, including dendritic cells in the spleen.
By binding to receptors on the dendritic cells, the vaccine can activate them, which in turn triggers an immune cascade that ultimately boosts CD4 and CD8 T cell responses.
After analyzing peripheral blood from 63 patients so far, investigators saw that 73 percent of patients had neoantigen-specific T cells responses that were induced by the vaccine.
"Preliminary evidence suggests infiltration of RO7198457-specific stimulated T cells into the tumor microenvironment," Lopez said. "[RO7198457-specific T cell receptors] that were absent pre-treatment were able to be detected post treatment."
Of the 108 patients who had at least one tumor assessment, nine responded to the treatment. One rectal cancer patient had a complete response, one triple-negative breast cancer patient had a partial response, and 53 patients had stable disease. Both the rectal cancer and breast cancer patient experienced very durable responses, with the breast cancer patient still on treatment after more than 1.5 years, despite having multiple lines of therapy before coming on the study.
Lopez said that the response rate is low in part because the patient population is heavily pretreated and very heterogenous.
Despite the low tumor response, the personalized vaccines were clearly stimulating the immune system as designed, according to Lopez. "We often never see any immune cells within tumors. In this study, we've managed to show that in the majority of patients, we were able to elicit a specific immune response," she said. "But this in and of itself may not be sufficient."
She and her colleagues are now interrogating the tumor biology from patient biopsies to see if there are any biomarkers that set apart the responders from the non-responders.
Additionally, Lopez is of the view that these personalized vaccine approaches may have the best chance of working earlier in the patient's cancer journey, such as in the neoadjuvant setting. This is now being tested in a randomized Phase II study in non-small cell lung cancer. 
"Correlative immune evaluations demonstrated that there was an immune system response in most patients that was specific for some, but not all, of the neoantigens in the vaccine," said Elaine Mardis, co-executive director of the Institute for Genomic Medicine at Nationwide Children's Hospital, reviewing data from the study during a clinical trial plenary session at the AACR virtual meeting. "Most patients, however, did not benefit from the therapy based on progressive disease and objective response rates," with 67 percent of patients discontinuing treatment due to progressive disease and 16.9 percent of patients discontinuing treatment before completing six weeks of therapy.
Mardis noted that in future personalized vaccine studies, investigators should look beyond simple nonsynonymous point mutations to predict neoantigens. "While fewer in number, frameshift indels, fusion junction peptides, and other sources of neoantigens, such as alternative splicing, may present better, stronger neoantigens that are more immune stimulatory," she said.
She also said there was much room to improve on approaches for predicting neoantigens presented by cancer cells by using multiple prediction algorithms and identifying neoantigens that overlap between the different models. There also needs to be better validation of the predicted neoantigens to support the fact that they will be processed and presented on the cancer cells. This, Mardis suggested, can be done best through an immunopeptidomic mass spectrometry-based assay. A caveat to confirming and validating neoantigens, she noted, is that they may add time and expense to the research project.
Mardis further observed that neoantigen vaccine clinical trials could benefit from tightening the patient exclusion criteria, such as selecting based on prior lines of therapy and immune health to stratify the patients most likely to respond to treatment or by focusing on a specific tumor type.
The majority of reported adverse events in this study were grade 1 or 2, though seven patients discontinued treatment due to adverse events. No dose-limiting toxicities were observed.
Another poster presented at AACR reported results from a Phase IA study of RO7198457 as a monotherapy in patients with solid tumors. Among the 26 patients who had at least one tumor assessment, one patient with gastric cancer had an ongoing complete response, and 11 patients had stable disease. 
Several companies are currently advancing personalized cancer vaccines through clinical trials. Geneos Therapeutics, for example, is developing a personalized cancer vaccine for hepatocellular carcinoma patients who have progressed on, or are intolerant to, first-line treatment with a tyrosine kinase inhibitor. 
Also, Transgene and NEC Corporation announced in early January that their immunotherapy vaccine based on 30 neoantigens was entering two Phase I trials for head and neck cancer, as well as ovarian cancer. 
Gritstone Oncology provided updated Phase I results from its two neoantigen-based immunotherapies in solid tumor patients at the JP Morgan Healthcare Conference earlier this year and expects to start Phase II trials in the second half of 2020.