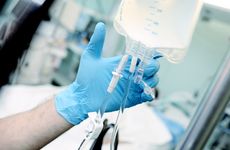 NEW YORK – Multiple myeloma patients whose cancers relapse shortly after an autologous stem cell transplant may subsequently benefit from Bristol Myers Squibb and 2seventybio's autologous CAR T-cell therapy Abecma (idecabtagene vicleucel), according to research presented at the American Society of Hematology's annual meeting on Saturday.
The US Food and Drug Administration approved Abecma in March 2021, making it the first commercially available CAR T-cell product for multiple myeloma patients. The agency's approval of the B-cell maturation antigen (BCMA)-directed cell therapy was based on data from the pivotal Phase II KarMMa trial, which stipulated that patients must be heavily pretreated with at least four prior lines of therapy to be eligible for Abecma. In Europe, Abecma is approved for multiple myeloma patients who have received at least three other therapies.
Waiting until fourth- or fifth-line treatment for Abecma eligibility can be challenging for patients with particularly aggressive cancers, Krina Patel, a myeloma specialist at the University of Texas MD Anderson Cancer Center, said during a presentation on Saturday. "For most of my high-risk patients, we can't get them to that fifth line," she said. "Hopefully, this trial will help with that."
Patel presented results from cohort 2a of the Phase II KarMMA-2 trial, in which multiple myeloma patients at high risk of relapse received Abecma as second-line therapy. In order to be considered "high-risk" and enroll in this cohort, patients must have relapsed within 18 months of receiving a front-line treatment containing induction chemotherapy, autologous stem cell transplant, and lenalidomide-based maintenance therapy.
Of 37 patients in this cohort who received Abecma, 45.8 percent had a complete response to the cell therapy, which Patel pointed out was higher than the 24.3 percent of patients who'd had complete responses to their first-line treatment regimen. After a median follow-up of 21.5 months, the overall response rate with the CAR T-cell therapy was 83.8 percent.
"In these difficult-to-treat patients, these high response rates are encouraging," Patel said.
For patients whose cancers responded to Abecma, the median duration of response was 15.7 months. Among those with complete responses, the median duration of response was 23.5 months. Patients lived for a median of 11.4 months without their cancers progressing following Abecma, and though the median overall survival time was not yet reached, Patel shared that 84.7 percent of patients were still alive two years after Abecma — a trend she said seemed like a meaningful improvement over historical control data.
As an exploratory endpoint beyond response rates and survival outcomes, Patel and her team looked into minimal residual disease (MRD) in patients' blood samples six months after receiving Abecma.
"Hopefully, one day we'll have [MRD] as a biological biomarker" in this setting, she said. As part of the study, the investigators measured MRD using next-generation sequencing with Adaptive Biotechnologies' ClonoSEQ or using standardized flow cytometry. Of the 37 patients who received Abecma, MRD data was available for 34. Six months after receiving Abecma, 85 percent of evaluable patients who experienced complete responses were MRD-negative.
The investigators also measured patients' BCMA expression levels following Abecma. Two months after the CAR T-cell therapy infusion, soluble BCMA was cleared in 25 out of 37 patients, and Patel pointed out that antigen clearance was much greater for patients who'd experienced a complete response with Abecma than for those who'd had a partial response.
Given patients' high-risk disease status and the fact that the autologous CAR T-cell therapy is an intensive treatment regimen involving lymphodepleting chemotherapy, the toxicities on the KarMMA-2 trial were significant. Two patients died of adverse events, and most patients experienced grade 1 or 2 cytokine release syndrome. Having said that, Patel noted that these toxicities were numerically lower than those typically seen in patients receiving Abecma in later treatment lines.
Looking ahead, Patel said the cohort 2a data demonstrated that these high-risk patients could have meaningful responses to Abecma earlier in their course of treatment than the commercially available fifth-line indication.
The drugmakers that market Abecma seem eager to make the treatment available to patients earlier on, too. In August, BMS and 2seventybio said they would speak with regulators about a readout from the KarMMa-3 trial, a randomized Phase III trial of Abecma versus investigator's choice standard-of-care therapy involving multiple myeloma patients who'd had more than two, but fewer than four, prior lines of treatment.
Fine-tuning definition of high-risk
Beyond the potential to move Abecma to an earlier treatment setting, Patel said that the KarMMa-2 data underscore the need to identify patients at high risk of cancer relapse. She recognized that using additional biomarkers could further refine the definition of high-risk in this patient population.
"We don't know that these patients are high-risk when we're starting treatment, and then all of a sudden they relapse," she said. "We need better ways to look at these patients and say, 'This really is who's high-risk and who isn't,' and be more inclusive of what that is. There's probably some cytogenetic risk we just don't know."
At present, Patel acknowledged that translational genomic and immune microenvironment data hasn't yet pinpointed the reason why some patients have high-risk disease, but she urged the field to study this in greater depth. A high-risk patient's "myeloma is probably a different biology," she said. "But what caused [the] myeloma to be high-risk? I don't know."