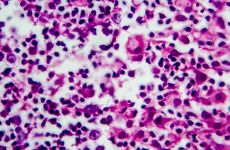 NEW YORK – Based on the promising efficacy and safety data seen with a CD30-directed CAR T-cell therapy in heavily pretreated Hodgkin's lymphoma patients, researchers are encouraged that CD30, a notable hallmark of such tumors, may be a particularly potent antigen receptor worth exploring further in cell-based therapies.
Researchers led by Barbara Savoldo from the University of North Carolina's Lineberger Comprehensive Cancer Center recently published a paper in the Journal of Clinical Oncology in which they reported that the majority of 41 adult patients with relapsed or refractory Hodgkin's lymphoma treated with CD30-directed CAR T-cell therapy after lymphodepletion chemotherapy responded to the treatment. In addition, the therapy was well tolerated, with no reported neurologic toxicities. 
The analyzed dataset was pooled from two clinical studies conducted at UNC's Lineberger Comprehensive Cancer Center and Baylor College of Medicine.
The 41 patients had an average of seven prior lines of therapy before being treated with the CD30 CAR T cells. The overall response rate for the 37 evaluable patients was 62 percent. In the 32 patients who received fludarabine-based lymphodepletion therapy before treatment with the CD30 CAR T-cell therapy, the overall response rate was 72 percent, and 59 percent of patients had a complete response. Six patients had progressive disease at the first response assessment.
At a median follow up of 533 days, researchers found that 36 percent of all 41 patients remained disease-free at one year and 94 percent of patients were still alive a year after treatment. Three patients died from progressive disease.
Patients experienced mostly grade 1 adverse events and no neurologic toxicities. All side effects were mild enough that there wasn't a need to interrupt, stop, or alter the therapy.
CAR therapy is a type of immunotherapy that involves taking a patient's immune cells and engineering them to include chimeric antigen receptors that can recognize specific proteins on cancer cells and attack them. The US Food and Drug Administration approved the first CAR T-cell therapy, axocabtagene ciloleucel (Gilead Sciences' Yescarta), in 2017 for patients with non-Hodgkin's lymphoma and large B-cell lymphoma. In early 2019, the FDA approved tisagenlecleucel (Novartis' Kymriah) for patients with B-cell precursor acute lymphoblastic leukemia (ALL) and B-cell lymphoma.
Earlier this year, the agency approved brexucabtagene autoleucel (Gilead's Tecartus) for relapsed or refractory mantle cell lymphoma patients. All three FDA-approved CAR T-cell therapies are directed at CD19 and have significant toxicities associated with them, such as grade 3 or higher cytokine release syndrome. 
The toxicities observed from CD19 CAR T-cell therapies tend to be side effects that occur from 'on-target, off-tumor toxicity,' when CAR targets also appear on normal tissues. Over the last few years, different groups of researchers have been trying to home in on more specific CAR targets in the hopes of increasing therapeutic efficacy while decreasing the risk of off-tumor effects. 
In the JCO study, grade 1 cytokine release syndrome was reported in 10 patients on the CD30-directed CAR T-cell therapy. The treatment, in addition to being well tolerated, also goes after a subset of lymphoma that's currently not targetable with a commercially approved CAR T-cell therapy.
Savoldo, assistant director of the immunotherapy program at UNC's Lineberger Comprehensive Cancer Center and the lead author on the JCO study, said that she and her team chose to look at CD30's potential as a CAR T-cell target because Hodgkin/Reed-Sternberg (HRS) cells universally express CD30, and the CD30-specific antibody drug conjugate brentuximab vedotin (Seattle Genetics' Adcetris) is active in patients with Hodgkin's lymphoma. CD30 is very restricted to the tumor and is highly expressed on tumor cells, which allows the CAR T cell to effectively target tumors and kill them.
Although there are no US Food and Drug Administration-approved CD30-directed CAR T-cell therapies, the CD30 antibody drug conjugate brentuximab vedotin has FDA approval for Hodgkin's lymphoma patients and patients with CD30-expressing peripheral T-cell lymphomas. "With [brentuximab vedotin], you can target the disease, but the problem with the antibody is that to be effective, it is conjugated with a chemical that is neurotoxic. It's very successful in about a quarter of the patients," said Savoldo. "Some develop this neurotoxicity related to the conjugate … and due to neurotoxicity, cannot continue on the antibody treatment."  
This neurotoxicity does not occur with the CD30 CAR T-cell therapy. Savoldo and colleagues are continuing to look into the biological rationale behind the positive safety data around their CD30 CAR T-cell therapy, but they suspect one of the reasons is due to the disease characteristics associated with Hodgkin's lymphoma.   
"The bulk of the disease that is present in non-Hodgkin's lymphoma is a little different than what we see in Hodgkin's lymphoma. And this is because the Hodgkin's tumors are composed of few tumor cells that are recruiting a lot of other components of the immune system that make the tumor environment extremely immunosuppressive," Savoldo explained. "[We think that it] is potentially a less proinflammatory environment than what we see in the CD19 non-Hodgkin's lymphoma."
Another reason behind the reduced off-target effects of the CD30 CAR T-cell therapy might be because there is little to no circulating tumors  in Hodgkin's lymphoma compared to ALL, which is targeted by CD19 CAR T-cell therapies, Savoldo added. "CD30 is not expressed in the brain. There are no circulating T cells that should go to the brain that are CD30 positive."
A small proportion of patients in the study had prolonged cytopenias, particularly thrombocytopenia. But these effects were mostly attributed to the lymphodepletion portion of the therapy regimen. Lymphodepletion, which has also been used with CD19 CAR T-cell therapy, boosts the effects of the treatment by removing some of the tumor cells along with other cells that are "creating the wrong environment for the T cells to expand," according to Savoldo. They set the stage for the CAR T-cells to have the greatest possible anti-tumor activity.
Savoldo said her team is currently waiting for the data readout from pediatric patients with Hodgkin's lymphoma in the study before making plans to test the treatment in a larger trial.
The researchers are also exploring the potential of the CD30 CAR T-cell therapy in CD30-positive T-cell lymphomas, and in combination with a chemokine receptor, which may better direct the CAR cells to where the tumors are located in the body.
Although Savoldo is hopeful about the promising early outcomes from CD30 CAR T-cell therapy, she acknowledged that there are some patients in the study who did not respond to treatment.
"This is probably not that surprising, because they have exhausted all prior therapy. Potentially, their tumor environment is highly immunosuppressive and not very conductive of CAR T-cells' function," she said. This, she notes, could be a concern for those in the field who hope to one day treat solid tumors with CAR T-cell therapies, since not enough T cells may reach the tumor to have a significant effect, or "the tumor environment may become so inhibitory and so aggressive that it can promptly deactivate the T-cell function."
As a tumor undergoes and resists multiple treatments, it becomes more evolved and more adept at protecting itself from being detected and killed by T cells, Savoldo said. "Maybe if we treat the patients early in their disease course, there might be a better chance to completely eliminate the tumor," she said.