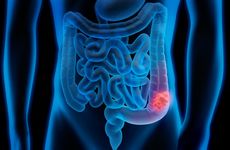 NEW YORK – Early data from a Phase Ib/II trial has revealed encouraging activity of Cardiff Oncology's PLK1 inhibitor onvansertib as a treatment for KRAS-mutant metastatic colorectal cancer when combined with chemotherapy and bevacizumab (Genentech's Avastin).
The data presented during a webcast event for key opinion leaders on Thursday included the experience of 32 evaluable patients receiving onvansertib as a second-line treatment in combination with the standard-of-care chemotherapy regimen FOLFIRI (leucovorin calcium, 5-fluorouracil, and irinotecan) and the VEGF inhibitor bevacizumab. Of 19 patients who received the recommended Phase II dose, 37 percent (seven patients) had a confirmed partial response. Among all 32 enrolled patients, some of whom did not receive the recommended Phase II dose of onvansertib, 12 patients, or 38 percent, had partial responses on the regimen.
Cardiff CEO Mark Erlander noted during the webcast event that the company is waiting for more mature safety and efficacy data before beginning talks with the US Food and Drug Administration, but he added that "all options remain possible" at this point from a regulatory strategy standpoint, including applying for accelerated approval or full approval with the agency once more data is available. The company expects to report more detailed analysis from the trial early next year.
In this preliminary readout, the median progression-free survival for patients across all doses of onvansertib was 9.4 months and has not been reached for the 19 patients who received the recommended Phase II dose, said principal investigator Heinz-Josef Lenz, associate director for clinical research and co-leader of the gastrointestinal cancers program at the University of Southern California Norris Comprehensive Cancer Center.
KRAS-mutated cancers have become the focus of much competition among drugmakers in recent years. Although KRAS was long thought to be an undruggable target, this year the first drug for KRAS G12C-mutated advanced non-small cell lung cancer, Amgen's sotorasib (Lumakras), hit the US market. A growing list of drugmakers, including Mirati Therapeutics, BridgeBio, Verastem Oncology, Jacobio Pharmaceuticals, and Turning Point Therapeutics, are also advancing their KRAS-targeted therapeutic assets at a rapid clip.
Where onvansertib sets itself apart, according to Cardiff, is in its ability to inhibit different types of KRAS mutations. For instance, Amgen's sotorasib was approved only for patients with the KRAS G12C mutation, and other drugs in development also target specific KRAS mutation types. However, onvansertib has shown clinical activity across different KRAS mutations.
Cardiff this week reported clinical responses to its PLK1 inhibitor in colorectal cancer patients with different KRAS mutations in their tumors, including G12D, G12V, and G13D, Lenz said. "The importance of PLK1 [is that it is] downstream of KRAS mutations, and that this downstream effect is not dependent on a specific KRAS mutation, but all KRAS mutations," he said, adding that the clinical data has confirmed this expectation and recorded responses in patients with a range of KRAS tumor mutations.
Other drugs in development are also targeting downstream pathways to treat KRAS-mutated cancers, Afsaneh Barzi, a clinical advisor to Cardiff and medical oncologist at City of Hope Comprehensive Cancer Center, noted during the presentation.
"Unfortunately, targeting KRAS has proven to be very challenging, and direct targeting of KRAS is really not feasible because KRAS has a very high affinity for GTP, which is its activation mechanism," Barzi, who was not involved with the Phase Ib/II trial, said. "Most of the current efforts for KRAS inhibitors is focused on downstream pathways such as MEK inhibition or a combination of MEK, PI3K, AKT, and other pathways."
The activity seen in Cardiff's trial so far cannot be attributed to just onvansertib. The combination of onvansertib and irinotecan, which is included in the FOLFIRI regimen in this study, is what kills cancer cells, said Erlander, explaining that irinotecan causes DNA damage to cancer cells while onvansertib inhibits the ability of PLK1 to repair that damage. "The outcome is tumor cell death," he said, adding that there may be opportunities to similarly combine onvansertib with DNA damage drugs like irinotecan in other tumor types.
In terms of safety, onvansertib was well-tolerated by advanced colorectal cancer patients in this study. The most common adverse events were fatigue, neutropenia, and nausea. Lenz noted that the neutropenia was likely caused by a component of the FOLFIRI regimen, 5-fluorouracil.
The 5-fluorouracil was discontinued in 16 patients who experienced neutropenia, and only two continued to have neutropenia after that part of the treatment was stopped, Lenz said. This, he said, suggested that 5-fluorouracil was the cause of that adverse event in most patients.
A secondary endpoint of interest to Cardiff was the frequency of KRAS mutant allele in patients, which researchers measured using liquid biopsy. They found that the greater the decrease in the KRAS mutant allele frequency after each cycle of treatment, the more likely a patient was to respond to treatment.
Liquid biopsy can be a promising method of monitoring not only treatment response, Lenz said, but also serve as a tool for potentially identifying recurrent or resistant clones. The researchers are continuing to look for features or biomarkers that set responders apart from non-responders, he added, but they have not yet identified a predictive biomarker in this regard, or one that can identify patients most likely to experience progression.
The trial is now fully enrolled, said Katherine Ruffner, Cardiff's chief medical officer, and the company is hoping to expand enrollment to generate more safety and efficacy data, she added.
Cardiff expects to present more mature data from this study in KRAS-mutated colorectal cancer patients in early 2022. While Ruffner would not comment on any planned trials, Lenz noted that he hopes to see a randomized trial in this patient population to support these preliminary results.
The San Diego-headquartered firm is also exploring onvansertib in other cancer types. For example, it is running a Phase Ib/II study of onvansertib in combination with low-dose chemo in relapsed/or refractory acute myeloid leukemia; a Phase II trial of onvansertib plus chemo in metastatic pancreatic ductal adenocarcinoma; and Phase II study of onvansertib plus hormone therapy in metastatic castration-resistant prostate cancer.
 "We believe PLK1 inhibition can be thought of as an Achilles heel for tumors," Erlander said.