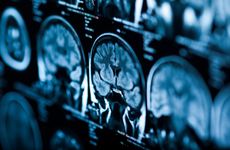 NEW YORK – A new case study is raising questions as to whether larotrectinib (Bayer's Vitrakvi) might be considered earlier on in the course of treatment for NTRK-fusion positive solid tumors, specifically for young patients with high-grade gliomas.
In 2018, when larotrectinib first received accelerated approval from the US Food and Drug Administration, it became the second oncology agent approved with a tumor-agnostic indication.
Pooled data from three early-phase clinical trials had demonstrated encouraging response rates among adult and pediatric patients with NTRK-fusion positive solid tumors who had progressed following standard therapy, resulting in the drug's later-line approval. And while Bayer is continuously conducting studies to further define the population of patients most likely to benefit from the TRK inhibitor, larotrectinib is still approved only for patients with NTRK fusion-positive solid tumors who are treatment refractory or lack satisfactory treatment options.
The new case study, published June 30 in JCO Precision Oncology, detailed the treatment of an 18-month-old Saudi Arabian female with NTRK fusion-positive glioblastoma. The infant had undergone surgical resection of her tumor and recovered successfully, but when scans showed local recurrence three months post-surgery, it became evident that further treatment would be needed.
The standard next steps for pediatric glioblastoma would have been chemotherapy and radiation, but given the child's young age, and the potential for lasting neurocognitive effects, as well as the poor survival rates associated with glioblastoma, the patient's family was adamantly opposed to radiation and chemotherapy.
"We really wanted to do it the routine way, but the family did not," said Malak Abedalthagafi of King Abdulaziz City for Science and Technology in Riyadh, Saudi Arabia, who authored the case report. The routine way, she explained, would have been chemotherapy and radiation. "But [the child's family] said, 'Absolutely not. We are not going to do that for the little girl.'"
After further discussions with the patient's family and an assessment of the results of molecular profiling enabled through the Saudi Human Genome Program, the family agreed to try off-label use of larotrectinib. Next-generation sequencing using Thermo Fisher Scientific's Oncomine Comprehensive Assay v3 system had revealed the child's tumor harbored an ETV6-NTRK3 fusion, making oral larotrectinib an option.
"We said [to the patient's family], 'Your child has a rare mutation and there is a new drug you could try,'" said Abedalthagafi, "'but it has never been used first-line in this type of tumor.'"
After receiving the green light for compassionate use, the patient began treatment with twice-daily oral larotrectinib, the administration for which was made easier by the drug's liquid solubility – a key consideration among infants, who often have difficulty swallowing solid pills.
After 8 weeks of larotrectinib, an MRI of the child's brain showed "marked tumor regression indicative of excellent response," according to the case report. Though the child's in-person follow-up originally scheduled for April has been delayed due to the COVID-19 pandemic, observation via a digital visit suggested that that the child has remained clinically stable and neurologically in-tact.
"She is stable, the tumor shrunk, and she is tolerating [the drug]," said Abedalthagafi. "But the question now, which is the same with any other targeted therapy, is how long will this continue? We do not know."
Despite the unknown duration of the patient's response to larotrectinib along with the fact that the case study's implications are limited by the fact that this was only a single patient's experience, Abedalthagafi and her colleagues are advocating for wider-scale study of the drug in first-line NTRK-positive glioblastoma.
"At least with this tumor, I think that there should be some sort of international trial in this patient population," Abedalthagafi said, highlighting the uniquely poor prognosis of pediatric glioblastomas, with which few patients survive beyond one year. The question of risk versus benefit when it comes to chemo and radiation in infants, she said, further underscores the need for less toxic, targeted treatment options.
Abedalthagafi acknowledged that, given the rarity of infantile high-grade gliomas, a trial of this nature would require an international effort, enrolling participants globally. But this could be worth the effort, she said, especially given recent findings that infants with high-grade glioblastomas have a higher prevalence of NTRK fusions compared to a paucity of other mutations, demonstrating that the fusion genes are indeed drivers of early postnatal brain tumor development.
When it comes to the literature, Abedalthagafi said, there is some anecdotal evidence to date detailing the benefit of first-line larotrectinib in pediatric patients, though other case reports have primarily dealt with infant fibrosarcoma, a cancer in which NTRK fusions are far more common. There are ongoing clinical trials, moreover, including Bayer's SCOUT trial and a Children's Oncology Group-sponsored trial, currently evaluating larotrectinib in previously treated and untreated pediatric NTRK fusion-positive cancers, respectively, though neither are uniquely evaluating the drug in brain tumors.
"Especially when we talk about infantile glioblastomas, they are not very common," said Abedalthagafi. "And this is a new drug, approved within the last few years, so there are not too many [examples] of larotrectinib used in the primary first-line setting" for infantile glioblastoma. Accordingly, she said, the case study supports further research.
Additionally, Abedalthagafi pointed out that the case study underscores the importance of integrating molecular profiling into routine histopathologic analysis for pediatric patients with brain tumors, a practice that, though commonplace within Abedalthagafi's own institution due to its involvement in the Saudi Human Genome Program, is not routine in many regions, including across Saudi Arabia generally.
"It's not very feasible everywhere, and this worries me," she said, pointing out that the conversation around the use of targeted agents like larotrectinib relies entirely on the molecular classification of these brain tumors. "For many, many places in the world [that don't routinely do this profiling], I'm not sure how practical this would be in real life — unless we do something about molecular profiling access."