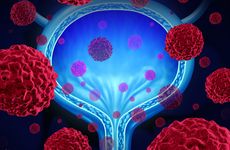 NEW YORK – Phase III clinical trial data presented at the European Society for Medical Oncology's Virtual Congress this weekend suggests that there is still a ways to go in developing immunotherapy treatments or drug combinations that can perform as well as standard chemotherapy in the first-line setting for advanced urothelial cancer patients who are eligible to receive chemotherapy.
Even so, investigators shared new advances for the use of immunotherapy maintenance following chemotherapy, along with insights into potential drug combination and biomarker discovery directions that may eventually expand the repertoire of immune-based treatments available for these advanced bladder cancer patients.
In the Phase III DANUBE trial, the combination of AstraZeneca's immunotherapy durvalumab (Imfinzi) failed to significantly increase overall survival over chemotherapy either alone or in combination with the investigational anti-CTLA-4 drug tremelimumab, in advanced bladder cancer patients, researchers reported during the conference.
"I'm sorry the results weren't different," conceded Thomas Powles, a genitourinary oncologist at Queen Mary University of London and director of its Barts Cancer Centre, in presenting the data at ESMO on Saturday. The study stratified more than 1,000 previously untreated, unresectable, locally advanced, or metastatic urothelial carcinoma patients into three arms: one where patients received just durvalumab, another where they received durvalumab plus tremelimumab (also being developed by AstraZeneca), and a third arm where patients received standard of care chemotherapy.
Researchers then considered median overall survival as a primary endpoint two ways: the durvalumab-tremelimumab cohort against those receiving chemo in all comers; and the durvalumab monotherapy cohort against chemo in those with PD-L1 high expression. For secondary endpoints, researchers looked at median overall survival again, except now, they compared durvalumab monotherapy against chemo in all comers, and the combination regimen against chemo in PD-L1-high patients.
The DANUBE trial failed to meet both primary endpoints. In patients receiving durvalumab-tremelimumab, median overall survival was 15.1 months, compared to 12.1 months in the chemotherapy arm — a difference that was not statistically significant. Powles noted that median overall survival was also not significantly different in the PD-L1-high durvalumab- and chemotherapy-treated groups, coming in at 14.4 months and 12.1 months, respectively.
Between 45 percent and 54 percent of patients in each treatment arm did receive another anti-cancer therapy after their first-line treatment, Powles cautioned. For example, nearly one-third of those in the chemotherapy arm had a subsequent immunotherapy, which may have impacted overall survival.
In both the PD-L1-high subgroups and the full cohort, the objective response rates in patients receiving chemotherapy exceeded the response rates seen in patients receiving durvalumab and durvalumab-tremelimumab.
When researchers analyzed the secondary endpoints, the biomarker-selected group appeared to do slightly better in terms of median overall survival when treated with the drug combination compared to chemotherapy, 17.9 months versus 12.1 months, respectively.
Powles noted that the study may have been positive had the primary overall survival analysis had focused on the PD-L1-high subgroup for both experimental arms, and not just the durvalumab alone arm. "We didn't and it wasn't," he said. "However, this data is important, potentially, for the future."
"While the trial was negative," he added, "it does give us some provocative data for the combination, particularly in the biomarker-positive population, for future trials."
Checkpoint immunotherapy drugs targeting PD-1 or PD-L1 have already been approved as second-line treatments for advanced urothelial carcinoma cases, and recent data point to the benefits of avelumab (Pfizer/EMD Serono's Bavencio) anti-PD-L1 maintenance therapy for platinum responsive patients.
Even so, cisplatin-based chemotherapy remains the standard of care in the first-line setting for these bladder cancer patients. Although metastatic urothelial carcinoma patients often respond to platinum-based chemotherapy at first, relapses are common and it is difficult to achieve long-term remissions, Powles explained, prompting investigators to search for more effective first-line treatment options.
While PD-L1 did show promise as a predictive biomarker in the combination treatment arm of the DANUBE trial, that was not the case for KEYNOTE-361, another first Phase III trial reporting negative results for first-line immunotherapy in bladder cancer at the meeting.
University of Michigan oncologist Ajjai Alva shared findings from the trial, which set pembrolizumab (Merck's Keytruda) monotherapy, or pembrolizumab in combination with platinum-based combination chemotherapy, up against standard chemotherapy as a first-line treatment for individuals with advanced urothelial carcinoma.
In that trial of 1,010 previously untreated individuals with locally advanced, unresectable or metastatic disease from 21 countries — randomized to pembrolizumab, pembrolizumab plus chemotherapy, or chemo alone — the anti-PD-1 drug did not significantly extend overall survival or progression-free survival times.
Investigators considered progression-free survival and overall survival in for the combination immunotherapy-chemotherapy versus chemotherapy in all comers. Similar analyses of pembrolizumab monotherapy versus chemotherapy were planned in the PD-L1-positive patients and across the full intention-to-treat population if those initial all comer results had been positive, Alva explained, but were relegated to exploratory analyses after the combination treatment failed to statistically outperform standard of care chemotherapy.
In the team's initial analysis, comparing pembrolizumab plus chemo against chemo, it did not see a boost in either primary endpoint of progression-free survival or overall survival. Patients on the combination treatment went 8.3 months on average without disease progression, while the median progression-free survival came in at a median of 7.1 months in the chemotherapy group, though the difference was not statistically significant.
In a subgroup analysis comparing patients with PD-L1 combined positive scores (CPS) above or below 10, there were hints that some patients with enhanced tumor expression of PD-L1 had delayed progression though this wasn't statistically significant.
"The selected biomarker did not fulfill, unfortunately, our expectations and did not enrich patients for efficacy as we had hoped," Alva said.
And despite the relatively durable responses in individuals treated with pembrolizumab alone or in combination, overall survival came in at a median of 17 months in the pembrolizumab plus chemo group compared to 14.3 months in the chemotherapy alone group, with confidence intervals on the survival curves overlapping.
Patients with PD-L1-high tumors appeared just as prone to poor outcomes as those with low tumor PD-L1 expression on the combination treatment, though Alva noted that a large subset of patients receiving frontline chemotherapy alone went on to get additional lines of treatment, including immunotherapy.
Given the statistical design of the trial, Alva explained, the disappointing performance of the combination treatment at the interim analysis meant that the pembrolizumab monotherapy arm could not be formally tested. In an exploratory analysis of pembrolizumab alone, patients with PD-L1-high tumors (with a CPS score at or above 10) had a median overall survival of 16.1 months, compared to 15.2 months in the chemotherapy arm.
"The curves are basically overlapping," Alva said, noting that outcomes in the additional KEYNOTE-361 patient subsets will be analyzed in the future.
"No subgroup appears to be performing any better [in KEYNOTE-361]," agreed oncologist Richard Cathomas, from the Hospital Graubünden in Switzerland, who reviewed the data from DANUBE and KEYNOTE-361.
On the other hand, Cathomas agreed that secondary analysis of overall survival in PD-L1-high patients treated with the durvalumab plus tremelimumab drug combination could spark additional research.
If the use of immunotherapy is going to expand into broader groups of patients with advanced urothelial cancer, though, he suggested that it may be necessary to come up with distinct clinical trial designs, particularly since immunotherapy and chemotherapy do not seem to be acting synergistically in these cases.
Cathomas further cautioned that it may not be ideal to lump cisplatin- and carboplatin-treated patients together, since there can be different sensitivity to these types of chemotherapy. And, he said, PD-L1 may be a less than ideal biomarker.
"It has severe sampling issues, both in time and space, and methodological issues that are highlighted by the plethora of companion diagnostics," Cathomas said, adding that PD-L1, at this moment, does "not appear to be useful for making any decisions for the first-line treatment of platinum-eligible patients."
He and others noted that single-agent immune checkpoint drugs such as atezolizumab (Genentech's Tecentriq) and pembrolizumab have already been approved by the European Medicines Agency for use in advanced urothelial carcinoma patients who are not eligible for platinum chemotherapy (based on their renal function and other clinical features), as long as they have elevated PD-L1 expression in their tumors.
The US Food and Drug Administration has issued similar approvals, Cathomas explained, though that agency does not require PD-L1-high status for metastatic patients who are ineligible for any type of chemotherapy.
Cathomas suggested that upcoming results from other studies, such as IMvigor130, Checkmate 901, or NILE may offer further clues to targeting immunotherapy in the urothelial cancer patients. In particular, the IMvigor130 trial, which is testing atezolizumab alone or in combination with chemotherapy in metastatic urothelial carcinoma met the primary endpoint of progression-free survival, though overall survival data is yet to be reported.
Other therapeutic studies focused on different targeted approaches, such as alterations in FGFR, may present new therapeutic avenues. Cathomas also pointed to the possibility of identifying distinct immune subgroup markers as more and more trial data emerges.
Indeed, a biomarker search is underway by investigators in the JAVELIN Bladder 100 trial, a first-line maintenance therapy study that saw a survival boost for urothelial cancer patients who received avelumab after platinum-based chemotherapy.
"As the first randomized, Phase III trial comparing an immune checkpoint inhibitor against best supportive care, and showing a survival advantage, the JAVELIN Bladder 100 trial provides a unique opportunity to evaluate the predictive utility of several emerging biomarkers in advanced urothelial carcinoma," Srikala Sridhar, from the Princess Margaret Cancer Centre, explained in her presentation.
The study, which included 700 patients who were randomized to maintenance avelumab or best supportive care, involved metastatic urothelial carcinoma cases that did not progress on chemotherapy — results that Sridhar and her colleagues published in the New England Journal of Medicine on Friday.
In the avelumab arm, patients had a median overall survival of 21.4 months compared to 14.3 months in the supportive care arm.
At the one-year mark, just over 79 percent of avelumab-treated, PD-L1-high cases were still alive, compared to 71.2 percent of the full avelumab-treated group. Even so, Sridhar and her co-authors noted that "clinical usefulness of PD-L1 as a biomarker in advanced urothelial carcinoma is an area of uncertainty."
Consequently, the team did an exploratory analysis on potential interactions between treatment, clinical outcomes, and potential biomarkers, including not only PD-L1, but also tumor mutational burden (TMB), specific alterations identified by whole-exome sequencing, and RNA sequencing-based gene expression features in samples collected prior to the initial chemotherapy treatment.
The researchers' early results suggested that while the presence of PD-L1-positive tumor cells or PD-L1-positive immune cells both corresponded to better survival outcomes after avelumab maintenance, the markers could not fully predict benefit or avelumab response, Sridhar reported. They saw similar results when using TMB as a marker, she explained, with neither PD-L1 status nor TMB status alone completely identifying all responders.
In a series of follow-up analyses, the team saw hints that the type and nature of mutations might impact the utility of the TMB marker, Sridhar noted, and identified a response-related immune cell expression signature, immune cells expressing a shared receptor allele, and other pathways that appeared to coincide with an enhanced avelumab survival benefit.
Based on these and other early results, Sridhar explained, "multiple different components of the immune system appear to play a role."
"This could explain, potentially, why TMB or PD-L1 alone doesn't explain the whole story," she said, concluding that "combinations of biomarkers may help to further characterize patients with advanced urothelial carcinoma who will benefit from avelumab first-line maintenance."
In a discussion of JAVELIN Bladder 100, however, the Technical University Munich's Juergen Gschwend called the proposed markers emerging in that work "more hypothesis-generating than clinically relevant."