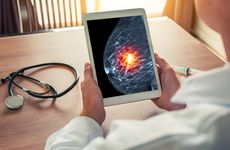 CHICAGO – Patients with low HER2-expressing metastatic breast tumors, who currently are ineligible for HER2-targeted treatment, significantly benefited from the antibody-drug conjugate Enhertu (trastuzumab deruxtecan) in a clinical trial for the first time.
At the American Society of Clinical Oncology's annual meeting on Sunday, oncologists stood up and cheered after Shanu Modi from Memorial Sloan Kettering presented data from the Phase III DESTINY-Breast04 trial showing that AstraZeneca and Daiichi Sankyo's Enhertu cut the risk of disease progression or death by nearly 50 percent compared to physician's choice of chemotherapy in previously treated, hormone receptor (HR)-positive, advanced breast cancer patients with low HER2-expressing tumors. The risk of death, specifically, in the Enhertu arm was 36 percent lower compared to the chemo arm. The data were simultaneously published in the New England Journal of Medicine.
Standing ovations are hard won at ASCO's annual meeting. Seventeen years earlier, oncologists also jumped to their feet after seeing how Genentech's Herceptin (trastuzumab) reduced disease recurrence in HER2-postive breast cancer patients.
At this year's meeting, Patricia LoRusso, associate director of innovative medicine at Yale Medicine, reflected on the latest Enhertu data and wondered aloud at the podium, "What is our destiny? Should the standard of care for patients with HER2-low breast cancer change as a result of the data that Dr. Modi presented today from DESTINY-Breast04?"
"My answer to you is absolutely," LoRusso concluded, to more thunderous applause.
Enhertu's sponsors aren't wasting any time in bringing this registrational data to regulators. "After results like this, we're very eager and we're putting our regulatory package together, and in short order, we'd like to bring it to regulatory authorities around the world," said Chatrick Paul, senior VP and head of AstraZeneca's US oncology business unit.
In the trial, patients were defined as HER2-low according to current ASCO/College of American Pathologists' guidelines if they had an immunohistochemistry staining result of 1+, or if they were IHC 2+ and also were negative for HER2 gene amplification by in situ hybridization (ISH). This group is presently categorized as HER2-negative and are in the metastatic setting along with those who are IHC 0, and these patients receive palliative single-agent chemotherapy.
"This offers modest benefits," said Modi, a breast cancer oncologist at MSK. "Hence, there is a substantial need for more effective therapies."
Meanwhile, around 15 percent of breast cancer patients are HER2-positive, defined as IHC 3+ or IHC 2+ and ISH-positive, and are eligible for HER2-targeted therapy. The approval of Enhertu, called T-DXd for short, in the HER2-low group would make HER2-targeted therapy accessible to another 45 percent to 55 percent of the breast cancer population.
Amid the excitement, however, there has also been a sobering recognition by LoRusso and other experts in pathology that there's a lot of variability in how IHC-based tests identify HER2-low patients currently and that, eventually, new, more accurate tests will be needed in order to maximize eligibility. "With this new class of anti-cancer agents … we must also rethink novel, more accurate, and sensitive ways of assessing HER2 status," LoRusso said.
'Practice-changing' option on the horizon
Enhertu is a next-generation antibody-drug conjugate comprising a HER2-directed monoclonal antibody and a topoisomerase I inhibitor chemotherapy joined by a tumor-selective cleavable linker. To date, HER2-low breast cancers have not been targetable by available anti-HER2 drugs. However, the HER2-directed monoclonal antibody is able to home in on cancer cells with HER2 receptors present at a variety of levels and release the chemotherapy payload. Then, through the so-called bystander effect, the payload not only kills the HER2-positive cells in the tumor but also surrounding cells that have different levels or no HER2 protein. 
In the DESTINY-Breast04 trial, Modi and colleagues randomized 331 HR-positive metastatic breast cancer patients to receive Enhertu and 163 patients to physician's choice of chemo. Patients had to have centrally confirmed HER2-low tumors and have received one or two lines of chemotherapy for metastatic disease and also had to be refractory to endocrine therapy. Median progression-free survival was 10.1 months in the Enhertu arm and 5.4 months in the comparator arm, and median overall survival was 23.9 months versus 17.5 months, respectively. Around 53 percent of HR-positive patients saw their tumors shrink on the antibody-drug conjugate compared to 16 percent on chemo.
In the overall population, which included HR-positive and triple-negative breast cancer patients, the results were very similar. Median-progression free survival was 9.9 months on Enhertu and 5.1 months on physician's choice of chemo, while median overall survival was 23.4 months and 16.8 months, respectively.
Among 58 patients with HR-negative HER2-low tumors — or triple-negative breast cancer — median progression-free survival was 8.5 months in the Enhertu arm and 2.9 months in the chemo arm. Meanwhile, median overall survival more than doubled to 18.2 months with the HER2-targeted drug compared to 8.3 months on chemo. Although the analysis in the HR-negative HER2-low group was exploratory, it suggests that triple-negative breast cancer patients with limited HER2-expression might also be candidates for Enhertu and derive benefit.
The results, Modi said, "expand the benefits of HER2-targeted therapy to a new population of breast cancer patients and establish trastuzumab deruxtecan as the new standard of care for patients with HER2-low metastatic breast cancer."
Enhertu, however, isn't without toxicities. In the trial, 12 percent of patients had lung toxicity. Though most of the cases were grade 1 or 2, three patients, or 0.8 percent, had grade 5 interstitial lung disease, and one patient on Enhertu with this lung toxicity died.
Enhertu has a black box warning for interstitial lung disease, and this toxicity was assessed in the trial by investigators and an independent committee. But doctors are getting better at managing this toxicity, according to experts at the meeting.
"We were much more concerned about the interstitial lung disease when [Enhertu] was first approved in the HER2 setting [in December 2019], which also happened to coincide with the early part of our COVID-19 pandemic, when we didn't have vaccines and treatments," said ASCO Chief Medical Officer Julie Gralow. "We weren't sure if we were seeing some pulmonary symptoms. The drug has been in use now for a couple of years, and we have all gotten more comfortable with responding to pulmonary symptoms quickly, but also with how to manage it."
Despite the progress seen in DESTINY-Breast04 in HER2-low patients, LoRusso lamented that metastatic breast cancer patients on Enhertu eventually progress. However, the mechanisms of resistance to the drug aren't well understood. For example, she wondered whether resistance may be due to a reduction of the bystander effect as Enhertu eradicates tumor cells with HER2 expression and changes the spatial proximity between HER2-positive and -negative cells. Or do patients develop molecularly driven or pathway-driven resistance to the payload? Either way, LoRusso urged further study in this regard.
At the meeting, Modi was also questioned as to why the trial, despite enrolling patients in Europe, Asia, and North America, still enrolled mostly white and Asian patients. There were only 10 African American and 21 Hispanic/Latino patients in the study. The lack of African American patient representation is particularly problematic given the high burden of triple-negative breast cancer in Black women. "We were expecting to enroll a very diverse patient population," Modi said, particularly more Hispanic and African American patients in the North American centers. "Unfortunately, we had lower accrual in our North American centers."
This issue of lack of diversity in cancer drug trials was noted and criticized again and again during presentations of other trials, particularly because it stands in stark contrast to the theme of this year's ASCO annual meeting: "Advancing equitable care through innovation."
"It's a call maybe for all of us to examine what it takes to open a trial at [our] institutions and why the accrual is low," said Everett Vokes, an oncologist at the University of Chicago Medicine. "If you think about the theme of this meeting … we do have the innovation here and we want to emphasize the need to be equitable in accrual and pay attention to these issues."
AstraZeneca takes the issue of equity and clinical trial diversity seriously, Paul assured. "We're looking at this dimension very closely" in the company's ongoing trials, he said. "The question really is what can we do differently … in terms of sites and other ways of bringing patients [to clinical trials] who historically have been disenfranchised."
Need for more quantitative diagnostics
In DESTINY-Breast04, investigators relied on standard IHC tests to identify HER2-low patients and showed "convincingly that we can select patients with this test who will benefit from this new therapy," Modi said. She acknowledged that while IHC "is not the optimal test," it's the most recognized and the test "we're going to have to learn how to use today."
By relying on ASCO/CAP guidelines to score HER2-low patients "we're not really introducing anything new," AstraZeneca's Paul added. "We're using what's already there."
However, the DESTINY-Breast04 data will undoubtedly push the field to focus more on patients' actual IHC scores instead of relying on the longstanding binary categories of HER2-positive and -negative. The binary model worked, Paul reflected, when there were only actionable drugs for the HER2-positive group. With the latest data on Enhertu's benefit in the HER2-low group, "more attention will need to be paid to what is really the IHC score," he said, noting that the score needs to be visible in the patient's electronic medical records. "Pathologists will have to pay attention to that." 
Perhaps anticipating Enhertu's approval in the HER2-low breast cancer setting, researchers led by David Rimm, a breast cancer pathologist at Yale University, recently looked at how accurately labs performed IHC-based HER2 testing within CAP proficiency testing surveys and found that for 19 percent of cases labs had 70 percent or less concordance for IHC 0 and 1+ scores. In the same study, Rimm and colleagues looked at how often a group of pathologists agreed when scoring IHC and found they had much better agreement with IHC 2+ and 3+ cases compared to IHC 0 and 1+ cases. "This inaccuracy in the real world could lead to misassignment of many patients for treatment with [Enhertu]," Rimm and colleagues wrote.
The efficacy findings from this study "most importantly … indicate that many patients will be eligible for this treatment," said Jochen Lennerz, medical director of the Center for Integrated Diagnostics at Massachusetts General Hospital and associate professor of pathology at Harvard Medical School. He also noted, however, that while present ASCO/CAP guidelines for HER2 testing are optimized to identify HER2-positive or amplified tumors, "there is great variability in the prevalence of 0 and 1+ cases," he said. 
In light of DESTINY-Breast04, HER2 testing guidelines will likely need to be updated, but a greater focus on IHC scores will have additional implications for labs performing these IHC tests. "Quantification of low, or ultra-low, HER2 expression will require more than updated guidelines," Lennerz said. "Reliable identification of HER2-low [patients] will require standardization of pre-analytical factors, assessment of the different HER2 antibodies, as well as standardization of the analytical and post-analytical workflows."
While the FDA has approved IHC and other technologies as companion tests for identifying eligible patients for HER2-targeted therapy, many tests used for guiding treatment are tests developed and performed in a CLIA-certified lab. CAP proficiency testing, through which CLIA-certified labs demonstrate the analytical validity of their tests, already evaluate whether labs performing HER2 testing can correctly group non-amplified cases according to ASCO/CAP guidelines. "However, I presume the focus on the identification of HER2-positive cases will likely shift to now focus on the distinction of multiple lower levels, true negative versus ultralow versus low-level HER2," Lennerz said.
At the meeting, LoRusso flagged "another major problem" with the way HER2 testing is presently conducted. She pointed out that many major institutions in the US and in other countries have "foregone readings of IHC in favor of only doing fluorescence in situ hybridization" to determine HER2 status. "Imagine the number of patients, by not going back to either an IHC or using a quantifiable assay, that are going to be deprived of this exciting and effective agent."
Given the variety of HER2-targeted drugs available and now the DESTINY-Breast04 data, LoRusso noted that more sensitive tools are needed to better define the most appropriate patient population for treatment. "We've outdated some of those legacy assays," she said, "they may not be good enough. Drug development has outpaced biologic determination of tumor types."
As an example of a newer, more quantitative assay, LoRusso highlighted that Rimm's team at Yale has come up with a mass spectrometry-based assay that has demonstrated the ability to identify very low HER2 expression in tumor samples that pathologists would have scored as IHC 0. Such a quantifiable assay "would get rid of the subjectivity of the reads of the human eye," she suggested, and could be a good reflex test to ensure that samples with IHC 0 scores are truly HER2-negative or if they have some HER2 protein, making them eligible for Enhertu. 
It remains to be seen whether AstraZeneca/Daiichi Sankyo will advance Enhertu in HER2-low metastatic breast cancer with an FDA-approved companion diagnostic that can report the biomarker using appropriate IHC and ISH scores. Although developers of checkpoint inhibitors have taken multiple IHC-based PD-L1 companion tests through the FDA, this hasn't enhanced oncologists' ability to determine if their patients will respond to immunotherapy, since these tests all use different antibodies and have different PD-L1 cutoffs.
"The situation with the numerous PD-L1 companion diagnostic indications for immune checkpoint inhibitors should be avoided," Lennerz said. "In other words, even the best companion diagnostic test kit cannot replace a competent pathologist who knows the various components of a laboratory testing procedure and the specific platforms used in his/her laboratory. Inter-laboratory comparisons will be key."