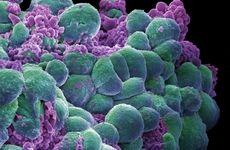 NEW YORK – Based on new Phase III clinical trial data, some oncologists suspect it may be a matter of time before checkpoint immunotherapy is routinely included in neoadjuvant and first-line adjuvant treatments for early-stage triple-negative breast cancer (TNBC) — an aggressive breast cancer marked by tumors with low estrogen, progesterone, and HER2 expression.
"Very likely, these agents will be used in early triple-negative breast cancer," said Javier Cortes, a medical oncologist at the Vall d'Hebron Institute of Oncology in Barcelona, who co-authored the trial.
That prediction is taking some of the sting out of negative results from another Phase III trial, this time only in the adjuvant setting, in individuals with more advanced, metastatic forms of the disease who were treated with single agent checkpoint immunotherapy. The KEYNOTE-119 trial, which Cortes presented at the European Society for Medical Oncology (ESMO) Congress last week in Barcelona, saw no survival benefit in the overall population of advanced TNBC patients.
However, the potential benefit of monotherapy with pembrolizumab (Merck's Keytruda) appeared to be limited to individuals with particularly pronounced PD-L1 positivity, though the study was not designed to formally evaluate this endpoint in this subgroup.
For KEYNOTE-119, investigators focused on 601 individuals who had gone through one or two systemic treatments for metastatic TNBC already, randomizing patients to pembrolizumab monotherapy or single-agent chemotherapy, comprising capecitabine, eribulin, gemcitabine, or vinorelbine.
The team found that treatment with pembrolizumab for up to two years did not produce a significant overall survival benefit compared to chemotherapy in individuals with recurrent, metastatic TNBC. The average survival time after 12 months of follow up was 9.9 months in the pembrolizumab arm and 10.8 months in the chemotherapy arm, Cortes reported, and in both treatment arms the majority of patients discontinued treatment due to disease progression.
Based on those findings, it is unlikely that regulatory agencies will approve single agent immunotherapy for the second- or third line treatment of advanced TNBC, Cortes told PON. But he and his colleagues are more sanguine about the possibility of combining pembrolizumab with chemotherapy, particularly in earlier-stage TNBC cases.
For the KEYNOTE-522 trial, members of an international team considered pembrolizumab in both the neoadjuvant and adjuvant settings in a randomized trial of 1,174 individuals with newly diagnosed, non-metastatic TNBC.
Peter Schmid, a consultant medical oncologist and cancer medicine chair affiliated with Queen Mary University of London's Barts Cancer Institute, Barts Hospital, and the St. Bartholomew Cancer Centre, presented data from that Phase III trial at ESMO.
From March 2017 until last September, the patients were randomized in a two-to-one ratio to receive either immunotherapy plus chemotherapy or placebo plus chemotherapy as a neoadjuvant treatment for six months, Schmid explained during his presentation. After surgery, meanwhile, patients who had already received neoadjuvant immunotherapy plus chemotherapy continued on with pembrolizumab-based monotherapy for six months, while those in the placebo-chemo arm received placebo during this adjuvant phase.
The trial's first primary endpoint — pathological complete response (pCR) — was met, though the team is awaiting additional data to more fully evaluate a second primary endpoint of event-free survival.
Pathological complete response has been deemed an acceptable endpoint for accelerated neoadjuvant approvals by both the US Food and Drug Administration (FDA) and the European Medicines Agency (EMA), though both regulatory agencies require longer-term data on event-free survival that corroborates the initial pCR data. "For the full approval, we will need event- or disease-free survival … that's very clear," Cortes said. "But for ... conditional approval  in Europe, pCR is enough."
For KEYNOTE-522, local pathologists gauged pCR by looking for clear lymph nodes, as well as a lack of non-invasive or invasive tumor tissue in the breast.
In the 784 patients treated with pembrolizumab and chemotherapy — including 778 patients receiving carboplatin or paclitaxel chemotherapy — the KEYNOTE-522 investigators saw a pCR of 64.8 percent. In contrast, the 390 patients who got placebo plus chemotherapy had a pCR of 51.2 percent. Again, carboplatin or paclitaxel were the most frequently used chemotherapies, Schmid reported, noting that similar proportions of patients got anthracycline and surgery in each treatment arm.
The pCR rate dipped somewhat in the pembro-treated TNBC patients with PD-L1-negative tumors coming in at 45.3 percent compared to 30.3 percent in the control arm. In individuals with PD-L1-positive tumors, on the other hand, the pCR was nearly 69 percent after an average of 15 months follow-up time in those treated with pembrolizumab and just shy of 55 percent in the chemo plus placebo-treated controls.
Even so, Schmid noted that the "incremental benefit associated with pembrolizumab is the same whether patients are PD-L1-negative or PD-L1-positive."
PD-L1 levels were assessed using the Agilent Technologies Dako PD-L1 IHC 22C3 pharmDx assay to get a combined positive score (CPS) that took into account tumor, lymphatic, and macrophage immune cell staining for PD-L1. More than 81 percent of TNBC patients in the placebo-chemo arm were classified as PD-L1-positive, as were almost 84 percent of those receiving the immunotherapy and chemotherapy combination.
The treatment boost for PD-L1-negative cases treated with pembrolizumab is "somewhat surprising," according to Sherene Loi, a medical oncologist and clinician scientist head of the Peter MacCallum Cancer Centre's translational breast cancer genomics and therapeutics lab, who commented on the KEYNOTE-522 data during another ESMO presentation.
The lack of a biomarker requirement in early-stage patients is notable because in more advanced TNBC cases, Loi explained, the benefits of checkpoint immunotherapy have typically been limited to PD-L1-positive cases.
In KEYNOTE-119, for example, there were hints that metastatic TNBC patients with especially high PD-L1 levels might benefit from single-agent pembrolizumab in the KEYNOTE-119 trial.
Within two years of enrollment, the KEYNOTE-119 team had access to 334 overall survival events in individuals with PD-L1-positive tumors based on Agilent 22C3 assays of metastatic biopsy samples. More than 65 percent of those patients had PD-L1 in at least 1 percent of cells, while more than 30 percent had scores of 10 or more, indicating that at least 10 percent of cells stained for PD-L1. The remaining patients had CPS scores at or beyond 20.
In the group of KEYNOTE-119 patients with 1 percent PD-L1 positivity, median overall survival was very similar in the pembrolizumab and chemotherapy arms, coming in at an average of 10.7 months and 10.2 months, respectively.
At a CPS of 10, though, the overall survival was 12.7 months, on average, in the pembrolizumab arm compared to an average of 11.6 months in the chemo arm. And in the small group of patients with CPS levels of 20 or higher, the pembrolizumab-treated group had an overall survival of 14.9 months, on average, compared to an average of 12.5 months in the chemotherapy arm.
"In patients who had more than 10 — and particularly those who had more than 20 — percent of cells staining for PD-L1, it appeared that there was a benefit," explained KEYNOTE-119 trial leader Eric Winer, a medical oncologist and clinical researcher at Harvard Medical School, who directs the Dana-Farber Cancer Institute Breast Oncology Center.
Although many experts expected KEYNOTE-119 to wind up negative, Winer noted that the apparent survival benefit detected in a subset of advanced TNBC patients "is pretty interesting," particularly since there has been more optimism about using pembrolizumab in earlier rather than later stages of that disease.
Such results hint that "for some subset of patients, there could be benefit for single-agent pembrolizumab," Winer told PON, though he cautioned that more than 20 percent PD-L1 staining was not a predefined analysis in the trial.
"I'm not sure that we view [KEYNOTE]-119 as negative," Jonathan Cheng, vice president of oncology clinical development at Merck Research Laboratories, told PON.
Although that trial did not meet its statistical endpoint, he explained, "it did show that monotherapy had better tolerability and relatively equivalent efficacy in the all-comers. And in the high-biomarker situation … there is a clinically meaningful improvement, suggesting a proof-of-principle that pembrolizumab or checkpoint inhibitors can have a role in metastatic triple-negative breast cancer."
Cortes, too, noted that while pembrolizumab monotherapy could potentially have activity in a subset of metastatic TNBC patients with particularly enhanced PD-L1 expression, it currently "doesn't make a lot of sense today to wait to use this drug as monotherapy" in a late-line treatment.
Since KEYNOTE-119 did not reach its primary endpoint, he noted that it will likely be tough to convince regulatory bodies to approve immunotherapy as a single agent in advanced TNBC patients. So, for now at least, the treatment strategy "seems not to be something very attractive for our patients [with advanced TNBC]," Cortes said.
Even so, he noted that results from other trials such as IMPassion-130 suggest that combining checkpoint immunotherapy with chemo can benefit advanced TNBC patients.
Based on IMPassion-130 trial data, the anti-PD-L1 checkpoint inhibitor atezolizumab (Genentech's Tecentriq) gained accelerated approval from the FDA earlier this year for treating locally advanced or metastatic TNBC in combination with paclitaxel chemotherapy in tumors with PD-L1-positive tumors. The European Medicines Agency's Committee for Medicinal Products for Human Use also recommended the approval of atezulizumab plus chemotherapy in this patient group in June, while the European Commission followed suit in August.
As such combination approaches move to earlier stages in TNBC, Cortes suggested that it may become rarer and rarer for TNBC patients in developed countries to reach second- or third-line treatment without having already received checkpoint immunotherapy at some stage.
In his presentation of data from KEYNOTE-522, Schmid also touted the potential interplay between chemotherapy and immunotherapy. In particular, results from some past analyses hint that chemotherapy might boost the release of antigens recognized by the immune system, he noted, while interfering with tumor architecture in a way that might allow immune cells to wedge in where they were previously excluded.
Although it was too early to get a clear look at the event-free survival in KEYNOTE-522, the team is already seeing fewer instances of recurrence in the pembro-chemo patients than in those receiving chemo and placebo: After 18 months, on average, event-free survival in the former group was more than 91 percent compared to 85.3 percent in the control arm, though the difference is not yet statistically significant.
"For me, this is too early. It's encouraging, but the data is still unstable," Loi said in her presentation.
Overall, Loi called the KEYNOTE-522 "very exciting," but noted that additional work is needed to look for potential immunotherapy-related side effects related to type 1 diabetes risk and fertility and to "improve our selection of patients for this type of treatment" accordingly.
She called for more work to narrow in on biomarkers of response and non-response — from PD-L1 status or tumor infiltrating lymphocyte (TIL) levels to BRCA status or TNBC subtype — so that checkpoint immunotherapy can be targeted to TNBC patients who will benefit most from it.
Giuseppe Curigliano, an oncologist and hemato-oncologist affiliated with the University of Milan and the European Institute of Oncology's early drug development for innovative therapy division, who was not involved in the trial, also suggested that there may be opportunities to dig into the KEYNOTE-522 data to find clues to the TNBC cases most apt to benefit from neoadjuvant immunotherapy.
"This is a really important trial for which we will also have a lot of data in the future," Curigliano told reporters during a press briefing at ESMO, pointing to the availability of some residual tumor samples that might be subjected to additional analyses to better understand mechanisms of checkpoint inhibitor resistance.
It also remains to be seen whether pembrolizumab use is required in the adjuvant setting after initial treatment with neoadjuvant pembrolizumab plus chemotherapy in early-stage TNBC patients, Cortes said, noting that that data is not yet available.
"There are many, many questions which have not been answered yet," he said, indicating that such details may be addressed with future trials. "If possible, I would start with checkpoint inhibitors in the neoadjuvant setting."
"We recognize that because this is one study and not two, it's a novel design, it does not necessarily tease out [whether neoadjuvant or adjuvant treatment with pembrolizumab] is more important," Merck's Cheng said, adding that may be a focus of future studies.
He noted that the company is in frequent contact with regulatory agencies such as the FDA regarding results from its breast cancer clinical trials, including KEYNOTE-522 and KEYNOTE-119, but could not comment on whether the trials have led to applications for expanded pembrolizumab approval in TNBC.