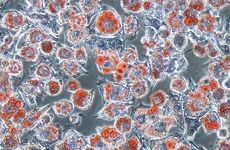 NEW YORK – Researchers have been hunting for ways to target alterations in KRAS ever since the mutated gene was first discovered in cancer in the early 1980s. Now, as drugmakers race to bring the first drugs targeting mutated KRAS protein to cancer patients, one scientist at MD Anderson Cancer Center is trying a different approach to get at this elusive target: exosomes.
KRAS encodes a RAS protein that belongs to the protein family of GTPases, which act like molecular switches in the process of cell signaling. Malfunctioning KRAS is implicated in many cancers. Over 90 percent of pancreatic cancers, for example, have a KRAS mutation.
Despite how common these mutations are in cancer, drugmakers failed for years to develop molecules that could target mutated KRAS. It has been deemed "undruggable" because the protein's surface is smooth, presenting sparse niches, or druggable pockets, for small molecule agents to bind to.
"It's been very difficult to make small molecules against it, or any other therapeutic modalities," said Raghu Kalluri, chair of the department of cancer biology at the University of Texas, MD Anderson Cancer Center. "We thought that maybe exosomes can deliver [small interfering] RNA that specifically binds to the mRNA of this particular mutant transcript."
Exosomes are vesicles that act as molecular packages for communication. These packages, when excreted by a cell, can contain protein, DNA, and RNA. When the exosomes are taken up by other cells, this can affect intracellular function and behavior.
Kalluri has been investigating the clinical potential for exosomes at MD Anderson and within a startup, called Codiak Biosciences, that is dedicated to this strategy. He is a scientific co-founder of the biotech company, which intends to develop exosome-based therapeutics and diagnostics.
Kalluri and his lab had discovered a few years ago that when exosomes made by fibroblast or mesenchymal stem cells were injected into mice, they seemed to have a high affinity for the pancreas, along with other organs like the liver, lung, and brain. Past research has shown that some fibroblasts and mesenchymal stem cells are associated with helping pancreatic cancer progress and evade immune invasion. 
"They tend to localize to the pancreas and enter pancreatic cells. We figured if this feature is inherent to these exosomes, then would the same thing happen if the pancreas had tumors?" Kalluri posited. "We thought, wow, this could be a great way to place a drug inside these exosomes and deliver it to these cancer cells, and ... shut down a driver oncogene like KRAS."
The group then engineered exosomes called iExosomes ─ derived from normal fibroblast-like mesenchymal cells ─ to carry small interfering RNA specific to oncogenic KRASG12D. Small interfering RNA, or siRNA, can regulate gene expression through a process called RNA interference, which allows them to silence genes without altering the base genetic code.
In the experiment, the Kalluri group found that exosomes entered the cancer cells more efficiently than liposomes, which are another type of vesicle that has been used in the past to deliver siRNA into cells. 
In multiple mouse models of pancreatic cancer, they also found that iExosome-based treatment suppressed cancer and significantly increased overall survival. "After the treatment initiation, we could, in some cases double the survival. And in other cases, we could even triple or quadruple the survival," said Kalluri. 
In further non-human primate studies, the group observed that when exosomes were injected, they localized to the pancreas, suggesting a positive safety profile. Additionally, in both preclinical and toxicology studies, the researchers observed little to no toxicity from exosomes. His lab is now interested in applying the exosome technology to investigate the MYC oncogene.
This work has inspired a group of Kalluri's colleagues at MD Anderson to test out this strategy in humans, and they have filed an investigational drug application with the US Food and Drug Administration, which was greenlit in December 2018. 
The Phase I trial is expected to kick off in March and will enroll up to 28 patients. It will be a single-arm, open-label dose escalation study. The study will target pancreatic cancer patients with the KRAS G12D mutation, the variant most prevalent in this tumor type. 
Prior to enrollment, the KRAS G12D mutation will be confirmed in patients through tissue biopsy or blood samples. In this early phase, researchers are mostly interested in tracking the safety of the therapy and determining the maximum tolerated dose. But they will also look at the activity of the drug, overall response rate, disease control rate, progression-free survival, and median overall survival. Investigators may also measure circulating tumor DNA or siRNA content in an exploratory manner.
Patients will receive exosomes derived from mesenchymal stromal cells with KRAS G12D siRNA through intravenous injections. If no limiting toxicity or disease progression is observed, patients will continue to receive up to three courses of treatment, and responding participants may receive additional treatment. Post treatment, participants will be followed up at 30 days, then every three months for up to a year.
Currently, most KRAS-targeting drugs in clinical trials are designed to block the protein encoded by the KRAS G12C variant, which is most commonly present in non-small cell lung cancer. Both Amgen and Mirati have investigational drugs in KRAS G12C-mutated NSCLC.
Companies like Gritstone and Moderna Therapeutics are trying to capture the KRAS G12D antigen through their multi-target immunotherapy, while others like Elicio are betting on a pan-KRAS inhibitor. 
Revolution Medicines and Mirati reportedly also have KRAS G12D inhibitors in pre-clinical development.
As the exosome-based strategy advances alongside these other more traditional targeted drug development programs, the advantages and challenges with these various programs remains to be seen. Kalluri cautions that iExosomes, while effective, may not be perfect.
"There's a possibility that anytime you shut an oncogene down for a significant period of time, some other resistance mechanism might come up," he acknowledged, adding that because there is such an unmet need in terms of available treatment options for pancreatic cancer, just seeing an efficacy signal would be encouraging. "If there is a significant benefit [but] there is resistance … then, of course, we can think about how to make that better."