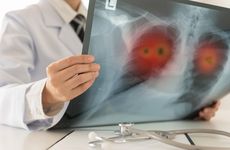 NEW YORK – After following PD-L1 expressing non-small cell lung cancer patients on pembrolizumab (Merck's Keytruda) for an average of three years, investigators confirmed the survival benefit it provides over chemotherapy docetaxel, as well as the effectiveness of PD-L1 as a biomarker for predicting response to the checkpoint inhibitor.
The data, published in the Journal of Clinical Oncology last week, supports that oncologists should test NSCLC patients' PD-L1 levels not only when immunotherapy is being considered as a second-line option, but also at the time of diagnosis to optimize frontline treatment.  
Additionally, the results demonstrate that a two-year treatment duration with pembrolizumab may improve survival in those with PD-L1 expressing NSCLC, and patients who experience recurrence after treatment could be retreated with pembrolizumab to control their disease.
The study, called KEYNOTE-010, was at first intended as a confirmatory study for Merck to gain full approval of pembrolizumab in the PD-L1 positive NSCLC population. The initial results from the study allowed the US Food and Drug Administration to approve pembrolizumab in 2016 as a first-line treatment for NSCLC patients with no EGFR or ALK mutations or previous chemotherapy treatment, whose tumors have high PD-L1 expression (tumor proportion score of greater than or equal to 50 percent) as determined by an FDA-approved test. 
It was also approved for patients with metastatic NSCLC whose tumors express PD-L1 (TPS greater than or equal to 1 percent) as determined by an FDA-approved test, and whose disease progressed on or after platinum-containing chemotherapy. Patients who had PD-L1 TPS greater than or equal to 1 percent and also an EGFR or ALK mutation should have disease progression on an FDA-approved therapy for these aberrations before receiving pembrolizumab.
The long-term results from the trial shows that at three years following first treatment, the results hold from the initial study indicating that pembrolizumab is superior to the chemotherapy docetaxel, both at the 50 percent cut off and the one percent cut off for PD-L1 levels, said Roy Herbst, lead investigator on the study.
The KEYNOTE-010 study enrolled 1,034 patients between Aug. 28, 2013 and Feb. 27, 2015. Prior to enrollment, investigators confirmed that patients had PD-L1 positive NSCLC and received at least two cycles of platinum-containing doublet of cisplatin, carboplatin, or nedaplatin with a third-generation agent. In this group, 691 patients were randomly assigned to pembrolizumab and 343 patients were assigned to chemotherapy docetaxel.
To get on the trial, patients had to have one percent or more PD-L1 expression. But investigators also classified a subgroup with high PD-L1 levels of 50 percent or more.
Median overall survival in the high PD-L1 expressing group was 16.9 months on pembrolizumab and 8.2 months on docetaxel. In patients who expressed 1 percent or more PD-L1, median overall survival was 11.8 months on pembrolizumab and 8.4 months on docetaxel. Additionally, the researchers wrote that "Kaplan-Meier estimates of [overall survival] suggest that after 36 months, a plateau in the risk of death was reached among pembrolizumab-treated patients in the overall KEYNOTE-010 population," suggesting survival rates will stay steady going forward.
At the three-year mark post treatment with pembrolizumab, 34.5 percent of patients were alive in the group with the higher PD-L1, whereas 22.9 percent of patients were alive in the whole group with PD-L1 levels 1 percent or more. The results confirm the role of pembrolizumab as a standard second-line treatment option for PD-L1 expressing NSCLC, as well as the role of PD-L1 as a biomarker for predicting response, Herbst added. The survival rates seen in this study match up with the overall survival rates for previously treated patients at the same timepoint in the five-year follow-up KEYNOTE-001 study published last year. 
"In a second-line setting prior to immunotherapy, the median survival would be about three to four months," Herbst said. "So the fact that patients are alive at three years, 35 percent in the high PD-L1 group, says that they're really the tail of the curve, and these agents really do have a profound effect."
He remarked that one of the unique elements of this study was looking at patients who were treated for 35 cycles or two years, which was the maximum amount allowed on trial.
At data cut off in March 2018, 79 patients completed 35 cycles of pembrolizumab and 64 percent of patients were still responding at the median follow-up 43.4 months after start of therapy. However, eight patients experienced disease progression before completing the treatment cycles. After completion of treatment, 23 had progression-free survival, 22 patients experienced disease progression, and 1 patient died.
"If you look at the data, it's quite interesting that most of those patients remained well. Almost all of them were alive at three years and then a few of them had progressed," he said. "And what was shown is that in those who progressed, we could retreat with the immunotherapy again and it did have an effect starting it again."
Of the 14 patients that started a second course of pembrolizumab (including 12 patients who received 35 cycles of treatment), six patients had a partial response and five patients had stable disease. At the data cut-off point, five patients had completed 17 cycles of pembrolizumab and 11 patients remained alive.
"That's a huge result that we can start to think about treating patients a second time with these immunotherapy drugs," said Herbst. "That's going to really change the way I practice. And I'll probably start using these drugs in the refractory setting more often."
For patients with lower or undetectable levels of PD-L1, the standard treatment would be a combination of chemotherapy and immunotherapy. This is supported by data from Merck's KEYNOTE-189 trial published last year. The combination produces better effects than pembrolizumab alone, said Herbst.
According to Herbst, the utility of frontline PD-L1 biomarker testing for guiding immunotherapy is further underscored by this second-line data, expanding on earlier findings published in The New England Journal of Medicine comparing first-line treatment with pembrolizumab versus chemotherapy for previously untreated PD-L1 positive NSCLC. In that study, investigators found that both the response rate and median duration of response was significantly higher in the pembrolizumab group than in the chemotherapy group.
In their latest JCO paper, Herbst and his colleagues made a case for testing NSCLC patients at diagnosis and giving those with high-PD-L1 expression front-line immunotherapy. "It is … important to note that only a minority of patients with NSCLC ever receive second-line therapy," they wrote. "As such, delaying treatment to the second line would deny them the benefit associated with first-line pembrolizumab."