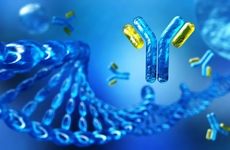 NEW YORK – A woman with recurrent ovarian cancer has experienced a prolonged response to the PARP inhibitor olaparib that could be due to her full BRCA1 gene deletion.
The US Food and Drug Administration approved olaparib (AstraZeneca's Lynparza) in 2014 to treat advanced ovarian cancer patients with BRCA1 or BRCA2 mutations.
Initial genetic testing of this 43-year-old woman with recurrent ovarian cancer did not uncover any BRCA1 or BRCA2 mutations. However, as a new case report appearing in the Journal of the National Comprehensive Cancer Network in March reported, later testing using a different technology did reveal a large deletion encompassing not only all of BRCA1, but also six other genes. This suggested that the patient's long-lasting response to olaparib could be due to the missing gene. As full BRCA1 or BRCA2 gene deletions are rare, it's unclear what deletion size might lead to this drug-response effect.
The case study also underscores the need to retest patients or their family members who might have undergone genetic testing for cancer years ago, as updated tests not only include additional genes but are better able to detect rearrangements that might help guide treatment approaches.
"It is an interesting case of detective work to uncover the underlying genetic abnormality and potentially underlying her exquisite PARP inhibitor response," senior author Lydia Usha, a medical oncologist at Rush University Medical Center, said in an interview. She added that other clinicians might be able to relate her and her colleagues' findings "to their patients and how they do over time and how they do with certain treatments."
This patient, a 43-year-old Hispanic woman, was diagnosed in 2007 with stage III, poorly differentiated ovarian cancer. She underwent a hysterectomy and bilateral salpingo-oophorectomy followed by six cycles of carboplatin and docetaxel. While she initially showed a complete response, she relapsed in 2010. During her second treatment with carboplatin and paclitaxel, she showed a hypersensitivity reaction to carboplatin, which brought her to the attention of the Rush doctors.
Late in 2010, the patient also underwent genetic testing for BRCA mutations, but the Sanger sequencing-based approach and the five-site rearrangement panel tests conducted by Myriad Genetics uncovered no alterations.
After relapsing again in 2012, the patient again underwent genetic testing from Myriad, this time by a multiplex ligation-dependent probe amplification, an approach that can detect copy number variations. This round of testing uncovered the entire BRCA1 gene deletion. Additional testing in 2019 using a chromosomal microarray from GeneDx — a test that Usha noted isn't commonly performed for cancer genetic testing — revealed that the patient not only has a BRCA1 gene deletion but is missing a wider length of chromosome 17 that is 205 kilobases in length and includes six other genes. None of those six additional genes have a known clinical significance.
Usha noted that she pushed for additional testing as the patient was young — 43 years old — when she was diagnosed with ovarian cancer. The median age at which BRCA carriers develop ovarian cancer is about 51 years old.
When the patient recurred again in 2015, she was treated with carboplatin and then started on maintenance olaparib. The patient has now been on olaparib for more than three years and remains clinically asymptomatic.
Usha said she suspects that this patient's good response to olaparib stems from her full BRCA1 gene deletion. A common way that cancer cells develop PARP inhibitor resistance and continue to proliferate is by reverting to wild-type BRCA1 or BRCA2. But because this patient's deletion encompasses the full gene — and beyond — Usha noted it might not be possible for the cancer cells to reverse the deletion.
This raises interesting questions, Usha said, such as, is there a correlation between the size of a BRCA gene deletion and PARP inhibitor response? And, secondly, do any of those other six genes that were also deleted in this patient have any influence on drug response? 
But full BRCA1 or BRCA2 gene deletions are rare. Large gene rearrangements — including complete gene deletions or duplications — account for less than 10 percent of BRCA1 mutations. Usha noted that in her time in the clinic, she's only seen them about three times, making large-scale studies infeasible.
One possible avenue, though, might be to go back to previous studies that found that BRCA1 and BRCA2 mutations were the best predictors of long-term response to olaparib among ovarian cancer patients. "It would be interesting to look into the specific nature of the mutations in those long-term responders," she said.
Initial testing of this patient, though, missed her large deletion. The testing technology used in 2010 relied on Sanger sequencing, which Usha noted is not as good at detecting large rearrangements — though it detected the patient's other, normal allele, leading the test results to come back negative. This rearrangement was also not one of the five rearrangements specifically tested for at that time.
Later tests, developed after Myriad Genetics' BRCA1 and BRCA2 gene patents were struck down in 2013, were panel tests that could detect not only BRCA1 and BRCA2 gene variants, but also variants in other genes, as well as rearrangements. This suggests that patients and even family members of patients who were only tested using older technologies and had negative results might want to seek broader retesting. 
At Rush, Usha noted that she and her colleagues have encouraged patients to do just that. She estimated that most patients there, by this point, have done so, as they are followed annually and the need for testing is likely brought up at each clinical visit.
"Of course, there are still a few people who have not undergone testing, but there are fewer and fewer of them," she added.