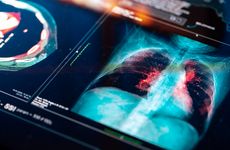 NEW YORK – Gilead Sciences and Arcus Biosciences are betting their anti-TIGIT therapy can become a new immunotherapy backbone for advanced, PD-L1-high non-small cell lung cancer patients after a positive Phase II data readout.
Gilead and Arcus are codeveloping domvanalimab, an anti-TIGIT molecule with a silent fragment crystallizable (Fc) domain. Gilead has owned the rights to domvanalimab since it struck a deal with Arcus in 2020. Under the terms of their agreement, the firms share development expenses as well as commercialization profits upon market entry.
In a presentation hosted by the American Society of Clinical Oncology on Wednesday, Melissa Johnson, director of the lung cancer research program at the Sarah Cannon Research Institute, reported interim results from the Phase II ARC-7 study. The trial randomized metastatic, PD-L1-high NSCLC patients to receive frontline treatment with either the PD-1 inhibitor zimberelimab alone, domvanalimab plus zimberelimab, or domvanalimab, zimberelimab plus the selective adenosine receptor antagonist etrumadenant. Gilead and Arcus also share the rights to zimberelimab and etrumadenant.
"Recent data suggest that targeting additional non-overlapping immune checkpoints and immunosuppressive pathways in combination [with] PD-1 inhibition may provide further clinical benefit to these patients," Johnson said, explaining the rationale behind the ARC-7 study.
All three of the agents evaluated in the ARC-7 study are investigational, although zimberelimab is commercially approved for certain lymphoma patients in China.
Patients enrolled in the ARC-7 study all had tumors that expressed high levels of PD-L1, defined as having at least 50 percent of cancer cells expressing PD-L1, as determined by local testing with Agilent's PD-L1 IHC 22C3 pharmDx or Roche's Ventana PD-L1 (SP263) assays. The patients had a median of 70 percent to 80 percent of tumor cells staining positive for PD-L1. Patients were only eligible if their tumors did not have ALK or EGFR alterations.
In total, 150 patients were randomized to one of the three arms. Those on the zimberelimab monotherapy arm were given the option to cross over to the triplet combination therapy arm if their cancers progressed. The data presented on Wednesday reflected outcomes from 133 patients, a modified population including only those randomized early enough to ensure at least 13 weeks of follow-up.
While Gilead and Arcus have conducted several interim analyses from the ARC-7 study, this most recent analysis was the first to include quantitative data for both overall response rates and progression-free survival outcomes.
After a median follow-up of 11.8 months, the overall response rate among patients on zimberelimab monotherapy was 27 percent versus 41 percent among patients who received the domvanalimab-zimberelimab combination and 40 percent among those who received the domvanalimab-zimberelimab-etrumadenant triplet.
According to Johnson, the improved overall response rates in the domvanalimab-containing treatment arms were consistent regardless of PD-L1 expression levels — though all patients' tumors were PD-L1-high — or history of tobacco use, race, and disease histology. The median duration of response had not yet been reached in any arm at the time of data cutoff in August. 
After six months on treatment, the progression-free survival rates also favored domvanalimab-containing regimens. In the zimberelimab monotherapy arm, the six-month progression-free survival rate was 43 percent, while in the doublet and triplet arms, these rates were 65 percent and 63 percent, respectively. The median progression-free survival times were 5.4 months, 12 months, and 10.9 months in the monotherapy, doublet, and triplet arms, respectively.
The outcomes translated to a 45 percent reduction in the risk of disease progression or death with the doublet combination versus the monotherapy.
In terms of treatment safety and tolerability, Johnson pointed out that the adverse events were similar across the three study arms.
"We have to keep in mind that the study was designed to evaluate potential treatment benefit and to evaluate safety, rather than to conduct formal statistical hypothesis testing," Solange Peters, chair of medical oncology at Lausanne University Hospital in Switzerland and president of the European Society for Medical Oncology, said during a discussion of the ARC-7 data. "No statistical significance can be concluded from this study."
Even so, Peters noted there was a "very striking difference" between how patients responded to the anti-TIGIT drug combinations versus the anti-PD-1 monotherapy. Looking ahead, "a meaningful magnitude of benefit will be needed to change our standard," Peters said, adding that this standard will require not only an adequate trial design powered for comparison, but also a biomarker analysis. The latter is ongoing in the ARC-7 study, with immunohistochemistry analysis of TIGIT, CD226, CD155, and CD73.
To be sure, Peters acknowledged that what exactly counts as a "meaningful benefit" for TIGIT over the current standard of care of PD-1 inhibition and chemotherapy isn't entirely clear. "This is food for reflection for the whole community of cancer professionals," she said.
Differentiating domvanalimab
Gilead and Arcus' ARC-7 data comes half a year after another anti-TIGIT molecule, Roche's tiragolumab, failed to improve NSCLC patients' progression-free survival when combined with Roche's PD-L1 inhibitor Tecentriq (atezolizumab) over Tecentriq alone. The disappointing Phase III Roche data, which followed initially encouraging Phase II data, have made the oncology community more cautious, and some are wondering if future domvanalimab trials will confirm the benefit seen in ARC-7.
Gilead and Arcus certainly think it will and argue that the drug is different from others in development, in part due to an aspect of the drug's mechanism: the Fc-silent domain, which the firms believe can help retain immune cells to attack cancer cells.
"We are very confident that domvanalimab with the Fc-silent design has the potential to be differentiated compared to other anti-TIGIT molecules in this space," Bilal Piperdi, VP of clinical research at Gilead, said on a call to discuss the ARC-7 results with investors Wednesday evening. "Our goal is to establish the [domvanalimab plus zimberelimab] regimen as the immunotherapy backbone. … Of course, these data need to be confirmed with longer follow-up and in the ongoing Phase III registration studies we are planning."
As a next step, Gilead and Arcus are conducting a Phase III clinical trial dubbed ARC-10 that is comparing domvanalimab plus zimberelimab against pembrolizumab monotherapy in PD-L1-positive advanced NSCLC. The firms are also conducting a Phase III trial dubbed STAR-121, which will pit zimberelimab, domvanalimab, and chemotherapy against either zimberelimab and chemo or chemo plus Merck's PD-1 inhibitor Keytruda (pembrolizumab). In that study, advanced NSCLC patients will be eligible regardless of their PD-L1 expression status.
It won't be until these Phase III registrational trials read out that Gilead and Arcus will be able to say for sure that their TIGIT inhibitor truly adds a survival benefit, especially since ARC-7 wasn't statistically powered for this comparison. That said, the firms are already planning for additional treatment indications and contemplating moving into earlier disease settings.
According to Arcus CEO Terry Rosen, the firms are moving ahead with PACIFIC-8, a Phase III trial of domvanalimab plus AstraZeneca's Imfinzi (durvalumab) in stage III NSCLC patients and are conducting the Phase III STAR-221 trial of domvanalimab plus zimberelimab plus chemotherapy versus Bristol Myers Squibb's Opdivo (nivolumab) in patients with certain gastrointestinal cancers. "All of these trials are addressing large patient populations with multibillion-dollar opportunities," Rosen said. "We're looking forward to advancing our portfolio as efficiently as possible."