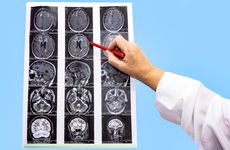 NEW YORK – Gilead Sciences' autologous CAR T-cell therapy Yescarta (axicabtagene ciloleucel) could benefit patients with central nervous system (CNS) lymphoma, according to the results of a Phase I pilot study presented during the American Society of Hematology's annual meeting.
Although Yescarta has US Food and Drug Administration approval across a number of lymphoma indications, including as a third- and second-line treatment for relapsed or refractory diffuse large B-cell lymphoma (DLBCL) and as a third-line treatment for follicular lymphoma, the studies that led to these approvals excluded patients with CNS involvement. Yescarta's label explicitly states that the drug is not indicated for patients with primary central nervous system lymphoma (CNSL).
But as Caron Jacobson, the medical director of the Dana-Farber Cancer Institute's Immune Effector Cell Therapy Program, said during a presentation at ASH Sunday, there's reason to believe the treatment could benefit these patients, too.
"We know that CD19 CAR T-cell therapies can cross the blood-brain barrier, and we also know that they've been safely administered to patients with secondary CNS lymphoma with anecdotal efficacy," Jacobson said.
Jacobson and Dana-Farber colleagues, in collaboration with Gilead, conducted a Phase I study evaluating whether Yescarta might benefit patients who fall into two categories: those whose lymphomas are only present in the central nervous system without systemic involvement and those who have both CNS disease and systemic disease.
"The rationale between having these two cohorts was that this was primarily a safety finding study, and the hypothesis was that these two different groups of patients may have different safety signals," Jacobson said.
Patients enrolled into either cohort had to have received one previous CNS-directed systemic therapy for their lymphoma, though the patients enrolled had received a median of two prior lines of systemic therapy.
During her presentation on Sunday, Jacobson shared data from nine patients enrolled in the CNS cancer-only arm of the trial. After enrollment, these patients had their immune cells harvested through leukapheresis, then underwent a lymphodepleting chemotherapy regimen while their cells were engineered to target CD19-expressing lymphoma cells. Then, within a week of leukapheresis, the patients received their Yescarta infusion.
Of note, Jacobson said someday there may be a role for using an Ommaya reservoir — a device placed under the skull — to infuse CAR T cells directly into the brain of patients with CNS disease, although this would likely still go hand in hand with an intravenous infusion to ensure the cells could still circulate and encounter healthy B cells. "There probably is some role for expansion and activation [of Yescarta] through systemic circulation before they get to the CNS," she said, calling concurrent Ommaya and IV dosing an interesting concept that's to be determined.
Although the cohort was small in the study, "Axi-cel appears to be acceptably safe for the treatment of primary and secondary CNS lymphoma with no increased risk of neurologic events," Jacobson said.
Among the nine patients on Yescarta, there were no treatment-limiting toxicities. One patient experienced a serious treatment-related adverse event — staphylococcus meningitis — and two patients died during the study due to progressive disease. Though 89 percent of patients experienced cytokine release syndrome, the CRS was grade 1 or grade 2 in all patients.
Although the study's primary goal was to determine Yescarta's safety in this patient population, several efficacy measures were included as secondary endpoints, including objective response rates, complete response rates, duration of response, progression-free survival, and overall survival.
After a median follow-up time of 11.3 months, the best overall response rate was 78 percent, and the complete response rate was 67 percent.
After six months, 78 percent of patients are still responding to the treatment. Two patients still have stable disease, but Jacobson said they are continuously being tracked to see if their responses will deepen over time.
The median progression-free survival time so far is 11.5 months, and the estimated median overall survival is 19 months.
Exploratory findings, MRD
Jacobson and investigators also performed a number of exploratory analyses, including next-generation sequencing to gauge minimal residual disease (MRD). They used a Dana-Farber NGS test, dubbed Oncopanel, to sequence cerebral spinal fluid samples for somatic mutations, copy number variants, and structural variants across 447 cancer-associated genes and for rearrangements across 191 regions in 60 cancer-associated genes.
The investigators are performing this analysis on serial samples, which they're collecting one month and three months after patients' Yescarta infusions, and then every three months thereafter for 24 months.
Even though this analysis is still ongoing, Jacobson highlighted one case that she called an "illustrative example" of how the MRD biomarker could be used to detect relapse early. This patient had no clinical signs of relapse, and their MRI showed a continued complete response to Yescarta. At nine months post-treatment, however, the results of the Oncopanel — which had previously been negative — now showed signs of recurrence.
"In addition to being able to detect the recurrence, we were also able to catalog the mutations in this recurring lymphoma," Jacobson said. The patient's lymphoma had a tumor mutational burden of 5.323 mutations per megabase including mutations in PIM1, NFKBIZ, BCL2L12, ERBB3, FGFR1, GL1, and MPL, as well as rearrangements in BCL6.
"This shows the power of this technology to potentially be able to identify genomic markers of either exceptional response in pretreatment samples for patients who continue to respond, or for markers of resistance in terms of clones that reemerge after treatment," she said.
Jacobson also shared an intriguing finding related to the pharmacokinetics of Yescarta in this study; although these patients did not have any systemic diseases, the infused CAR T cells had pharmacokinetics — including peak CAR T-cell levels — that closely correlated with those seen in the ZUMA-1 trial of Yescarta in relapsed or refractory DLBCL.
Going forward, given the promising efficacy and safety results in this pilot study, Jacobson said the trial has been amended so that patients with CNS lymphoma will be treated and evaluated irrespective of system disease. Researchers plan to enroll nine more patients in the trial.
Should this Phase I trial continue to show Yescarta's efficacy in CNS lymphoma patients, researchers will expand it into a Phase II study.