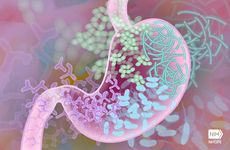 NEW YORK – The health of the gut microbiome has been linked to various health conditions over the past several years, from obesity to depression. Now, some oncology researchers are studying whether the composition of the gut microbiome could also influence cancer patients' responses to immunotherapy.
A 2018 study from researchers in Canada, France, and elsewhere published in Science showed that antibiotic use is associated with poor response to immunotherapeutic PD-L1 blockade, and that low levels of the bacterium Akkermansia muciniphila specifically seemed to be associated with poorer outcomes in lung cancer and kidney cancer patients. Supplementing levels of A. muciniphila in antibiotic-treated mice restored their response to immunotherapy. 
A. muciniphila is a species of human intestinal mucin-degrading bacterium. It's believed to have anti-inflammatory effects in humans, and previous studies have shown inverse relationships between A. muciniphila colonization and inflammatory conditions such as appendicitis or inflammatory bowel disease. 
In a February 2019 study published in OncoImmunology, some of the same researchers examined patients with advanced melanoma treated with an anti-PD-1 monoclonal antibody or an anti-CTLA-4 monoclonal antibody alone or in combination with chemotherapy. They found that patients who received antibiotics 30 days prior to the administration of immunotherapy experienced more primary resistance, as well as shorter progression-free survival and overall survival.
And this month again, some of the same researchers published a meta-analysis in Gut Microbes noting that the gut microbiome "acts as an imperative determinant of [the] cancer immune set-point," a set of factors including host, tumor, and environmental variables, which can determine the threshold of the anti-cancer immune response. "The gut microbiome may determine the extent to which [immunotherapies] may invigorate the anticancer immune response," they added.
Indeed, at two separate presentations at the annual meeting of the European Society for Medical Oncology in Barcelona late last month, two of the researchers involved in these studies said the state of the gut microbiome could serve as a novel biomarker of therapeutic response for patients being treated with immunotherapies.
The University of Montreal's Bertrand Routy — who led the Science, OncoImmunology, and Gut Microbes studies — noted that the meta-analysis of the gut microbiome's effect on immunotherapy efficacy showed that the use of antibiotics in patients had a deleterious effect when they were administered to patients before the administration of immunotherapy, but that antibiotics given during immunotherapy didn't seem to make much of a difference.
Further, while the overall health of the microbiome and the presence of diverse bacterial species was an important factor in how well patients responded to treatment, the presence or absence of A. muciniphila seemed to have a particularly strong association with response to therapy. Feces taken from lung cancer patients treated with anti-PD-1 therapies and transplanted into mouse models showed that adding beneficial bacteria back into the patients' guts reactivated the activity of immunotherapy.
In the 2018 Science study, the fecal presence of A. muciniphila was detectable in 69 percent and 58 percent of advanced non-small cell lung cancer (NSCLC), renal cell carcinoma (RCC), or urothelial carcinoma patients receiving PD-1/PD-L1 monoclonal antibody treatment who exhibited a partial response or stable disease, respectively. It could only be detected in 34 percent of patients whose disease progressed or who died. 
In a second session at the 2019 ESMO meeting, Gustave Roussy researcher Lisa Derosa — whose group is collaborating with Routy's — said that in research she and her colleagues have done of NSCLC and RCC patients, immune response was modulated by antibiotic usage, regardless of tumor types. Like Routy, Derosa said that A. muciniphila was enriched in patients with the best response to treatment.
In RCC patients, A. muciniphila was most significantly associated with favorable clinical outcomes, she added.
"The thing that lung cancer, and melanoma, and renal cell cancer all have in common is that they're immunogenic cancers, meaning that the course of the disease and the treatments are deeply tied to the immune system," said Arielle Elkrief, a University of Montreal researcher and first author of the OncoImmunology and Gut Microbes studies. "Immune checkpoint inhibition invigorates our immune system to kill these cancers. We know that one of the key roles of the gut microbiome is to modulate the immune system. We know that 70 percent of our T cells live in our gut. So, it's no surprise that the immune system is deeply tied to the microbiome and that the microbiome is a modulator for how these immune checkpoint inhibitors work."
Work is now being done to determine the exact mechanism underlying A. muciniphila's association with better response to immunotherapy. Elkrief noted that it may have something to do with the composition of the tumor microenvironment and the shift of active immune cells from the periphery of the microenvironment to the tumor.  
Various research teams are also working on ways to modulate the effect antibiotics may have on a patient's response to immunotherapy. "In 2018, the landmark experiments really demonstrated that cancer immunotherapy requires an intact microbiome. And that was really a game changer in terms of the gut microbiome being an important biomarker for success for immune checkpoint inhibition," Elkrief said. "The next steps are really understanding how we can manipulate the gut microbiome in order to change patients who are non-responders into responders."
Routy recommends that oncologists "judiciously" use antibiotics in patients who are about to start immunotherapy. But because antibiotics are sometimes needed by cancer patients — who are more vulnerable to infections and more likely to die from them — researchers are also coming up with ways to repopulate patients' guts with beneficial microbes. 
One way to do that might be with fecal transplants from responder patients to non-responder patients. When researchers have transplanted the feces of responder patients into mice that have a dysbiotic or imbalanced microbiome, they have been able to induce response to immune checkpoint inhibition, Elkrief said. 
"There are many different ways of administering this," she added. "There are studies ongoing looking at capsules that patients can ingest, whether it's in the first line setting in addition to immunotherapy or whether it's administering to patients that have become resistant to immune checkpoint inhibition in order to try to regain activity. That's all currently in very early phases of study."
In his presentation at the ESMO meeting, Routy said that such fecal transplants have shown positive effects in mouse models, and that the treatment could serve as a viable boost to immunotherapy.
"There are also a lot of active studies ongoing looking at the addition of prebiotics or probiotics [to immunotherapy], and studies of diet," Elkrief said. "[We're also] looking at how we can manipulate the microbiome to serve as an adjuvant therapy in patients, in patients being treated with immune checkpoint inhibition."
Researchers are also conducting studies to further characterize the microbiome as a biomarker. In her ESMO presentation, Derosa noted that her group is now collecting feces from breast cancer and melanoma patients, and is planning to conduct systems biology and multi-omics analyses to find a relevant microbial signature that could signal whether a patient will respond to immunotherapy.
Her group is also conducting a prospective trial to characterize the gut onco-microbiota signature for response or relapse in lung cancer patients. They now have at least 400 patients enrolled, Derosa said, and are collecting and analyzing patients' feces before the start of immunotherapy. 
Though the data has not yet been published, she added, A. muciniphila has so far been associated with the best response to treatment in lung cancer patients. Responder patients also had a higher overall microbiome diversity.
Meanwhile, in January researchers at Parker Institute for Cancer Immunotherapy launched a Phase 1b, multicenter, randomized, placebo-controlled, blinded study designed to evaluate the safety and tolerability of treatment with an oral microbiome intervention in combination with the anti-PD-1 therapy nivolumab (Bristol Myers-Squibb's Opdivo) in participants with unresectable or metastatic melanoma. Prior to initiating the oral microbiome intervention treatment and nivolumab, participants will undergo an antibiotic or antibiotic placebo treatment to prime the gut microbiome for engraftment of the oral microbiome study intervention. 
The researchers are planning to assess safety, changes in the percentage of tumoral CD8 T cells, antitumor activity, the impact of the oral microbiome intervention on patients' microbiome profiles, and its association with clinical and immunological outcomes.
Derosa further noted that microbiomes other than that of the gut may be relevant to how patients respond to immunotherapy. In addition to fecal samples, her group is also collecting saliva, skin, and other microbiome samples for analysis.