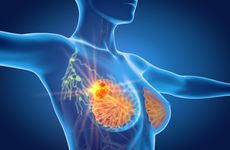 NEW YORK – The combination of the checkpoint inhibitor durvalumab (AstraZeneca's Imfinzi), the PARP inhibitor olaparib (AstraZeneca/Merck's Lynparza), and standard-of-care neoadjuvant chemotherapy improved pathologic complete response in women with stage II/III HER2-negative breast cancer compared to chemotherapy alone, according to data presented at a major cancer research conference.
However, before using this regimen broadly in the clinic, an independent reviewer noted the need to wait for efficacy and safety data from larger confirmatory studies and a better understanding of the role of BRCA1/2 mutations and PD-L1 expression status in mediating response. 
In the Phase II I-SPY2 trial, the pathologic complete response benefit was seen across subgroups of both patients with HER2-negative, HR-positive breast cancer and patients with triple-negative breast cancer in the neoadjuvant setting. The lead investigator of this arm of the I-SPY2 study, Lajos Pusztai of the Yale Cancer Center, presented the results during the American Association for Cancer Research's Virtual Annual Meeting on Monday.
As Pusztai presented, the study arm's primary endpoint of pathologic complete response was defined as complete eradication of tumors in breast and lymph nodes prior to surgery. The researchers considered the treatment regimen to have met a "graduation" threshold for efficacy in the Phase II study — allowing the regimen to now be studied in a 300-patient, Phase III trial — when the probability of predicted pathologic response exceeded 85 percent.
Among a total of 73 patients with HER2-negative breast cancer who received the durvalumab, olaparib, and paclitaxel chemotherapy combination, 37 percent achieved pathologic complete response by the time of surgery, compared to 20 percent of patients treated with chemotherapy alone. This improvement successfully met the study's graduation threshold. Of note, following treatment of either durvalumab, olaparib, and paclitaxel versus paclitaxel alone, patients in both study arms went on to receive doxorubicin and cyclophosphamide prior to surgery.
The results were also broken down according to biomarker subtype. Within the larger group of 73 HER2-negative patients, the 52 patients with HER2-negative, HR-positive breast cancer (designated high-risk by MammaPrint analysis) achieved a pathologic complete response rate of 28 percent, compared to 14 percent in those who received chemotherapy alone. And among the 21 patients with triple-negative breast cancer, the pathologic response rate was 47 percent versus 27 percent in the chemotherapy-alone arm.
The researchers also explored pre-specified predictive markers and found that cancers with higher expressions of most immune markers tended to achieve higher rates of pathologic complete response — a finding that was consistent across all subtypes and both treatment arms. As addressed during the follow-up discussion of the data, this higher response observed across both the treatment and control arms suggested that, when it comes to the predictive value of immune markers in this context, PD-L1 status may not be much help.
Other predictive markers were more illuminating. Within the HER2-negative, HR-positive subgroup, for instance, the most significant pre-specified predictive marker was MammaPrint ultra-high status, a group in which 64 percent achieved pathologic complete response while on the durvalumab-olaparib-paclitaxel regimen compared to 22 percent among those receiving just chemotherapy.
And in the triple-negative breast cancer subgroup, cancers with low CD3/CD8 gene signature ratios, high macrophage/T-cell-MHC class II ratios, and high proliferation signatures were all associated with improved pathologic complete response.
In terms of safety and side effects, Pusztai said that the I-SPY2 results did not reveal any new or unexpected safety issues with these therapies. Overall, 19 percent of patients who received durvalumab and olaparib along with chemotherapy experienced immune-related grade 3 adverse events, compared with 1.6 percent of patients in the control arm.
In the discussion of the results immediately following Pusztai's presentation, Pamela Munster from the University of California, San Francisco, highlighted that the increased benefit seen in the ultra-high-risk MammaPrint group could potentially allow oncologists to "select a group of patients who may benefit from the addition of immune-oncology and PARP inhibitors."
Muster pointed out a need for further research before oncologists begin to incorporate this treatment combination into practice. She stressed the need to answer several key questions, including the extent to which BRCA mutation-based homologous recombination deficiency status plays a role in pathologic complete response. Data regarding the BRCA status were not available at the time of the AACR presentation, though Pusztai said that these data are "on the way."
In addition to questions regarding the impact of BRCA status, Munster highlighted the need for further toxicity analysis before this combination treatment is ready for use, as well as the need to consider the efficacy and safety data in the context of potential financial toxicity. The combination of these three agents is likely to carry a hefty price tag, and as such, Munster noted such a regimen could compound financial burden on patients.
"Placing this trial in context with other studies, the contribution of PARP inhibitors to immunotherapy in early-stage breast cancer remains uncertain," Munster concluded in reviewing the data. "Thus, we should await confirmatory randomized studies that are stratified for PD-L1 expression and BRCA mutation HRD status before using combined immune checkpoint inhibitors and PARP inhibitors in early-stage breast cancer."