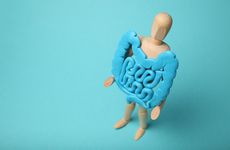 NEW YORK – The results of a Phase III trial may shift the therapeutic landscape for a subset of metastatic colorectal cancer patients, according to several oncologists, and make Merck's pembrolizumab (Keytruda) a new first-line option.
In the Merck-sponsored Keynote-177 trial, metastatic colorectal cancer patients with high microsatellite instability (MSI-H) who received just the checkpoint inhibitor pembrolizumab lived on average twice as long without their disease progressing compared to those who received investigators' choice of chemotherapy alone or a chemotherapy-based regimen that added bevacizumab (Genentech's Avastin) or cetuximab (Eli Lilly's Erbitux). The data from this study will be highlighted on May 31, during the plenary session of the American Society of Clinical Oncology's virtual annual meeting.
Jon Cheng, VP and oncology therapeutic area head at Merck Research Laboratories, highlighted in an interview that pembrolizumab reduced the risk of progression or death by 40 percent compared to chemotherapy-based regimens. "Metastatic colorectal cancer is still an incurable disease for the majority of patients when it has spread beyond the colon to distant organs," Cheng said. Despite the availability of chemotherapy and targeted agents, such as bevacizumab and cetuximab, "unfortunately most people will succumb to their disease," he said. "The need for new treatments for this population is very high."
In a press call hosted by ASCO earlier this week, lead researcher Thierry André from the Saint-Antoine Hospital in Paris reported that at a follow-up of 32 months, median progression-free survival in the pembrolizumab arm was 16.5 months versus 8.2 months in the comparator arm. "In the past, no medical treatment has shown such a difference in improvement of progression-free survival in metastatic colorectal cancer," André said.
"I think this will be practice changing," added Luis Diaz from Memorial Sloan Kettering Cancer Center, who co-led Keynote-177, in an interview. "It's a pretty impressive scientific and clinical advance."
After a year of treatment, 55 percent of patients were alive and not progressing on the pembrolizumab arm compared to 37 percent in the comparator arm. After two years of treatment, the median progression-free survival rate was 48 percent and 19 percent, respectively.
In terms of overall response, 44 percent of patients on pembrolizumab and 33 percent of those on chemo or chemo-containing regimens saw their tumors shrink. Median duration of response was not reached in the pembrolizumab arm but was 10.6 months in the chemo arm. In the pembrolizumab arm, 83 percent of patients responded to the drug for at least two years versus 35 percent in the chemo arm.  Merck highlighted in a statement that these benefits to pembrolizumab were seen in Keynote-177 even though 59 percent of patients crossed over to receive immunotherapy after progressing on a chemo-containing regimen. 
Keynote-177 also showed pembrolizumab was "significantly safer" in this population than the chemotherapy-containing regimens, Diaz said. Grade 3 or higher toxicities occurred in 22 percent of patients receiving immunotherapy versus 66 percent in the comparator arm. André noted that the toxicity profiles of the two treatment arms differed, with pembrolizumab-treated patients experiencing more immune-mediate adverse events and patients in the comparator arm having more "classical" adverse events associated with chemotherapy, such as diarrhea, neutropenia, fatigue, and nausea.
The study will continue to evaluate the impact of pembrolizumab on overall survival, but not enough patients have died in the study to report this endpoint. Keynote-177 started enrolling patients in late 2015, but Diaz explained that it took a long time to recruit the approximately 300 MSI-H metastatic colorectal cancer patients at cancer centers in 23 countries and wait for the progression-free survival endpoint to mature.
An estimated 4 percent to 5 percent of metastatic colorectal cancer patients are MSI-H, resulting in tumors that are hypermutated due to the cells' impaired ability to repair faulty DNA. In the study, all patients had their MSI-H status established by immunohistochemistry or PCR testing.
The US Food and Drug Administration in 2017 approved pembrolizumab as an option for patients with refractory solid tumors that were MSI-H or otherwise mismatch repair deficient (dMMR), regardless of their cancer histology. In colorectal cancer specifically, the drug is FDA approved for metastatic or unresectable colorectal cancer patients who are MSI-H or dMMR and who have progressed after chemotherapy treatment with a fluoropyrimidine, oxaliplatin, and irinotecan. 
"This study demonstrates that the majority of the 5 percent of patients with metastatic colorectal cancer, selected by MSI-high status benefitted greatly from anti-PD-1 pembrolizumab compared to standard of care," André said. "Pembrolizumab should be the new standard of care of care for patients. The hope is that after stopping pembro some patients were cured of metastatic disease."
Who are the patients not benefitting?
Michael Overman from MD Anderson Cancer Center, who was not involved in Keynote-177, agreed that the data are practice changing. But he also pointed out that while it appears that MSI-H is a biomarker that can identify patients most likely to benefit from pembrolizumab, the presented data also show that there is a subset that doesn't benefit. André displayed the progression-free survival analysis in Keynote-177 graphically plotted, which clearly shows that the pembrolizumab-treated group didn't start doing better than those in the chemo-treated arm until about six or seven months into the study.
This graph, Overman explained in an interview, is capturing the fact that in the initial months of the study there are patients who were progressing on pembrolizumab at a greater rate than on the chemotherapy arm. "Not every MSI-high patient responds to immunotherapy, but when they do it's amazing," he said. "How do we identify within [the] MSI-high [subset] which patients are the ones that aren't going to respond? That's one big question this study raises."
Based on clinical factors, Overman suspects that the patients who may not be benefitting from pembrolizumab may be those with poor performance status, those who have significant metastasis to the liver, or have a sizeable tumor burden that worsens their symptoms. "These are the patients who if you don't get better in the next few months, that might be it," he said.
The Keynote-177 data may have captured the fact that these patients may be better off using chemotherapy to get their disease under control and more stabilized. "Some might think that if you're going to go for a last shot, go for the shot that's heroic," Overman said. But if the goal is to get the patient feeling better and improve their symptoms, then he proposed that chemo might be the better approach in those first critical months before trying immunotherapy.
Overman wondered, however, whether combination immunotherapy may work better in these patients.
Competition in the first line
For previously treated metastatic colorectal cancer patients who have MSI-H or dMMR, the other FDA-approved immunotherapy option is nivolumab (Bristol Myers Squibb's Opdivo) as a single agent or in combination with ipilimumab (BMS' Yervoy) after progression with a fluoropyrimidine, oxaliplatin, and irinotecan in this setting. However, BMS is also exploring the use of its drugs in the earlier lines of therapy.
At the European Society for Medical Oncology's annual meeting in 2018, researchers reported that 60 percent of 45 MSI-H metastatic colorectal cancer patients saw their tumors shrink on nivolumab and low-dose ipilimumab in the first-line setting. Although survival data weren't yet mature, after one year of treatment with the combination immunotherapy, progression-free survival and overall survival rates were 77 percent and 83 percent, respectively, in the CheckMate-142 study. 
At the time, the Saint-Antoine Hospital's André reviewed the data and said that BMS should seek FDA approval for the combination as a first-line treatment of MSI-H metastatic colorectal cancer, but predicted that the European Medicines Agency may require a randomized Phase III trial.
Merck hasn't yet announced its regulatory plans for pembrolizumab in first-line MSI-H metastatic colorectal cancer. However, Cheng noted that when trials demonstrate a promising risk/benefit ratio for a Merck drug, as was seen in Keynote-177, the company's policy is to begin regulatory discussions about the data with regulatory authorities globally.
Even without an FDA-approved immunotherapy option for the MSI-H metastatic colorectal cancer population, oncologists are already starting to prescribe these drugs in earlier lines, according to Overman, who is an investigator in CheckMate-142. "Insurance companies have been going along with it," he said. "They recognize MSI-high in the immunotherapy space, and I haven't seen a ton of issues with lines of therapy."
While the CheckMate-142 data on nivolumab-ipilimumab looked "encouraging" to Overman, he also cautioned that it was in a small cohort, that the study wasn't randomized, and that the cost of two immunotherapies is definitely higher than one.
In the frontline metastatic colorectal cancer setting, the current non-immunotherapy options aren't bad, in Overman's view, and therefore, the bar for a new drug to replace existing options is much higher. "You really need that randomization to definitively prove that the new approach is better," he said, adding that Keynote-177 does that for pembrolizumab.
Cheng, who is also a gastrointestinal oncologist at Fox Chase Cancer Center, noted there is high interest in the oncology community in using immunotherapy in MSI-H metastatic colorectal cancer. And while also describing the CheckMate-142 data as "encouraging," he noted that given the small sample size and non-randomized nature of the study, it'll be hard for doctors and regulators to assess the benefit/risk profile of the immunotherapy combination in comparison to the standard of care. Merck decided to conduct Keynote-177 as a comparison between pembrolizumab and the standard of care, Cheng said, so oncologists will have a better idea of the risk/benefit profile of the immunotherapy as they make treatment decisions for this subset of patients.
While Keynote-177 speaks to the efficacy and safety of pembrolizumab, there is currently no head-to-head comparison to help guide oncologists as to which front-line immunotherapy strategy is best in MSI-H metastatic colorectal cancer. Data from CheckMate-142 suggested that nivolumab-ipilimumab was more effective than nivolumab alone, which can be somewhat of a guide for oncologists, Overman said, but without more randomized studies, doctors will have to extrapolate what's best for their patients based on the available data and insurers' willingness to pay.
A conundrum for biomarker-driven indications
The uptake of pembrolizumab in the front-line setting will rely on molecular tests to determine patients' MSI-H or dMMR status. The adoption of such testing is increasing after the FDA approved the histology-agnostic indication for pembrolizumab in 2017. Since then, the National Comprehensive Cancer Network has recommended tumor testing all colorectal cancer patients for mismatch repair deficiency.
According to an evaluation published earlier this year, drawing on real-world data on more than 20,000 metastatic colorectal cancer patients in Flatiron Health's repository, testing to gauge mismatch repair status increased from occurring in just 34 percent of patients in 2013 to 77 percent in 2018. "MSI testing is going up, but we certainly need to do it more," said Diaz. 
In André's view, the Keynote-177 data "represents another step forward for biomarker-driven studies." He added that based on the success of this trial, the group plans to explore the efficacy of pembrolizumab as adjuvant and neoadjuvant treatment in MSI-H metastatic colorectal cancer.
However, given the rarity of the biomarker in certain settings, Diaz wondered whether it would be possible to explore the efficacy of pembrolizumab as a front-line option in other tumor types. Approximately 5 percent of metastatic colorectal cancer patients are MSI-H, but the biomarker is even rarer in other tumor types. According to published data from Flatiron, the MSI-H rate is less than 2 percent across all tumor types but as low as 0.3 percent in breast and non-small cell lung cancer. 
Based on the underlying biology of MSI-H tumors, Diaz is optimistic that other advanced cancers with mismatch repair deficiencies may also benefit from front-line pembrolizumab. "We see this to be a pan-tumor phenomenon," he said.
However, establishing a pan-cancer treatment effect is more straightforward in the refractory setting, where treatment options are limited, and robust response rates seen in single-arm basket trials may be sufficient for regulatory approval. The regulatory requirements in the front-line setting are more stringent, often requiring randomized studies comparing the new treatment against the standard of care. "The question is how do we bring this to more patients in the front-line without doing a study in every single tumor type … [which] has a different front-line therapy," Diaz said. "It's a conundrum."