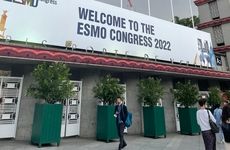 PARIS – Five-year overall survival data from the Phase III MONARCH 3 study has shed light on the long-term efficacy of Eli Lilly's Verzenio (abemaciclib), but in a crowded market, oncologists still have questions about the best CDK4/6 inhibitor for their patients with hormone receptor-positive HER2-negative advanced breast cancer.
The MONARCH 3 results, presented at the European Society for Medical Oncology Congress on Friday, showed that Verzenio plus an aromatase inhibitor improved overall survival in advanced breast cancer patients compared to placebo and an aromatase inhibitor after more than five years. The median overall survival in the Verzenio arm was 65.1 months versus 48.8 months in the placebo arm among 493 patients, researchers reported.
In the HR-positive, HER2-negative advanced breast cancer market, however, Verzenio competes with two other CDK4/6 inhibitors: Pfizer's Ibrance (palbociclib) and Novartis' Kisqali (ribociclib). In the absence of head-to-head comparisons of these drugs, oncologists have struggled to make sense of why two of the drugs in the class appear to extend survival, but one does not.
At the American Society of Clinical Oncology annual meeting in June, researchers presented positive survival data from the Phase III MONALEESA-2 study of Kisqali plus the aromatase inhibitor letrozole versus placebo and letrozole as a first-line treatment. In that study, patients on the Kisqali combination had a median overall survival of 63.9 months versus 51.4 months with just letrozole.
By contrast, Pfizer's Ibrance did not improve overall survival versus placebo in the same first-line advanced breast cancer setting in the Phase III PALOMA-2 trial. In that study, patients treated with Ibrance plus an aromatase inhibitor lived for 53.9 months versus 51.2 months in the placebo plus aromatase inhibitor arm. Those negative results sparked debate about how oncologists should choose a CDK4/6 inhibitor for their breast cancer patients.
Matthew Goetz, who presented the MONARCH 3 results and is a professor of oncology at Mayo Clinic, noted that further study is needed to better understand the range in survival benefit across the three CDK4/6 inhibitors because cross-trial comparisons are not ideal.
"There are a lot of questions about why we've seen these data and about the lack of survival benefit across PALOMA 1 and 2," Goetz said. "There needs to be a deep dive into this. Unfortunately, apart from the HARMONIA trial, I don't think we're going to have that head-to-head study to ultimately answer that question."
The HARMONIA study is a Phase III trial comparing Kisqali plus endocrine therapy to Ibrance plus endocrine therapy in patients with HR-positive HER2-negative advanced breast cancer. However, enrollment in the study only began this year.
Meritxell Bellet Ezquerra, a senior researcher at Vall d'Hebron University Hospital in Barcelona, said in a discussion of the MONARCH 3 results that the choice of a CDK4/6 inhibitor in this setting is "challenging."
The final survival analysis in MONARCH 3 is expected in 2023. However, Ezquerra noted that the five-year survival data presented at ESMO and prior analysis showing about a quarter of patients were alive without progression at nearly six years suggest that the final analysis will likely show an improvement in survival.
"Considering overall survival data from MONARCH 3, MONALEESA-2, and PALOMA-2, I believe that a better understanding of tumor biology at progression to each CDK4/6 inhibitor is needed, as progression-free survival is similar across the three studies," Ezquerra said.
She noted that Kisqali has the greatest level of evidence supporting its use as a first-line treatment for HR-positive HER2-negative advanced breast cancer patients. "Ribociclib should be considered first," she concluded.
Although, Ibrance did not show a long-term overall survival improvement, Ezquerra said it is "still in the equation" because some real-world data has shown improvements in overall survival. In one real-world data study, published in Breast Cancer Research last year, treatment with Ibrance plus letrozole resulted in greater overall survival than with letrozole alone. The two-year overall survival rate in that study for Ibrance and letrozole was 78.3 percent versus 68 percent among patients treated with letrozole alone.
She also noted that oncologists should consider the toxicity profile, quality of life, drug interactions, and individual patient preferences when deciding which CDK4/6 inhibitor to treat breast cancer patients.
Goetz echoed those statements, noting that patients should be told all the benefits and limitations of these drugs.
"We have to share the data with them, share the unknowns, share that we can't do cross-trial comparisons," he said. "When you share that data with patients, many patients would probably choose the drug that has had a proven survival advantage in this setting."