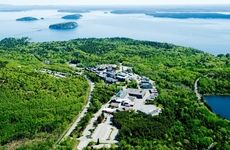 NEW YORK – The Maine Cancer Genomics Initiative (MCGI) is putting a new $11.8 million grant toward expanding access to clinical trials for rural patients in the state, creating digital tools to better disseminate information about precision oncology to physicians and finding new ways to monitor patients.
The MCGI, an effort spearheaded by the nonprofit research organization Jackson Laboratory (Jax), has spent the last four years working to improve genomic profiling access for cancer patients in Maine, particularly those living in rural communities. With $8 million in initial start-up funding from the Harold Alfond Foundation, MCGI provided cancer patients at a dozen practices across five Maine health systems access to genomic testing and gave doctors the benefit of a genomic tumor board to aid with clinical decision making.
Based on the success of this first phase, the Harold Alfond Foundation awarded another $11.8 million to the initiative last week. Jens Rueter, medical director of MCGI, outlined three components to implementing precision oncology in the state.
"One [component] is access to tests. The second one is interpreting those tests. Then, the third one is to actually start the treatment that's based on the test results either through clinical trials or through prescribed medications," Rueter said. "On the first two parts, we've made some great progress. Especially, access to testing does not seem to be as much of a barrier [compared to] five years ago."
MCGI has provided genomic testing to more than 1,600 cancer patients in Maine in the first phase of the program. Based on the tumor biomarkers identified by those tests, the aim in the next phase is to match patients to investigational treatments in clinical trials or help them get access to off-label drugs with evidence suggesting that they might benefit.
After the initial implementation of the initiative in Maine, MCGI is beginning to explore how the program can benefit patients in neighboring states, such as Vermont and New Hampshire, which have similar populations and demographics. There's also an opportunity to use Jax's other locations in California and Connecticut as jumping off points for future expansion, Rueter said.
On the clinical trials front, MCGI and Jax hope to function as a coordinating center for study sponsors looking to enroll biomarker-driven cancer drug studies. Precision oncology drugs tend to be indicated for cancers with rare tumor markers, and patients who harbor these alterations can be hard to find. Drugmakers often have to enroll dozens of study sites in order to enroll enough patients with the biomarker of interest. Despite the investment a cancer center may make to become a recruitment site for a trial, some of these locations may not enroll any patients in the end.
The challenge is particularly pronounced for smaller community practices. "If you're a small practice that has one or two practitioners, you typically can't open trials at your site because the clinical trial partners, the sponsor, often looks for larger sites because they want to make sure that they're getting enough involvement out of the site," Rueter said. "One thing that we'll be able to leverage is our network that we've built in Maine, which covers the entire state. We can basically act as the representative or as a coordinating center that the study sponsor can partner with."
Many small community practices also don't have the staff or training to monitor clinical trial participants, but Jax can provide the expertise in this regard and train local practices to evaluate patients and help them find the right trials for them. Jax will continue to build out its staff of experts to conduct that training and to help community oncologists choose the right trials for their patients.
The initiative is also rolling out a program to bring off-label treatments to patients who may not meet the criteria to enroll in clinical trials for experimental drugs. The barriers there involve getting access to the drugs for off-label use from the sponsors and ensuring the drug will be reimbursed.
MCGI will provide individuals trained in making the case for reimbursement and writing appeal letters to justify the use of an off-label drug. These navigators will work with individual practices to help move patients through the continuum of care.
Other precision oncology programs have had success employing such navigators. For example, oncologists at the University of California, San Diego have a team of medication acquisition specialists. These specialists were instrumental in garnering access to investigational and off-label drugs within the i-PREDICT study, which matched 49 percent of patients to a treatment based on the molecular profile of their tumors. This is much higher than the single to low-double digit "match rate" seen within other precision oncology studies.
Medication acquisition specialists will also be involved in the recently launched Target Rare Cancer Knowledge (TRACK) study, in which oncologists hope to extend molecular profiling and personalized treatment options to 400 patients with rare cancers receiving care in the community setting. 
The next phase of the initiative will also focus on creating digital tools and services for Maine oncologists and patients. MCGI is still in the planning phase in this regard, but the initiative is hoping to develop tools that address three gaps: education for physicians, education for patients, and digital monitoring for patients. Over the next five years, the program will identify the needs for these tools and develop them in-house, Rueter said.
First, MCGI wants to make more information about cancer and genetics available to clinicians in Maine. Rueter said the idea is to make that information more engaging than a lengthy, static genetic test report. The hope is that disseminating the learnings from MCGI overall to individual doctors will help them make better treatment decisions based on patients' molecular tumor profiles.
The group also wants to make more information available to patients about their diagnosis. Often, patients want to know more about their tumor or their mutation than their clinicians will tell them, Rueter said, so MCGI plans to begin working more closely with patients and provide them that information.
"We want to provide patients with more information on the tumor and that's something that really hasn't been done in cancer very much," Rueter said. Direct-to-consumer genetic testing companies have increased consumer interest in the genetics of ancestry, treatment response, and disease risks. However, in oncology, there hasn't been a comparable effort to educate cancer patients about the underlying genetics of their disease, he observed.
"These reports that are typically sent back to the clinician are quite complex and can be quite difficult to read for community oncologists, and patients are left even further in the dark," Rueter said.
Finally, MCGI wants to tap into patients' biometric data collected by wearable devices. The experts involved in the program are interested in incorporating digital phenotyping into the project, and collecting data on patients' heart rates, blood pressure, and symptom scores using these devices.  
Those data could provide a better picture of how patients taking these new and experimental therapies are doing every day, in between follow-up visits with their doctors.
"Collecting biometric data on individuals with devices is something that has really revolutionized medicine," Rueter said. "In oncology, the way we're assessing patients right now, it's very archaic. With digital phenotyping, we could really understand how well they're doing while they're getting novel and complex therapies on a real-time basis."