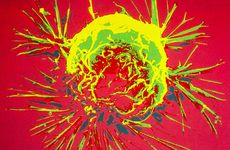 NEW YORK – A recent pilot study of Pfizer's PARP inhibitor talazoparib (Talzenna) suggests that it might work as a neoadjuvant treatment for women with triple negative breast cancer and BRCA germline mutations.
Pfizer is conducting its own Phase II trial, results of which are still likely more than a year away, but the pilot, conducted by researchers from MD Anderson Cancer Center, showed promising results.
The study, published late last month in the Journal of Clinical Oncology, recruited 20 women with stage I to III breast cancer and either a BRCA1 or BRCA2 germline mutation. The women were treated for six months with talazoparib, foregoing chemotherapy, before their tumors were surgically removed.
When their surgeries were performed, more than half the women showed a pathologic complete response, while more than 60 percent could be classified into the lowest tier of residual disease. According to the authors, this "substantial" pCR rate, along with manageable toxicities, is an encouraging sign for Pfizer's NEOTALA trial. If this larger trial can produce similar results, it could help the drugmaker make a case for talazoparib approval for this new indication.
PARP inhibitors first achieved US Food and Drug Administration approval for advanced ovarian cancer, expanding into the metastatic/locally advanced breast cancer space only in 2018.
For talazoparib, approval in advanced breast cancer was supported by a trial called EMBRACA, which showed a significant improvement in progression-free survival, with a hazard ratio of 0.54 for women randomized to the PARP inhibitor compared to those who received their physician's choice of chemotherapy. Another PARP inhibitor, AstraZeneca's olaparib (marketed as Lynparza) showed similar results in the OlympiAD trial.
Because of these compounds' efficacy in advanced cancer patients, drugmakers have since hoped to be able to expand them into treatment paradigms for early-stage patients. But the same success has been harder to come by in the adjuvant and neoadjuvant settings, at least so far.
According to the study authors, the failures of other neoadjuvant experiments may reflect the fact that previous trials included more heterogeneous populations — they did not limit treatment to BRCA1/2 mutation carriers.  They also combined PARP inhibition with chemotherapy, which presents challenges in dosing and managing toxicity.
For the MD Anderson team, the rationale to conduct a small study of single-agent talazoparib in a molecularly defined subgroup came from a previous effort, which was designed to evaluate a more practical question: whether it was even feasible to recruit women who would delay neoadjuvant chemotherapy in favor of a short, pre-chemo course of PARP treatment.
Investigators aimed to get 20 patients to agree to enter that previous study over two years, but within eight months they already had 13. Even just two months of talazoparib in this group showed strong anti-tumor activity. When the researchers performed an ultrasound on participants after the treatment period, they saw tumor volume decrease significantly — 88 percent on average, with a range from 30 percent to 98 percent.
Based on the accrual rate, response, and lack of serious toxicities, the group stopped that study and moved directly on to the newly-published effort. For this analysis, the group recruited another 20 individuals between August 2016 and September 2017. Among the group of 20, there were 16 patients with BRCA1 mutations and four with BRCA2 mutations.
Fifteen patients had triple-negative breast cancer and five had hormone receptor-positive disease. Five patients had clinical stage I disease, 12 had stage II, and three had stage III cancer, including one patient with inflammatory breast carcinoma and one with metaplastic chondrosarcomatous carcinoma.
One patient chose to receive chemotherapy before surgery and was not included in the analysis. But among the remaining 19, investigators calculated that 53 percent had pathologic complete response when they were surgically evaluated. Another 10 percent had the lowest category of minimal residual disease, bringing the number of patients with a very strong drug response up to 63 percent.
Analyzing adverse effects, the group reported that eight patients suffered anemia requiring a blood transfusion, three had grade 3 neutropenia, and one had grade 4 thrombocytopenia. Nine patients in the study required dose reduction to manage symptoms or toxicity.
Jennifer Litton, the study's first author, wrote in an email that the study's success — compared to some of the disappointing results in earlier studies of neoadjuvant PARP inhibitors — likely reflects both the fact that the cohort only included BRCA mutation carriers and that talazoparib is more potent than  other drugs in the class.
According to Litton and her coauthors, the rates of pCR and low residual cancer seen in these patients are, at the very least, "encouraging." In the end, NEOTALA will need to demonstrate that PARP treatment can match or improve the favorable prognoses that have been demonstrated with chemotherapy. Various studies have reported on pCR rates for chemotherapy in BCRA mutation carriers, the authors wrote, with rates ranging from 22 percent up to 66 percent.
Other details from this pilot also seem to bode well for the potential of talazoparib. "Importantly," the study authors wrote, "excellent pathologic responses were seen across BRCA mutation types, in both HR-positive and [triple-negative] tumors, as well as subtypes known for chemotherapy resistance to neoadjuvant therapy, such as inflammatory breast cancer, metaplastic cancer, and invasive lobular carcinoma."
Pfizer declined to discuss whether early results from the ongoing NEOTALA trial reflect what the MD Anderson group saw in its 20-patient pilot. The company also didn't provide details on what it thinks the timeline for regulatory approval might be for talazoparib in a neoadjuvant indication if NEOTALA is successful. "We will continue to assess the data as it matures," a company spokesperson said in an email.
The trial, which is using Myriad Genetics' BRACAnalysis CDx assay to identify candidates for eligibility, began recruiting patients last year, and Pfizer expects to report outcomes data sometime in 2021.