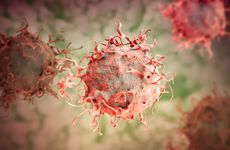 NEW YORK – Androgen receptor expression contributes to BRAF/MEK inhibitor treatment resistance, particularly among male melanoma patients, according to new research out of the MD Anderson Cancer Center.
In a study published last week in Nature, researchers at MD Anderson Cancer Center not only showed that female patients tended to respond better to BRAF/MEK inhibitors than male patients, but also why this is the case and how oncologists could potentially address this differential response with hormone-modulating treatment.
"Our data confirms a mechanism for conferring resistance to BRAF/MEK inhibitors … and we think that we could address the sexual dimorphism that we've observed [using AR blockade]," said Timothy Heffernan, head of MD Anderson's TRACTION platform and one of the lead authors on the Nature paper. TRACTION, short for the Translational Research to AdvanCe Therapeutics and Innovation in Oncology, is part of MD Anderson's Therapeutics Discovery Division, a drug development engine within the cancer center.
Heffernan chalks up the findings to a "reverse translational" research process used by his team at MD Anderson, including lead author Jennifer Wargo, a professor of genomic medicine and surgical oncology at the cancer center. The researchers began by studying melanoma patients treated in clinical trials, then took those findings into the lab, where they used animal models to put their findings to the test.
"This observation led to a casual hallway conversation between [Wargo] and myself, where we asked a very simple question: Do you think we could model this preclinically to inform our mechanism to better understand why females are responding much better than males?" Heffernan said. "And indeed, we were able to recapitulate the clinical response." The researchers believe their findings may have implications beyond melanoma. 
The study evolved from an observation that in a neoadjuvant clinical trial of Novartis' Tafinlar-Mekinist (dabrafenib-trametinib) in BRAF V600E/K-mutated melanoma, female patients had significantly higher response and recurrence-free survival rates than male patients. Two years after treatment, 54 percent of female patients were alive without melanoma recurrence, a figure that was cut in half — 32 percent — in the male patients.
To further explore this sex-based difference, Heffernan, Wargo, and colleagues analyzed response rates from 664 advanced melanoma patients on BRAF- and/or MEK-targeted treatment in other clinical trials and found the phenomenon was true. 
Using fresh-frozen pre-treatment and on-treatment tumor samples, the researchers then used RNA sequencing and gene set enrichment analysis to study patients' androgen receptor expression relative to their treatment response. Here, they found that patients who did not respond to Tafinlar-Mekinist had significantly higher androgen receptor expression in their on-treatment tumor samples relative to those who did respond to the targeted drugs. However, the baseline, pre-treatment tumor samples did not differ in terms of androgen receptor expression between responders and nonresponders. This suggested to the authors that the treatment resistance was likely due to an upregulation of androgen receptors during treatment, as opposed to a baseline difference.
After identifying these differences, Heffernan and colleagues wanted to see whether blocking androgen receptors could help improve responses to these treatments. This is where the reverse-translational move back into the lab came into play. Constructing preclinical animal models, the researchers ran a number of analyses, such as androgen receptor staining and gene expression profiling in male and female melanoma mouse models, including those treated with BRAF/MEK inhibitors. The analyses confirmed that the androgen receptor was indeed playing into these response differences.
Finally, using testosterone and androgen receptor blockade, either alone or in combination, the researchers found that responses to the targeted treatment were worse among mice given testosterone and better among mice given androgen receptor blockers alongside the BRAF/MEK inhibitors.
Novartis' Tafinlar-Mekinist combination is US Food and Drug Administration-approved for unresectable or metastatic melanoma patients whose tumors harbor BRAF V600E/K mutations, including in the adjuvant setting. The combo is also approved for certain patients with BRAF V600 mutation-positive non-small cell lung and thyroid cancer. And just this week, the BRAF/MEK inhibitor duo garnered tissue-agnostic approval for refractory BRAF V600-mutated solid tumors, except colorectal cancer.
Accordingly, the implications of the MD Anderson findings on androgen receptor expression and treatment response could extend beyond melanoma, if ultimately validated.
Toward validation
For Heffernan's team, the immediate clinical implications are clear: If it can be validated in clinical trials, blocking androgen receptors could be a strategy to improve BRAF/MEK inhibitor responses.
A number of trials are already underway assessing combination strategies with androgen receptor blockade and targeted therapies, according to Heffernan. There are also studies pairing androgen receptor blockers, including Janssen's Erleada (apalutamide) and Astellas and Pfizer's Xtandi (enzalutamide), with immunotherapies and other drugs across cancer types, he said.
"The tools are available to address this clinically," Heffernan said, adding, "and this is an area of intense investigation."
If clinical research validates the strategy of using androgen receptor blockade to improve BRAF/MEK inhibitor responses, Heffernan noted that the field should continue working on safer and more tolerable versions of androgen receptor blockers, since these drugs carry a host of side effects.
In the wake of this research, he suggested, it will also be important to consider how best to address patients with melanoma who take testosterone. "The modeling we've done is suggesting that testosterone supplementation could confer resistance to targeted therapies," he said, adding the caveat that clinical data will still be necessary to confirm this.
"What I am inspired by is the fact that we have mechanisms within our oncology armamentarium to modulate hormones," Heffernan said. "We're well positioned to develop clinical studies to evaluate this response and validate our findings across a much larger cohort."