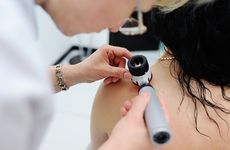 NEW YORK – Divergent regulatory approaches in the US and Europe with Bristol Myers Squibb's melanoma immunotherapy combination Opdualag (nivolumab/relatlimab) are raising questions among oncologists about whether PD-L1 expression plays a role in the drug's benefit, and if biomarker testing is needed at all to identify eligible patients. 
When Opdualag scored US Food and Drug Administration approval earlier this year for metastatic melanoma, the broad indication left quite a bit of decision making up to oncologists. The agency said that the new drug — comprising BMS's established PD-1/PD-L1 checkpoint inhibitor (Opdivo) nivolumab and the new LAG3 inhibitor relatlimab — would be an option in the US for patients 12 years and older with unresectable or metastatic melanoma. Beyond that, the FDA didn't narrow the indication further, and the label does not mention any predictive biomarkers for patient selection.
In Europe, if regulators take the recommendation from the European Medicines Agency's Committee for Medicinal Products for Human Use, as it usually does, Opdualag's indication will be more limited. In this case, CHMP advised the European Commission to approve Opdualag for unresectable or metastatic melanoma patients whose tumors express the PD-L1 protein in fewer than 1 percent of cells and who have not previously received any other treatments.
"Once this gets approved, we will only be able to use it and get it reimbursed for patients fulfilling these criteria," said Bastian Schilling, a professor of dermatological oncology at the University of Würzburg in Germany.
While European regulators tend to take a more conservative approach to regulating drugs writ large, the transatlantic regulatory divergence was somewhat unexpected.
"I was really surprised that [CHMP] recommended approval only for the PD-L1-low or -negative patient population and only for previously untreated patients," Schilling said. "Both notions are very much different from the FDA approval."
The reason behind the discrepancy lies in the data from RELATIVITY-047, which both the FDA and CHMP reviewed. In that study published in the New England Journal of Medicine, metastatic melanoma patients on the doublet had better median progression-free survival than those just on Opdivo, 10.1 months versus 4.6 months, respectively. Based on the benefit seen in the overall study population, the FDA approved Opdualag for all metastatic melanoma patients.
In the eyes of some oncologists, this was the right move. "Given the superiority of this combination of relatlimab-nivolumab over nivolumab alone, I find it harder and harder to justify single-agent PD-1 [in metastatic melanoma]," said Michael Postow, chief of melanoma service at Memorial Sloan Kettering. "I have been using it in the place of single-agent [Opdivo] so far regardless of the biomarkers."
CHMP, meanwhile, did something that's not too common among regulators: It considered exploratory analysis using patients' PD-L1 expression status and used it to recommend Opdualag for a smaller subset of patients.
In RELATIVITY-047, investigators explored differences in patients' Opdualag and Opdivo responses according to their age, prior treatments, clinical factors, and various biomarkers. Generally, patients on Opdualag fared better than those on Opdivo, including when patients were stratified by LAG-3 expression and BRAF mutation status.
But when patients were stratified according to PD-L1 expression status, those with PD-L1 expression in less than 1 percent of tumor cells had median progression-free survival of 6.4 months on Opdualag versus 2.9 months on Opdivo. In patients with PD-L1 expression in 1 percent of tumor cells or greater, however, the median progression-free survival was 15.7 months with Opdualag versus 14.7 months on Opdivo.
This exploratory analysis suggests that the higher PD-L1 expressing patients still benefited from the addition of relatlimab to Opdivo, but that degree of benefit was minimal. "The study was not powered" for this analysis, Schilling said. "That's also something that surprised me … that EMA would base an approval [recommendation] on a biomarker that was not incorporated into the statistical design."
A BMS spokesperson underscored that CHMP's position is just an opinion and not a regulatory decision, as well as the exploratory nature of the PD-L1 biomarker analysis, and declined further comment for this story.
Still, Schilling couldn't deny that the degree of benefit appears to be greater in those with very limited PD-L1 expression and conceded that if the EC takes up CHMP's recommendation, then "we will have to stick to the text, and we will have to perform PD-L1 staining, and we will only be able to give Opdualag to patients who are negative."
Skeptics and devotees
Oncologists across tumor types often bemoan PD-L1 as an imperfect biomarker for immunotherapy response, and melanoma is no exception. Because there is currently no approved melanoma immunotherapy that requires patients to express the biomarker in a certain proportion of cells, testing for PD-L1 isn't routinely performed for this tumor type in the US or in Europe.
"Here at Sloan Kettering, we don't routinely use PD-L1 staining for melanoma for all of the reasons that we worry about it as an imperfect biomarker," Postow said, adding that some oncologists at institutions other than his own might approach the practice differently.
"Some people really love it, and others are more skeptical," he said, referring to PD-L1 believers and nonbelievers as approaching the biomarker "kind of like a religion."
Part of the argument among PD-L1 skeptics is that there is a lack of consistency in how available tests identify treatment-eligible patients due to different cutoffs and even individual pathologist's interpretations.
Schilling is neither an ardent devotee nor an atheist when it comes to PD-L1, but he does believe there is a role for the biomarker and agrees that Opdualag's benefit should have been considered in RELATIVITY-047 according to patients' PD-L1 expression status. However, he also maintains that the value of PD-L1 expression as a predictive biomarker hinges on having standardized testing approaches.
"I do believe in the staining because the staining that has been used in the registrational trial is a very standardized one, using one defined antibody clone and using a very standardized protocol of how to assess PD-L1 expression," he said, adding that the specific assay used in the study, Agilent's PD-L1 IHC 28-8 pharmDx assay, is available and certified in Europe. For this reason, Schilling's center will use the antibody clone that BMS used in the study, even if this may not be the case at other labs in Europe.
"People will use whatever antibody they have" if the EC agrees with CHMP's opinion on Opdualag, Schilling predicted, especially since European regulators don't approve a companion diagnostic alongside the drug as the FDA often does. This could lead oncologists to use assays that are likely to be more generous in identifying eligible patients. "The proportion of melanoma patients being negative is very different when you use different antibody clones. … If people believe in Opdualag, they are probably going to choose an assay that is more frequently negative," Schilling said, adding that this is just his hunch on how things might play out.
Lesson from the past
PD-L1 skeptics are quick to point out that the biomarker, even though it looked promising at first, did not pan out when it came to predicting best responders to Opdivo and BMS's CTLA4 inhibitor Yervoy (ipilimumab).
"Years ago, the first time that combination data came out, it seemed like the PD-L1-negative [melanoma] patients seemed to get the benefit and the PD-L1-positive patients didn't as much," Postow said. "But with the subsequent years of follow-up, the importance of PD-L1 is now more in question and is not a standard biomarker for the combination."
A similar situation might play out in Opdualag's case with longer follow-up, Postow suspects. "I would caution applying the results thus far for PD-L1" to this combination, he said. "The data are still maturing."
Schilling also recalled how the data played out in CheckMate067, which randomized patients to Opdivo or Opdivo-Yervoy or to just Yervoy. The first publications of the study seemed to suggest that the combination treatment would largely benefit the PD-L1-negative group, but "with extended follow-up of the trial, that difference [between subgroups] was gone," he said.
Looking back on the Opdivo-Yervoy story, the good news is that, during the period when PD-L1 was thought to play a role in patients' responses, Schilling's institution set up PD-L1 testing. And while the testing tapered off in melanoma with more mature data, the University of Wurzburg still has everything in place to seamlessly start testing patients again, if the EC's approval of Opdualag requires it.
Other considerations
The biomarker question isn't the only thing oncologists have to contend with when deciding how to treat advanced melanoma patients. In this setting, they can choose between Opdivo, Opdivo-Yervoy, and Opdualag. While there are head-to-head comparisons between the combinations and monotherapy, there is no direct comparison of the combinations, making it challenging for oncologists to decide between Opdivo-Yervoy and Opdualag.
For many patients, Postow said he might be tempted to go with the newer Opdualag but would likely stick to Opdivo-Yervoy for patients with certain kinds of melanoma, such as uveal melanoma, or patients with brain metastases, since there are not yet data for these specific cases with Opdualag.
Schilling pointed out that there were higher rates of serious toxicities with Opdivo-Yervoy than for Opdualag but cautioned against comparing across studies. He suspects that his peers will continue to debate which combination is better at upcoming medical meetings and for months thereafter. Even though data from a head-to-head comparison of Opdivo-Yervoy and Opdualag would squelch such debates, BMS isn't likely to conduct it, Schilling suspected, since it would have little to gain from expending the resources for such a study.
An investigator-led study is not out of the question though tough to execute without industry involvement. Postow doesn't know of any studies underway looking at this question but has heard some talk among colleagues of conducting such a trial. "It would certainly be an interesting study," he said, pausing before mentioning yet another looming question for oncologists. "Obviously, there's the question of the triplet … ipilimumab-nivolumab-relatlimab."
No perfect biomarker
As oncologists grapple with the pros and cons of the different immunotherapy options for their patients, BMS is focused on growing the market for Opdualag in melanoma and beyond. In a call to discuss second quarter financial results last month, BMS Executive VP Chris Boerner said the firm is "very pleased" with the early uptake of the drug in metastatic melanoma since the US approval and noted that physicians have been using the drug for both first-line and second-line settings. According to Boerner, US oncologists seems to be picking Opdualag for patients over Opdivo monotherapy, and even in some cases, over Opdivo-Yervoy.
Beyond melanoma, BMS is running a clinical trial to evaluate Opdualag in colorectal cancer and will initiate trials in lung and liver cancer in coming years. In the colorectal cancer trial underway, patients are being stratified according to PD-L1 expression status. 
While PD-L1 is far from a perfect biomarker, many oncologists admit that there doesn't seem to be a better alternative for immunotherapy response prediction, at least right now.
"We are still on the hunt for a good collection of biomarkers," Postow said, emphasizing the word collection, since there likely won't be a silver bullet when it comes to predicting immunotherapy response. While some oncologists are enamored with the idea of single, predictive biomarkers because they've worked so well to personalize tyrosine kinase inhibitors, with immunotherapies, a collection or composite biomarker is more realistic, he said, highlighting tumor mutational burden and immunosuppressive cells in the tumor microenvironment as potential "pieces of the puzzle."
"These immune treatments are so different," Postow said. "It's very, very challenging to find a perfect biomarker."