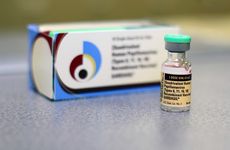 NEW YORK – The US Food and Drug Administration on Friday approved Merck's human papillomavirus 9-valent vaccine (Gardasil 9) for the prevention of head and neck cancers caused by HPV genotypes 16, 18, 31, 33, 45, 52, and 58.
The FDA approved the first version of Merck's HPV vaccine in 2006 for females ages nine to 26 for the prevention of genital warts and cervical and vaginal cancers. Since then, the agency has expanded its use to males and females between the ages of nine and 45 for the prevention of HPV-linked genital warts, and cancers, such as vaginal, vulvar, cervical, and anal. In 2014, the FDA approved the nine-valent version to prevent HPV infection with additional cancer-linked viral genotypes.
The agency granted accelerated approval to the vaccine for the prevention of HPV-associated oropharyngeal cancer based on the efficacy of the vaccine in preventing HPV-related anogenital disease. Full FDA approval for the vaccine in this new indication will be contingent on data from a confirmatory trial.
In February, Merck launched a 6,000-patient study to evaluate the efficacy and safety of its vaccine to prevent oral HPV infection in men between 20 and 45 years of age. HPV-related oropharyngeal cancers, which occur at the back of the throat and often involves the base of the tongue and tonsils, affect men five times more than women. 
HPV is estimated to cause more than 90 percent of anal and cervical cancers, around 70 percent of vaginal cancers, and 60 percent of penile cancers. Previously, oropharyngeal cancers were largely thought to be caused by tobacco and alcohol use, but based on recent studies, experts believe as much as 70 percent of head and neck cancers may be due to HPV infections.
Cervical cancer is the most common HPV-related cancer in women, and oropharyngeal cancer is the most common HPV-attributable cancer in men. According to the latest US Centers for Disease Control and Prevention figures, each year there are around 19,000 HPV-attributable oropharyngeal cancers, a figure that has exceeded the 12,000 HPV-related cervical cancers that occur in the US annually.