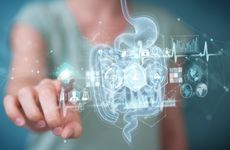 NEW YORK – A bacterial signature can be both a predictive biomarker and a therapeutic. At least that's the idea driving Cambridge, UK-based Microbiotica, a six-year-old Wellcome Sanger Institute spinout about to take one of its first products into clinical trials in refractory melanoma patients.
Fresh off a £50 million ($66 million) Series B financing round, Microbiotica is gearing up to begin a Phase Ib clinical trial of MB097, an oral capsule containing nine species of bacteria, for melanoma patients who have not responded to checkpoint inhibitors. MB097, which Microbiotica calls a live bacterial therapeutic, or LBT, is designed to reverse immune checkpoint inhibitor resistance by populating patients' gut microbiomes with a carefully selected collection of bacteria that primes their immune systems to recognize and attack cancer cells.
These bacteria stimulate cytotoxic T cells, which in in vitro studies led to the killing of cancer cells, explained Microbiotica CEO Mike Romanos. These bacteria also appear to work synergistically with checkpoint inhibitors in mouse models. Now, the firm will test these preclinical signals of benefit in its upcoming first-in-human study.
"We start with a bacterial biomarker, which is more or less the same as our therapeutic product," Romanos said. "In the microbiome, they can be the same. The bacteria can be both a biomarker and a product."
The firm won't enroll patients in the first-in-human trial according to whether they have specific microbiome signatures at baseline, but that will likely be the plan for future trials.
While there are many oral bacteria capsules sold in the form of probiotic supplements, there are currently no US Food and Drug Administration-approved LBTs for treating diseases. Bacteria supplements are "not regulated in the same way and do not require clinical trials, so no claims can be made for efficacy," Romanos said. "There is no reliable evidence that they get to their site of action or work." For MB097, in contrast, Microbiotica is working with regulators to demonstrate safety, efficacy and proof of engraftment in the patients' microbiomes. The firm is already in discussions with both the FDA and UK regulators about moving its products through the regulatory path for live biotherapeutics, aiming to someday market the product as a drug with proven efficacy.
Through these conversations, Romanos noted, regulators have expressed comfort with the safety profile of these therapies. "There is no upper limit on dosing [and] the FDA doesn't mind," he said.
Ultimately, he believes the bacterial therapeutic could be administered before patients receive any checkpoint inhibitor therapy, but Microbiotica will need to evaluate the treatment first in later-line settings before assessing it in treatment-naïve patients.
Companion diagnostic potential
As Microbiotica advances the oral capsule containing the bacteria into clinical studies, it is also participating in a large study to determine if those same bacteria can be a predictive biomarker for guiding checkpoint inhibitor therapy in patients with different kinds of cancers.
The study, dubbed Microbiome Immunotherapy Toxicity and Response Evaluation, or MITRE, has a "huge amount of funding" from charity and public sector groups including the Cancer Research UK and Cambridge University Hospitals NHS Foundation Trust (CUH), Romanos said. The study is taking place at 12 centers in the UK.
"What we'll see from MITRE is whether we get different signatures in different cancers and can validate our signature that we have now as a potential companion diagnostic," Romanos explained. "We think it's so predictive that we can see which patients will or will not respond [to checkpoint inhibitors] before they're treated." Microbiotica is betting that other companies, even the ones not focused on bacterial therapeutics, will be interested in such a companion diagnostic because of its value in improving patient management.
The firm and its academic partners at the NHS Foundation Trust aim to enroll 1,800 patients with melanoma, non-small cell lung cancer, and renal cell carcinoma into MITRE. Using blood, saliva, and stool samples as well as any tumor samples available, the investigators will sequence the microbiomes of patients treated with Bristol Myers Squibb's Opdivo (nivolumab) and Yervoy (ipilimumab); Merck's Keytruda (pembrolizumab); Genentech's Tecentriq (atezolizumab) and Avastin (bevacizumab); AstraZeneca's Imfinzi (durvalumab) and its investigational agent tremelimumab. They will then assess if a nine-bacteria signature accurately predicts responders and non-responders to these treatments.
MITRE is an expansion of the completed MelResist study, through which Microbiotica homed in on the bacterial signature it is now using for MB097. In that study, Microbiotica discovered that these bacteria, when present in high abundance, were highly predictive of melanoma patients' response to checkpoint inhibitors. The firm validated that signature using retrospective data from three other checkpoint inhibitor trials in the US.
"In each case, we found the same signature of bacterial abundance was about 91 percent predictive of response, meaning that when we applied the signature to predict response, in 91 percent of cases we were right," Romanos said, adding that he believes this makes the bacterial signature the most predictive biomarker for immunotherapy response in melanoma.
From that signature, which requires patients to have "quite a lot of bacteria," according to Romanos, Microbiotica focused in on nine bacteria it deemed most significant. Four of these bacteria, of note, were completely unknown before. "That's one reason why others can't see them. … We're able to characterize completely new bacteria through mass culturing," Romanos said.
Keeping scalability in mind
To precisely characterize the bacteria in each patient's microbiome, Microbiotica uses sequencing, informatics, and a comprehensive genome database. To reach the nine-bacteria signature it will study in MITRE, the firm first performed metagenomic analysis on patients' stool samples.
"You take the stool, and you extract the DNA from it, which will be a lot of bacterial DNA, and you do shotgun sequencing from it to get short-ish sequence reads," Romanos explained. "Then, we can characterize all the bacteria in that by taking those sequence reads and aligning them to our database of reference genomes."
Romanos claimed that Microbiotica has the biggest database of assembled and sequenced DNA from bacteria, which the firm has already identified, isolated, and cultured. "That database is sort of a gold standard reference," he said. "It gives us an immense advantage, because we do the shotgun sequencing and characterize what's in the patients." The number of hits of sequence reads in the shotgun sequencing provides a picture of relative abundance of each bacteria.
Looking ahead, Romanos admitted that neither this comprehensive sequencing approach nor collecting stool samples are easy to commercially scale if Microbiotica's bacterial signature eventually became a companion diagnostic for guiding immunotherapy treatment decisions. That's why the firm is hoping to adapt its approach into a qPCR assay and use more easily attainable sample types.
"To turn this into a companion diagnostic, we'll have to convert it into a qPCR, multiplex assay of some kind," he said, adding that although Microbiotica hasn't started that process, he believes it won't be a big lift because "biomarker diagnostic design can be quick, and we have the clinical study in which to validate it."
According to Romanos, several drug companies have already approached Microbiotica about its microbiome signature, which he believes reflects an industrywide push to improve response rates to checkpoint inhibitors through biomarker strategies and combination treatment approaches.
"Checkpoint inhibitors are the best drugs when they work," he said, noting that leading drug firms like Merck are testing numerous combination strategies with Keytruda, hoping to improve response rates. "There's a real race going on, because the checkpoint inhibitor market will be worth $55 billion in 2025."
For the upcoming study combining Microbiotica's MB097 therapy with a checkpoint inhibitor, Microbiotica isn't ready to disclose which immunotherapy might be paired with its LBT. "We're in discussion with pharma companies, and we're very confident that we'll get [a] drug supplied," Romanos said, adding that ideally, Microbiotica would like to combine its LBT with a checkpoint inhibitor that's well established in melanoma. "We can add a lot of value to that drug if our product works."