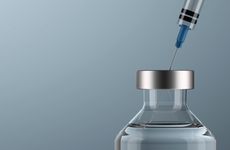 NEW YORK – Merck and Moderna are gearing up to launch a Phase III study exploring the combined activity of Keytruda (pembrolizumab) and a personalized mRNA cancer vaccine as an adjuvant treatment for high-risk melanoma patients.
The companies have decided to advance the combination into late-stage studies after a Phase II, randomized trial in which Moderna's personalized mRNA vaccine, mRNA-4157/V940, added to Merck's Keytruda reduced melanoma patients' risk of death by 44 percent compared to just Keytruda.
"This is unlike any other treatment that exists today," said Kyle Holen, Moderna's head of development, oncology, and therapeutics. "There's a lot of talk about personalized medicines based on particular tumor types, but they're still treatments used for broad populations of patients. This [mRNA vaccine] is an individual treatment made for each individual patient."
Moderna's mRNA-4157/V940 is patient-specific in a similar way that an autologous cell therapy is patient-specific: The treatment begins with a patient's own tissue as starting material for what then becomes an n-of-1 therapy matched to that individual's cancer.
The process of creating these n-of-1 mRNA vaccines, Holen explained, begins with tumor-normal DNA sequencing. Patients have both their resected melanoma tumor samples and their normal tissue samples profiled using next-generation sequencing. This step allows Moderna to identify somatic mutations driving that patients' tumor separate from germline variants present in all the cells in the body. Additionally, Moderna sequences patients' RNA, which allows it to home in on the amount of protein and RNA being translated from the tumor DNA. These DNA and RNA sequencing results, along with the results of HLA typing, are then fed into an algorithm that Moderna has designed to select neoantigens most likely to create the highest immunologic response.
After homing in on the patient-specific neoantigens — which can number up to 34 — Moderna creates an mRNA strand encoded with these neoantigens and packages it into an injectable lipid nanoparticle, which is administered back to the patient through an intramuscular injection similar to any other vaccine.
The entire process, from the tissue biopsy to injecting the treatment back into the patient, takes about six weeks. According to Holen, however, the actual process of creating the mRNA is fully automated and takes just two hours. The vaccines are manufactured at Moderna's facility in Norwood, Massachusetts.
Once the mRNA is inside the patient's body, it causes the cancer cells to display the intended neoantigens on their surface. These neoantigens act as signals, drawing T cells to come attack them.
"We are training the patient's body to go and activate those T cells, go and find the tumor, and start destroying the tumor," said Michelle Brown, leader of Moderna's oncology program. "This builds on the backbone of what we've seen with checkpoint inhibition in immuno-oncology."
The rationale behind combining mRNA-4157/V940 with Keytruda, Brown explained, is that by blocking the PD-1/PD-L1 checkpoint, it can make the immune system even more active and sharpen its ability to recognize tumors displaying target neoantigens. "That biological understanding was the foundation of the Phase II trial," she said.
In the randomized Phase II study, Merck and Moderna enrolled 157 patients with stage III or IV melanoma who had undergone complete surgical resection. Patients had to be disease-free after surgery but have a high risk of relapse, which investigators defined by staging, including lymph node metastasis, and tumor immune microenvironment features.
After surgery, patients were randomized to receive either nine doses of the personalized mRNA vaccine and up to 18 cycles of Keytruda or just Keytruda. Merck and Moderna were primarily interested in how the combined treatment impacted patients' recurrence-free survival versus the checkpoint inhibitor alone. The companies also tracked patients' distant metastasis-free survival, adverse events, and tolerability on the combination as secondary endpoints.
After following patients for a year, the risk of disease recurrence or death was 44 percent lower with the mRNA vaccine-Keytruda combination than with Keytruda alone. "This profound clinical benefit for patients really substantiates the idea of a personalized cancer vaccine," Brown said. "It also gives us confidence for the potential for mRNA in oncology."
The drugmakers plan to present the full dataset at an upcoming medical meeting and publish their findings. Adding to the companies' confidence, Brown added, was that the combination therapy's toxicity profile was in line with what Merck and Moderna expected, and patients experienced adverse events similar to what is typically expected with Keytruda treatment.
Merck and Moderna decided to partner up in 2016, however, long before the Phase II trial readout. Merck initially paid Moderna $200 million upfront and more recently dished out an additional $250 million in exercising an option to jointly develop Keytruda with mRNA-4157/V940 as a melanoma treatment.
Next, Merck and Moderna are meeting with regulators, including the US Food and Drug Administration, to discuss launching a Phase III trial in 2023. "We want to understand how we can get this personalized cancer vaccine Keytruda combination to patients as quickly as possible," Brown said.
The Phase II results in melanoma have also given Moderna the confidence to launch additional personalized cancer vaccine trials in other tumor types. Moderna said it will disclose these tumor types shortly.
"Moderna is likely not known as an oncology company, but I assure you we will be known as an oncology company," Holen said.
Moderna also has ambitions to expand its mRNA vaccine to other treatment lines and stages beyond adjuvant therapy. "We are looking at where we can position [this therapy], and there are a lot of conversations that are happening to define all the next steps," Brown said.
In the long term, Moderna also hopes to build out its infrastructure to deliver the vaccine to patients all over the world within a shorter turnaround time. The current Phase II trial took place at sites throughout the US and Australia, making long-distance shipping a necessary component for both the patient samples and the vaccine.
"Obviously, we're moving out of Phase II and into these broader Phase III plans that will have a larger geostrategy footprint," Brown said. "And when we think through commercialization, … there are a lot of ongoing conversations about how we optimize the process for this larger expansion."
Moderna has long-term aspirations to simplify the manufacturing process for its personalized cancer vaccines beyond the transportation logistics, too, by eventually pivoting to liquid biopsies from tissue biopsies, which Brown called "a very challenging technological question."
Still, the drugmaker remains optimistic that this is achievable. "We've seen with [this treatment] that we can accomplish very challenging technological [questions]," Brown said. "Liquid biopsy is definitely an aspiration that is on our radar."