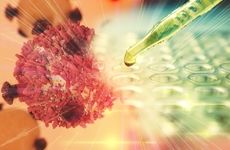 NEW YORK – Researchers at Memorial Sloan Kettering and the University of Notre Dame have identified a new cell therapy approach directed at a "public neoantigen," which is a common neoantigen presented by a genetic mutation known to drive multiple tumor types.
The new approach, which involves engineering T cells to express a T-cell receptor (TCR) specific to the PIK3CA public neoantigen, was detailed in Nature Medicine last week.
Now, the paper's authors, led by MSK researchers Christopher Klebanoff and Smita Chandran, are partnering with a drugmaker to move this therapy to the clinic. Though the trial's patient population is not yet set in stone, the therapy has the potential to work for any patient with the PIK3CA public neoantigen and a specific human leukocyte antigen (HLA) type: HLA-A*03:01.
The cell therapy that the researchers aim to bring to the clinic involves genetically engineering T cells to express the TCR — specific to the PIK3CA public neoantigen — that Klebanoff and colleagues have identified and infusing the one-time treatment in patients following lymphodepleting chemotherapy.
While there is a chance that this could be an off-the-shelf therapy, by using donor cells as starting material, Klebanoff said that initially clinical trials will likely evaluate an autologous approach and use T cells harvested from the patients themselves, similar to how the commercially available CAR T-cell therapies are made.
"At least for a first-in-human clinical trial, we're envisioning doing this in a way that's very analogous to current US Food and Drug Administration-approved CAR therapies or some of the late-stage tumor-infiltrating lymphocyte therapies," Klebanoff said. "Although there are other technologies like allogeneic cells or soluble bispecific proteins … genetically engineering a patient's own autologous cells, although that still requires a degree of bespoke manufacturing, is the most potent form of these kinds of therapies right now."
If the autologous therapy is successful, he continued, "we can consider allogeneic approaches, or we could even make the receptor into a soluble bispecific protein."
The fact that the TCR that Klebanoff and colleagues identified is specific to a shared, rather than tumor-specific, neoantigen brings it closer to being off-the-shelf than other TCR therapies in development against patient-specific neoantigens. "There is a component of it that's off-the-shelf, but it's just not fully off-the-shelf yet," Klebanoff said.
Targeting the PIK3CA public neoantigen
Mutations in the cancer driver gene PIK3CA are common among patients with breast and endometrial cancer, among other tumor types that could benefit from effective, new immunotherapies. While targeted therapy approaches like Novartis' Piqray (alpelisib) have had some success treating PIK3CA-mutated breast cancers, the benefit is limited because most tumors go on to develop resistance. Even though Piqray has been commercially available in the US since 2019, the National Institute for Health and Care Excellence recently recommended against providing the drug in England, unconvinced that the drug would provide sufficient benefit over standard treatments.
Klebanoff and colleagues have theorized that by targeting the PIK3CA public antigen they can lower the chances of patients becoming resistant to their TCR therapy. "It's very difficult for a cancer cell to lose expression of a gene like mutated PI3 kinase, because the mutated gene actually causes the cancer cell to grow and to divide," Klebanoff said. Instead, PIK3CA mutations are clonally expressed, making the antigens shared among patients and less susceptible to immune selection pressure.
Importance of HLA typing
While this shared feature of public neoantigens among patients improves the potential applicability of a therapy like this, maybe even for a tissue-agnostic patient population, it is important to note that its efficacy hinges on patients' specific HLA type. Klebanoff expects HLA typing will be a key enrollment criterion for clinical trials of the TCR therapy and provide assurance that the treatment will enable patients' immune systems to recognize and attack the tumor.
"This really is a precision immunogenomic treatment, and part of that precision is understanding that the patient has a tissue type that will allow the therapy to work," he explained. "We tested other tissue types that are genetically very, very similar to HLA-A*03:01, and found that our immune receptors are so specific that they don't permit recognition even for very closely related HLA types. This therapy would absolutely require HLA-A*03:01."
This HLA type is one of the most common in people of North America and Western Europe ancestry, with a quarter of all individuals expressing at least one copy of HLA-A*03:01. Klebanoff hopes to eventually identify T-cell receptors to make this therapy work for patients with other HLA types, but for now, his team and drug development partners will focus on patients who test positive for HLA-A*03:01.
MSK patients who receive MSK-IMPACT comprehensive tumor genomic testing also undergo HLA typing, and other commercial labs also perform HLA typing for patients alongside NGS panel testing. Klebanoff predicts HLA typing will become even more routine as new immunotherapies like the one his team is developing reach the market.
"This is not right now being reported in patients' medical record [usually] … but companies are capturing that data," he said. "Until now, no one has really had cause to report [patients' HLA type] back to clinicians … but all of that information is being captured."
The presence of a PIK3CA driver mutation, in contrast, usually is reported by genomic sequencing panels. "We expect that we will see mutant PI3Kinase from any CLIA-certified lab in North America and use that as eligibility criteria," he predicted.
Encouraging preclinical work
Although the TCR cell therapy hasn't entered the clinic, Klebanoff and colleagues found that it was effective against cancer cells both in vitro and in vivo. When they treated mice with PIK3CA-mutated breast and endometrial tumors, the mice "had a significant reduction in tumor volumes and enhanced survival" compared to controls. Importantly, unlike the toxicities seen with current targeted therapies, there were no signs of significant side effects with the TCR treatment, indicating that it spared wildtype PIK3CA.
The preclinical data were encouraging enough that Klebanoff's team decided to start enrolling patients into clinical trials in 2023. While Klebanoff wouldn't disclose the drugmaker MSK has partnered with, the Nature paper notes that both the TCR discovery platform and the PIK3CA public neoantigen TCRs that Klebanoff, Chandran, and colleagues developed were licensed to Intima Bioscience in December 2021. Intima also partially funded the research.
New York-based Intima has partnered with research institutions to advance cell and gene therapies to the clinic before. In 2020, the firm partnered with the University of Minnesota to study a CRISPR-edited T-cell therapy in metastatic gastrointestinal cancer patients.
While the MSK research team and industry partners are focused specifically on the PIK3CA public neoantigen TCR therapy, the "aspirational goal," according to Klebanoff, is to develop a platform technology for many different targets that functions like a blood bank.
"A blood bank has blood ready to mix and match to the right patient who would benefit," he said. "Our goal is to one day have the next-generation sequencing data come in alongside HLA type, and then have a large enough immune receptor bank to mix and match and find the right kind of receptor that might benefit that particular patient at the right time. I don't think that's entirely science fiction."