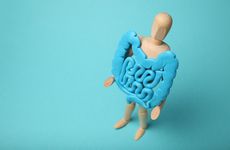 NEW YORK – In a study presented at the European Society for Medical Oncology Congress, neoadjuvant treatment with two checkpoint inhibitors, Bristol Myers Squibb's Opdivo (nivolumab) and Yervoy (ipilimumab), led to pathologic responses in all but one colorectal cancer patient with mismatch repair deficiency.
For patients with dMMR colon cancer, "the future has never been brighter," said Myriam Chalabi, a gastrointestinal oncologist and cancer immunotherapy researcher at Antoni van Leeuwenhoek Hospital at the Netherlands Cancer Institute, stunning oncologists at the meeting with results from the NICHE-2 study of dual neoadjuvant immune checkpoint inhibitor therapy.
Between 10 percent and 15 percent of patients with colon cancer are mismatch repair deficient, and stage III dMMR tumors have recurrence rates of 20 percent to 40 percent despite standard-of care chemotherapy. Patients with high-risk cancers (stages T4 or N2) tend to have particularly poor survival. And about one-third of dMMR colorectal cancers are associated with Lynch syndrome, a hereditary condition that is known to increase the risk of developing colon and other cancers.
The rate of pathologic response with neoadjuvant chemotherapy in these patients is in the range of 5 percent to 7 percent. Chalabi and colleagues set out to gauge whether patients would fare better on dual neoadjuvant immunotherapy. 
Before NICHE-2, there was NICHE-1, a proof-of-concept study of Opdivo-Yervoy in the neoadjuvant setting, in which Chalabi reported a 100 percent pathologic response rate and a 60 percent complete pathologic response rate in 32 patients with dMMR colon cancer.
Such results demand follow-up, and Chalabi delivered with NICHE-2, an investigator-initiated non-randomized multi-center study of neoadjuvant therapy with Opdivo-Yervoy in 107 patients with non-metastatic, previously untreated dMMR colon cancer. Nearly half of the patients had high-risk disease defined as radiologic stage T4 and N2.
Patients received 3 mg/kg Yervoy on day one and day 15 of the study, and a single dose of 1 mg/kg Opdivo on day one. After those three doses of checkpoint inhibitor drugs, patients proceeded to surgery at six weeks.
The primary endpoints of the trial are safety and three-year disease-free survival, which Chalabi said will begin to read out next year. In the meantime, researchers were able to complete their analysis for secondary endpoints of major and complete pathological response rates in post-treatment surgical specimens.
The safety results for the trial were favorable with only four patients experiencing adverse events grade three or higher, and only two with adverse events leading to more than a two-week delay of surgery.
For the efficacy endpoints, Chalabi's team defined a pathologic response as 50 percent or less residual viable tumor, major pathologic response as a 10 percent or less residual viable tumor, and pathologic complete response as no residual viable tumor. A major pathologic response includes those with residual viable tumor in the lymph nodes, whereas a pathologic complete response excludes any residual viable tumor in both the tumor bed and lymph nodes.
When Chalabi revealed a waterfall plot showing that 95 percent of patients in NICHE-2 had a major pathologic response and 67 percent had a pathologic complete response, the audience broke into thunderous applause. "The pathologic regression observed was near complete or complete in almost all patients," Chalabi said. "In all, 99 percent of patients had a pathologic response, which meant only one patient had a non-responding tumor."
Among the 32 patients with Lynch syndrome, the pathologic complete response rate was 78 percent compared to 58 percent for those without Lynch syndrome.
After surgery, 14 patients with pathologic lymph nodes were considered for adjuvant chemotherapy. Three patients received chemotherapy, five patients couldn't receive adjuvant chemo in the trial due to being over 70 years old, and six patients refused chemo.
At a median follow-up of 13.1 months, there have been no disease recurrences in the overall patient group. Chalabi and colleagues are hoping that with at least 95 evaluable patients, they will meet the trial's primary endpoint with 93 percent of patients having disease-free survival at three years. 
Sherene Loi, an immunologist at the University of Melbourne, who was invited to discuss the NICHE-2 findings, said that neoadjuvant immunotherapy appeared to have some advantages compared to adjuvant immunotherapy, including better and less deforming surgical outcomes, improved treatment of metastatic disease through earlier use of systemic therapy, and the ability to test sensitivity to treatment. "The neoadjuvant approach allows the administration of immunotherapy in the context of tumor and also dying tumor, which is a potent stimulus for an immune response," said Loi. "In contrast, in the adjuvant setting, we remove the majority of the tumor and also in many cases have removed the draining lymph nodes."
While neoadjuvant immunotherapy is not yet widely used across tumor types, it has been used extensively in breast cancer for many years. Loi said that survival is equivalent with the neoadjuvant and adjuvant approach, "but, importantly, it did not delay surgery and resulted in increased rates of breast conservation."
Loi added that when patients achieve pathologic response it is strongly prognostic of longer-term outcomes, and in breast cancer it is accepted as an endpoint by the US Food and Drug Administration for accelerated approval of new drugs.
In terms of mechanistic explanations, Loi said that a preclinical study in mouse models of breast cancer found that compared to adjuvant therapy, administration of a neoadjuvant anti-PD1 antibody was associated with longer survival due to eradication of metastases. In the study, neoadjuvant treatment also led to higher levels of CD8-positive tumor-specific T cells.
When researchers left these neoadjuvant-treated, smaller tumors in situ, they found T-cell expansion in the periphery. However, "these T cells rapidly lost effector functions, supporting that removal of the tumor is critical in this context," said Loi.
Human clinical data also support this theory. In a small study by investigators at the Netherlands Cancer Institute, neoadjuvant anti-PD1 therapy in stage III melanoma led to pathologic responses in 78 percent of patients and expanded more tumor resident T-cell clones than adjuvant therapy.
"We have a large body of data … that supports the neoadjuvant approach as optimal for cells facilitating T-cell responses in cancer patients," said Loi. "And I suspect this should be considered for all cancers in the early-stage setting, [for which researchers] are developing immunotherapy combinations or approaches."
The other invited discussant, James Larkin, a medical oncologist at the Royal Marsden Hospital in the UK, explained the significance of the NICHE-2 results for the field of precision oncology. "Clearly, neoadjuvant immune checkpoint inhibition can have a major impact on sensitive populations, leading to greater benefit for patients and potentially less treatment overall," Larkin said. "And following on from this therapy, de-escalation has major advantages for patients with less side effects, less time having treatment, and also critically for healthcare resource utilization with potentially significant consequences for cancer treatment globally."
Based on the strength of the NICHE-2 data and the relative resistance of dMMR colorectal tumors to chemotherapy, Chalabi asserted that neoadjuvant immunotherapy has a "strong potential" to become the standard of care in this setting. "I urge the pharmaceutical companies to please strive for registration of neoadjuvant immunotherapy," Chalabi said.
Referencing recent data in rectal cancer, she said that organ-sparing approaches using neoadjuvant immunotherapy in colon cancer may be feasible. "However, assessment of radiologic response or any response for that matter in patients with colon cancer is much more difficult than in rectal cancer," said Chalabi. "Circulating tumor DNA dynamics and novel imaging techniques must be explored and may aid in achieving this goal."
Although the NICHE-2 data generated a lot of buzz at ESMO, Chalabi noted that the field still must wait for disease-free survival data and further validate the findings, if possible.
Opdivo by itself and in combination with Yervoy is already available for the treatment of metastatic colorectal cancer patients with dMMR and high microsatellite instability after they've progressed on fluoropyrimidine, oxaliplatin, and irinotecan. In light of the NICHE-2 data, which was a single-arm trial, it may not be possible to enroll a randomized-controlled trial to validate the efficacy seen with neoadjuvant Opdivo-Yervoy in dMMR colorectal cancer patients.
When asked whether there are any plans to conduct a third neoadjuvant, dual checkpoint inhibitor study in this setting, Chalabi said she wanted to validate the NICHE-2 findings in an internationally enrolling NICHE-3 trial. "However, NICHE-3 at this moment is probably going to be a combination of nivolumab with anti-LAG3," she said. "Reasons for that are because we are not going to get registration of nivolumab plus ipilimumab as we have tested in the study, which is a shame."
Chalabi remains hopeful that her team's findings on combined Yervoy/Opdivo will eventually be validated and lead to market registration. But if results for Opdivo and an anti-LAG3 agent are comparable to NICHE-2 results, "then that may be an avenue to test organ-sparing approaches with that combination in this population."