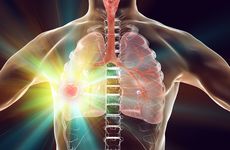 NEW YORK – Although AstraZeneca's third-generation EGFR tyrosine kinase inhibitor Tagrisso (osimertinib) has improved outcomes for patients with EGFR-mutant non-small cell lung cancer in recent years, the treatment landscape is limited once patients progress on treatment.
In a series of recent studies, researchers and drugmakers shed light on the molecular underpinnings of Tagrisso resistance, and on several possible pipeline drugs for patients whose cancers don't respond.
"It's remarkable … the clinical development of EGFR therapies in patients with non-small cell lung cancer," Laura Mezquita, a medical oncologist at the hospital IDIBAPS in Barcelona, said during a discussion earlier this week at the International Association for the Study of Lung Cancer's annual World Conference on Lung Cancer (WCLC). Since the discovery of the EGFR driver in 2004, there have been three generations of tyrosine kinase inhibitors, and the third-generation drug, Tagrisso, is now standard-of-care in the first-line treatment setting based on its benefit versus earlier generation EGFR inhibitors. The drug is approved by the US Food and Drug Administration, as well as by regulators in other countries, for second-line, first-line, and adjuvant treatment for certain EGFR-mutant NSCLC patients.
"However, at progression, we have no subsequent line [of therapy]," Mezquita said. As of now, patients whose NSCLC progresses after Tagrisso have limited options: chemotherapy or enrolling in clinical trials.
That may soon change with the fourth generation of EGFR TKIs, but much of the success of treating Tagrisso-resistant NSCLC hinges on understanding the mechanisms of resistance.
Homing in on resistance
At the WCLC on Monday, researchers, including Suresh Ramalingam, the executive director of the Winship Cancer Institute at Emory University, presented real-world data showing that EGFR C797X is the most common on-target resistance mutation among patients whose cancers recur after Tagrisso. After receiving Tagrisso for one year, the EGFR C797X resistance mutation is more common than off-target amplification in MET and CCNE1.
To conduct the real-world study, Ramalingam and colleagues used Guardant Health's GuardantInform clinical-genomics database, which includes outcomes data from health claims and circulating tumor DNA data from the Guardant360 liquid biopsy test on more than 174,000 advanced cancer patients. From the database, the researchers homed in on 65,273 advanced NSCLC patients who underwent ctDNA sequencing. Out of these patients, 4,288 patients were reported to have received Tagrisso, either in the first- or second-line setting, and 2,050 had ctDNA testing while on treatment.
Among all patients treated with Tagrisso, Ramalingam shared that the EGFR C797X mutation was the most common resistance mechanism observed. In about 600 patients who were estimated to have disease progression at or around the time that the samples were collected for sequencing, 12.5 percent of patients harbored EGFR C797X mutations.
After five years, among those who'd received Tagrisso specifically in the second-line setting, 17.5 percent of patients had the EGFR C797X mutation.
In a discussion of the data presented, Pasi Janne, director of the Chen-Huang Center for EGFR-Mutant Lung Cancers at the Dana-Farber Cancer Institute, called the EGFR C797X resistance mutation — specifically the C797S version, in which the cysteine residue at position 797 changes to the amino acid serine — "an absolute Achilles' heel" for Tagrisso. This is because C797 is the binding site for Tagrisso. "When you mutate to a serine, you can no longer bind that residue [and] there's no way to get around it by increasing the dose of the drug," he explained.
Hitting 'Achilles' heel'
In developing new, fourth-generation EGFR TKIs to overcome Tagrisso resistance, Janne pointed out the importance of making sure the compounds are mutant-selective and able to penetrate central nervous system metastases in addition to being potent against the EGFR mutation without being able to bind to the cysteine thanks to the C797X mutation.
"We're putting a high bar into what these drugs need to be able to accomplish and what we'd like to see for our patients in the clinic," he said.
But investigators are certainly trying. During a separate presentation at WCLC, researchers presented early data from one such pipeline candidate — a fourth-generation TKI, called BBT-176, from Korean drugmaker Bridge Biotherapeutics — as a treatment for NSCLC patients after EGFR TKIs.
Sun Min Lim, an assistant professor of medical oncology at the Yonsei Cancer Center in South Korea, presented the data from BBT-176's ongoing Phase I trial. Among roughly 24 patients, all of whom had received prior EGFR TKIs and 80 percent of whom had received prior Tagrisso, ctDNA analyses revealed that 32 percent had EGFR C797S mutations. Of the patients enrolled, 40 percent had brain metastases.
As of the data cutoff in March, 18 patients had received BBT-176, and the drug was well-tolerated with manageable toxicities, most of which were related to nausea, vomiting, and other gastrointestinal toxicities, according to Lim. While the study is still early, the investigators noted a reduction in EGFR mutation allelic frequency in three patients, with tumor shrinkage in two of those patients. The most notable part was that, in two patients who harbored triple EGFR mutations — exon 19 deletions, T790M mutations, and C797S mutations — BBT-176 treatment yielded radiological improvements in both target and non-target lesions.
"The molecular response was remarkable," said Lim about one of these patients, noting that there was visible tumor shrinkage that went hand in hand with a change in EGFR allele frequency.
The ctDNA analysis may be useful in identifying the most likely patients to benefit from BBT-176, Lim suggested with regard to the data. Liquid biopsy tests, although not perfect, have seen quick uptake in non-small cell lung cancer since heavily pretreated patients often cannot give additional tumor samples for molecular sequencing.
The data, to be sure, were early, and only in a select handful of patients, but Lim was encouraged by the reduction in tumor size and EGFR allele frequency specifically among those patients with the C797S mutations. Going forward, Bridge Biotherapeutics is working on optimizing BBT-176's dosing to improve tolerability and efficacy. After identifying the Phase II dose, investigators expect to begin the Phase II study next year.
Other approaches, combinations
Bridge Biotherapeutics is not the only drugmaker working to address Tagrisso-resistant NSCLC. The drugmaker J Ints Bio, also based in Korea, shared encouraging preclinical data from its own fourth-generation EGFR-TKI targeting the C797S resistance mutation during the meeting. The results came from mouse model data, but clinical data may be forthcoming, since J Ints Bio submitted an investigational new drug application to the US Food and Drug Administration in June to evaluate the drug, JIN-A02, in Phase I/II trials.
Another drugmaker, Blueprint Medicines, is working on pipeline candidates BLU-945 and BLU-701 to overcome Tagrisso resistance by targeting EGFR C797S. In April, Blueprint announced a clinical trial collaboration with AstraZeneca to evaluate these drugs in combination with Tagrisso, including by adding a cohort to its ongoing Phase I/II SYMPHONY trial to assess BLU-945 plus Tagrisso in patients with second-line or later EGFR-mutant NSCLC whose disease progressed after Tagrisso. The partnered firms are also evaluating BLU-701 plus Tagrisso for EGFR-mutant NSCLC in the ongoing Phase I/II HARMONY trial.
With BLU-945, Janne noted that in early readouts from the ongoing trial, there were patients with cell-free DNA decrements, but no tumor shrinkage. This was an important consideration because it suggests "resistance mutations are much more heterogeneous than we appreciate." For instance, co-occurring resistance mechanisms may mean that even patients who clearly have the EGFR C797S resistance mutation could resist these new drugs, too. 
"As you're treating individuals, you may see cfDNA decrements, because that part of the tumor is being treated with one of these new drugs," he said. "But that may not translate into a complete tumor reduction, because there are other mechanisms in play that are not being inhibited by new-generation drugs."
Janne took a step back and noted that drugging resistance mutations in EGFR may not be the only method of treating patients who do not respond to Tagrisso. Antibody-drug conjugates targeting HER3 are also in development, and in some cases where patients do not have EGFR T790 mutations, earlier generation EGFR TKIs, including AstraZeneca's Iressa (gefitinib), Genentech's Tarceva (erlotinib), or Boehringer Ingelheim's Gilotrif (afatinib), could be used sequentially following Tagrisso resistance.
Janssen's EGFR-MET bispecific antibody Rybrevant (amivantamab), which was approved for EGFR exon 20-mutated NSCLC last year, is also in clinical trials combined with Yuhan's third-generation TKI Leclaza (lazertinib) for previously treated EGFR-mutant NSCLC.
"These are important tools … but resistance may be more complicated than we appreciate," Janne said. "We need to continue to enroll patients into these next-generation clinical trials."