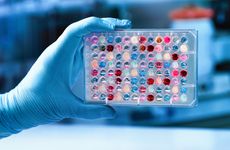 NEW YORK – Notable, a cancer drug discovery company, last week announced the launch of an observational clinical trial within which it is planning to collect deidentified samples and treatment outcomes from blood cancer patients for informing precision drug development.
Using the annotated samples collected within the non-interventional study, called ANSWer, Notable hopes to validate the accuracy of its ex vivo functional testing platform in predicting patients' treatment responses. The company is also retrospectively sequencing samples within the study and will layer that data on top of the functional testing information to improve the resolution of observed response patterns.
The firm's self-funded study will enroll 1,000 patients with a variety of hematologic malignancies from clinical networks in the US and Canada. The patients will receive therapy recommendations from their physicians without any influence from Notable and be followed for a year.
A newly diagnosed acute myeloid leukemia patient enrolled into the trial might receive a combination of a hypermethylating drug and venetoclax (AbbVie/Genentech's Venclexta). They would then either respond to that drug combination or not. Notable would collect deidentified biospecimens from the patient, as well as their response on treatment, and store that information into its tumor registry.
Notable would then conduct ex vivo functional testing on the banked samples and eventually genomic sequencing to try to predict the patient's real-life outcome on the treatment they received. "Sequencing is a part of it, but it really comes second [to functional testing]," explained Notable CEO Matt De Silva last week at the Precision Medicine World Conference in Santa Clara, California.
"When you say, 'precision medicine and oncology,' the next word is usually 'genomics,'" De Silva noted. He pointed out that even when patients harbor a genomic marker that is supposed to make them more likely to respond to a drug, they may not respond. For instance, it is well known that a subset of HER2-positive patients don't respond to the HER2-blocking drug trastuzumab (Genentech's Herceptin).
Additionally, genomic testing doesn't identify driver mutations that can be therapeutically targeted for many patients. De Silva provided the example of myelodysplastic syndrome, a type of cancer that tends not to have any mutations known to predict response to PARP inhibitors when tested on commercial next-generation sequencing panels. However, Notable's functional testing has been able to identify cancer cells that are clearly sensitive to such drugs. The company is betting that genomically sequencing those responsive cells may identify molecular biomarkers that can point to a precision treatment approach.
"The concept of putting drugs on cancer cells and using that to guide clinical decision making is older than genomics," De Silva said. "We're pursuing this older idea of phenotypic screening using modern tools that are much more targeted based on the mechanism of action of the drug."
The company is performing ex vivo functional testing with flow cytometry, which evaluates single cancer cells for the presence of disease after treatment. Using this approach, Notable will also test out the activity of new treatment strategies on the samples it banks from patients over time.
ANSWer is a scaled up version of studies the company has done in the past with pharmaceutical companies and academic institutions to predict which patients would respond to a given therapy.
At the 2019 American Society of Hematology annual meeting, held last month in Orlando, Florida, Notable presented findings from a prospective feasibility study conducted with researchers at Stanford University. The company reported that a molecular tumor board was able to take the findings from its ex vivo functional test, Tempus' 596-gene panel, and in silico modeling, and guide some patients to precision treatment approaches that they benefited from. In this study, Notable's platform demonstrated an 84 percent overall accuracy rate in retrospectively predicting patients' therapeutic responses, according to the company.
But this feasibility study, which the group is preparing to publish, involved only 21 patients. Now, Notable is pursuing a much bigger test of its platform in ANSWer, where patients' samples will be linked to treatment outcomes collected prospectively.
"It's one thing to do this all in the lab … but it's even more valuable if you can tie your lab prediction to an outcome in a patient. Because, if you're incorrect, if you predict the patient's going to respond and they don't, or you predict that a patient's not going to respond and they do, then that offers an opportunity for you to be improving your system," said De Silva in an interview. "Without the outcome you don't have anything to train the system on. "
As a non-interventional trial, the test findings will not be used to guide patients' treatments in ANSWer. Relative to previous studies, though, this trial has an added component in that researchers will collect samples from patients at multiple times during their treatment journey. Notable will take a peripheral blood sample or a bone marrow biopsy from the patient before they are given any therapy and then collect subsequent samples as patients come in for their regular course of treatment. In doing so, Notable hopes to see how the treatment patients are given change the biology of their cancer cells and whether that change affects the response to therapeutics that are applied on their samples in the lab.
The collected samples will undergo a process which chemically removes red blood cells, leaving behind the white blood cells and cancer cells. Notable then uses flow cytometry on the remaining cells and characterize the cancer cells phenotypically to confirm that they match up with the diagnosis attached to them. If the label says that it came from a patient with acute myeloid leukemia that expresses particular antigens on their cancer cells, Notable wants to make sure the lab results say the same thing.
Then, the sample is divided across many small test tubes on a microtiter plate filled with media designed to keep the cells alive while drugs are added to them. The cells are incubated for a time period that matches the mechanism of action of the drug or drug combination before researchers observe the effect of the drugs on cancer cells and healthy cells from the patient. The tested drugs could be small molecules, large molecules, or cellular therapies. Notable is particularly interested in identifying active drug combinations. 
"Each patient sample becomes potentially thousands of different experiments," said De Silva. "And as we do that across lots of patients, we get to see some interesting biological patterns of drug response in the lab."
Within ANSWer, the banked samples are also retrospectively sequenced, and the findings are mapped alongside information gathered from ex vivo testing. The added sequencing data, De Silva acknowledged, could help decipher emerging patterns like why drug sensitivity has changed over time, why a certain drug combination works well in a subset of patient samples, and what's different about the biology of patients that respond to therapy versus those that don't. Sequencing can also help researchers better characterize how various clones or subpopulations of cancer cells present in patients are impacting their ability to respond to therapy.
De Silva declined to disclose the sequencing platforms being used within ANSWer. He generally said that studies the company has conducted, like the feasibility study with Stanford, has made use of next-generation sequencing platforms. He also highlighted the value of single-cell sequencing. "With flow cytometry, we can measure single-cell drug sensitivity," he said at the PMWC meeting. "As [this] gets better under our platform, we can marry that with single-cell sequencing and [look at] the clones in the patient's cancer we are targeting with a drug, and the identify of the cells that are left. That can help us design better combination treatments in the future."
The company is funding ANSWer with the proceeds from a $40 million series B fundraising round it completed last year. "This study is a key milestone for us to have initiated. It was one of the first things that we did after closing the financing [to] see how this works in a large number of patients," said De Silva. "A significant portion of the funding is going into building up the platform as well." 
De Silva thinks the insights gleaned from ANSWer could also be useful for designing other clinical trials in the future. Notable is planning to join ongoing academic and pharmaceutical trials in addition to running the ANSWer trial. 
"The data that's generated from studies like this could also be valuable because we can identify which drugs or combinations may be useful to develop in the types of blood cancers that we work in, whether or not they have been thought of initially as a blood cancer drug," said De Silva. "We're gaining insights that are useful for drug developers in terms of whether a drug works as a single agent in a subset of patients, or if it works in combination with another drug."
---
Turna Ray provided additional reporting for this article from the Precision Medicine World Conference in Santa Clara, California.