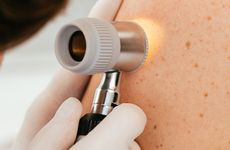 NEW YORK – Novartis' efforts to advance a melanoma triplet therapy — combining its BRAF and MEK inhibitors with an experimental immunotherapy spartalizumab — have hit a disappointing roadblock.
Investigators reported earlier this week that the targeted therapy-immunotherapy regimen failed to significantly improve progression-free survival in patients with unresectable or metastatic BRAF V600–mutant melanoma compared to the same targeted therapies used alone.
However, discussing data from this trial at the European Society for Medical Oncology's Virtual Congress researchers hypothesized that the failure may reflect more on the trial's statistical design than the drugs' activity. Some are still holding out hope that this three-drug cocktail could benefit a smaller molecular subset of melanoma patients, if not the broader population of BRAF mutation carriers.
In COMBI-i, 532 patients were randomized to receive either Novartis' spartalizumab with dabrafenib (Tafinlar) and trametinib (Mekinist), or a placebo with dabrafenib and trametinib, a combination already approved for BRAF-mutated melanoma.
Presenting the results at the ESMO meeting, Paul Nathan, a medical oncologist at the UK's Mount Vernon Cancer Center, said that as of the data cutoff on July 1 and at a median follow-up of 27.2 months, the triple therapy did not significantly improve progression-free survival compared to the targeted doublet. Median progression-free survival was 16.2 month for the triple therapy versus 12 months in the comparator arm (a hazard ratio of 0.82).
The objective response rate was 69 percent for patients receiving the immunotherapy-containing regimen and 64 percent for those not receiving immunotherapy.
During a discussion of the data, Bartosz Chmielowski, an oncologist and melanoma researcher at the University of California, Los Angeles, said that the results are perplexing based on what has been seen in trials of competing but similar drugs.
For example, Genentech was recently successful in showing improved outcomes for a combination of its immune checkpoint inhibitor atezolizumab (Tecentriq), MEK inhibitor cobimetinib (Cotellic), and BRAF inhibitor vemurafenib (Zelboraf), for the treatment of BRAF V600-mutated advanced melanoma. The US Food and Drug Administration approved the regimen in this setting in July based on results of its IMspire150 trial
But another triplet combo — combining Novartis' dabrafenib and trametinib, with pembrolizumab (Merck's Keytruda) — also failed to meet its primary endpoint of improved progression-free survival in the first readout from the Keynote-022 study. That said, in longer-term follow up, the data has made a reversal, now showing a statistically significant benefit.
Dual BRAF/MEK inhibitor treatments have become a mainstay for patients with BRAF V600–mutant metastatic melanoma: a group that makes up about half of the overall advanced disease population. However, despite high response rates, a significant number of patients still fail to derive long-term benefit.
According to authors of a review published this week in JAMA Oncology, the scientific rationale for adding immunotherapy to the mix is based on the fact that clinical responses to BRAF and/or MEK inhibitors are associated with immune changes within the tumor microenvironment that could increase the sensitivity to immune checkpoint inhibitors. But the question had been — and may still remain in light of these diverging trial results — whether giving these drugs together or using them in sequence would best benefit patients.
Discussing the COMBI-i trial results during the ESMO meeting, Chmielowski said that one reason for the endpoint failure may be that spartalizumab is just a dud in terms of activity.
But a comparison of COMBI-i and other studies suggests an alternative takeaway — that subtle differences in a trial's statistical design can have a significant impact on the results.
Showing an overlap of the progression-free survival curves for IMspire150 and Keynote-022, Chmielowski argued that it's very difficult to see any difference between the two trials in terms of this specific endpoint. Yet, with longer follow up, Keynote-022 turned out positive.
Similarly, Nathan pointed out during a question-and-answer session that the baseline results of various trials in this vein seem to match each other closely. "When you look at the curves, they look very similar. So, whether its statistically significant versus not significant comes down to the statistical design," he said.
In other words, small tweaks in the process of analyzing each trial — timing and other event-based cutoffs, for example — could explain the divergent results.
For COMBI-i, the outcomes of patients on the placebo arm was also unexpectedly good, better than would be assumed based on the existing data for the dabrafenib and trametinib doublet, the researchers pointed out. As a result, progression events in the control arm were much lower than trial investigators expected when their prespecified trial design mandated a progression-free survival comparison.
Another consideration is that Genentech's Imspire150 underwent an independent data review, in which a reanalysis of the data failed to find a statistically significant difference between the study arms.
In the trial's initial analysis, median progression-free survival in the atezolizumab-cobimetinib-vemurafenib group was 15.1 months versus 10.6 months in the comparator arm. But after the independent data review, progression-free survival was 16.1 months for the triplet therapy and 12.3 months for targeted therapy alone — almost exactly what was seen for the Novartis drugs in COMBI-i.
Chmielowski also raised the question of whether investigators are asking the right question with any of these trials that add immunotherapy to targeted therapy. Instead of focusing on whether immunotherapy is increasing efficacy beyond targeted doublet therapy, "should we not be asking instead whether targeted therapy would increase the efficacy of immunotherapy?" he asked.
This question may be answered soon by a trial called STARBOARD, which is evaluating pembrolizumab plus the combination of Pfizer's encorafenib (Braftovi) and binimetinib (Mektovi).
For its part, Novartis could still find a place for the addition of spartalizumab to its established targeted combination, but researchers presenting at the ESMO meeting implied that this would have to be in a molecularly defined subgroup of patients.
Nathan said he and his colleagues saw "interesting trends in favor of the immunotherapy-containing triplet" in a preplanned subset analysis of the trial, cases with more sites of metastasis, greater bulk of disease, and high levels of tumor mutational burden, trended toward improved benefit with triplet versus doublet therapy.
Analysis of TMB, in particular, is ongoing, he added. In the current data, the subset of patients with high TMB (more than 10 mutations per mega base) saw a much longer median progression-free survival on triplet therapy versus doublet therapy, 23.9 months and 11.8 months, respectively.
In contrast, for the subgroup with low TMB, progression-free survival was almost identical — 12.8 months versus 12 months — for those on triplet and doublet therapy, respectively.
In an email, Jeff Legos, Novartis' senior VP and head of oncology drug development, said the company still has more to learn about the results. "We are committed to having PD-1 as part of our combination therapy strategy [and are] continuing to analyze the data, including looking at which patients may benefit, [such as] patients with high tumor burden or other baseline clinical or molecular characteristics," he said.
Novartis has used the trial report to highlight that patients in the placebo arm did especially well, with "unprecedented progression-free survival results" confirming the firm's doublet as the standard of care for advanced BRAF-mutated melanoma.
Although this triple melanoma combination treatment was intended to be spartalizumab's initial entry into the market, Legos said Novartis has ongoing efforts exploring the drug in combination with other anti-cancer agents.