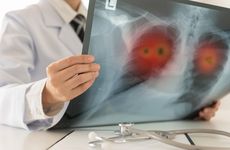 CHICAGO – With the help of a remote oncology pharmacist, a study assessing the feasibility of delivering comprehensive genomic profiling to non-small cell lung cancer patients nearly doubled average monthly enrollment rates within participating community practices.
At the American Society of Clinical Oncology's annual meeting earlier this week, Elizabeth Koselke, a senior clinical pharmacist at the US Oncology Network, presented data showing that engaging trained pharmacists who screen patients to gauge if they are eligible for enrollment enabled six community oncology practices to enroll significantly more patients than they were before this strategy was implemented and helped ease the burden on clinical research staff.
In reviewing the data at the meeting, Ryan Nipp, a gastrointestinal oncologist and health services researcher at the University of Oklahoma Health Sciences Center, said the findings were "impactful" and "remarkable," and "underscores how incorporating members of a multidisciplinary team could address barriers to clinical trial accrual."
In a 2018 report, the American Cancer Society estimated that around 8 percent of cancer patients partake in clinical trials and only 27 percent have the option of joining a trial in their own community. Clinical trial enrollment is challenging because it often requires patients to travel to far away academic sites, away from the community practices where they're getting treated. Research protocols can also be complex and make it difficult to identify the types of patients researchers are looking to study. Precision oncology trials, which often involve testing for biomarkers that may be rare in the population, exacerbate the problem of identifying eligible participants.
"We all know too well the challenges of clinical trial enrollment," Koselke said at the meeting, noting that around one-third of studies conducted by cooperative groups close because enough patients weren't enrolled, likely due to a mixture of factors, including insufficient staffing, patient and provider perceptions about clinical trials, as well as the increasing complexity of oncology study protocols.
McKesson, a provider of medical supplies, drugs, and health technology solutions, in 2021 announced that a new consortium of oncologists, researchers, and drugmakers would conduct a three-part, five-year study involving approximately 12,000 NSCLC patients treated within community practices to better understand the factors that are hindering access to genomic testing, personalized medicine, and biomarker-informed drug trials. The aim within the consortium, called MYLUNG (Molecularly Informed Lung Cancer Treatment in a Community Cancer Network), is to use the learnings to develop and implement testing and treatment algorithms at community cancer centers to bring precision oncology care to more patients. 
A year ago, at this same meeting, researchers from the MYLUNG consortium presented data from the first protocol of the three-part effort, which was a retrospective analysis of biomarker testing patterns among more than 3,500 metastatic NSCLC patients who received first-line treatment at community practices within McKesson's US Oncology Network between April 1, 2018, and March 31, 2020.
Focusing on testing patterns for five therapeutically actionable biomarkers — alterations in ALK, BRAF, EGFR, and ROS1, and PD-L1 expression — researchers found that while the testing rates for single genes were high, less than 50 percent of patients were tested for all five biomarkers. Moreover, assessment of multiple markers using next-generation sequencing panels, considered standard of care in NSCLC given the growing list of precision oncology options for this population, increased during the study period but remained below 50 percent as of March 2020.
In protocol 2 of the study, the MYLUNG consortium is hoping to prospectively study the operational feasibility of comprehensive biomarker testing in 1,000 NSCLC patients before they receive treatment at participating community practices. In protocol 3, researchers will implement workflow interventions and gauge how well they improve access to precision medicines and clinical trials in 7,500 patients.
The consortium is gearing up for the second protocol where the aim is to enroll 1,000 participants, and researchers wanted to create a system that would enable screening a high volume of patients efficiently without burdening the physicians and on-site recruitment staff.
Studies have shown that automatic screening approaches can increase enrollment rates, but Koselke said there's no published data on how effective it is to engage healthcare providers outside the research team, such as pharmacists.
The MYLUNG consortium decided to engage centrally placed oncology clinical pharmacists who would have access to patients' electronic health records and could serve as an intermediary between the cancer centers where patients are treated and US Oncology Research teams conducting the protocol 2 study. The pharmacist reviewed chemotherapy orders in the EHR as well as a weekly custom recruitment report and determined in real time patients' eligibility for clinical trials going on at the centers where they're treated as well as at hospitals in the entire US Oncology Network.
In July 2021, six months after the MYLUNG study began, researchers began receiving a customized recruitment report that listed potentially eligible patients at practices based on the specific inclusion and exclusion criteria of the trial. Even though this was a customized report, it flagged some patients who weren't eligible. But then, MYLUNG engaged the pharmacist, who could sift through this weekly report and screen out ineligible patients, saving the on-site research staff a lot of time.
After identifying patients, the pharmacist informed the doctors and clinical trial staff at the sites about eligible patients through EHR chart messages and weekly emails to practices. The weekly emails told clinical research staff when patients were going to start treatment, at which site, the time until when they'd remain eligible for enrollment, and when they'd next be in the clinic. Using this information, the clinical site team could reach out, enroll, and consent patients once they came into the clinic.
MYLUNG implemented this pharmacist intervention at six practices out of 11 participating in the study. The practices in the analysis on average had 43 trials open across around nine sites, a dozen research staff, and two dozen oncologist/hematologists, and started 189 NSCLC patients on treatment each year. "These are large volume practices with many moving parts," Koselke said. "They can use all hands on deck when it comes to capturing appropriate patients for trial enrollment."
Over a span of eight months, the pharmacist screened 506 patients and recommended 459 patients who met the eligibility criteria for the study. Of those recommended, 170 patients, or 37 percent, enrolled. Of the remaining 289 patients who did not enroll, 211 exceeded the 30-day window from their treatment start date that they had to enroll in the study; 27 died or went into hospice; and a dozen patients declined participation.
When researchers compared the enrollment rates across the six practices before and after the pharmacist intervention was implemented, every site recruited more patients thanks to the assistance of the pharmacist. "Overall, the average monthly enrollment before the pharmacist intervention was 3.4 patients per month" across the six sites, Koselke said. "After the pharmacist intervention, the average monthly enrollment nearly doubled to 6.6 patients per month." This means that, on average, each site enrolled three additional patients each month into the study.
In Koselke's view, this study demonstrates the advantages of a multidisciplinary strategy. "Clinical pharmacists are perfectly positioned to screen patients for enrollment," she said. "Because of our education and background, we have the skill set necessary to identify patients in real time and to quickly recommend them to providers and onsite trial staff."
In his review of the study, Nipp agreed. Others should develop and test similar strategies where members of a multidisciplinary team are engaged for the purpose of improving trial enrollment, he said, and wondered if the impact of such strategies can be explored in randomized trials in the future.
At ASCO's annual meeting, equity in clinical trials was a big theme. At the end of many sessions, such as during the plenary talk reporting data from the DESTINY-Breast04 trial and a presentation of a pooled analysis of several registrational immunotherapy trials, attendees questioned why so few people of color were included in this research.
Multiple studies have shown that minorities with cancer don't have equitable access to genomic profiling and surveys suggest that doctors may not as readily bring up biomarker testing options with people of lower socio-economic backgrounds. Going back to the retrospective analysis of biomarker testing rates from MYLUNG protocol 1, researchers reported at this meeting that Black or African American patients, those who were seen at smaller practices or facilities in the South, and patients with squamous cell histology were all less likely to receive comprehensive biomarker testing. "Understanding clinical and social determinants of health will be important when evaluating interventions to improve testing rates in the prospective phases of the MYLUNG study," the researchers concluded.
Whether the pharmacist intervention can help MYLUNG enroll a more diverse cohort in protocol 2 remains to be seen. "Currently, we don't have any diversity data because we haven't gathered our baseline demographics for our enrollment data yet," Koselke said. "It is something we are going to look at and will include in our manuscript."