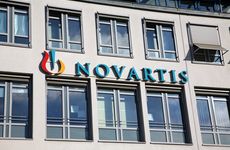 NEW YORK – On Wednesday morning, Young Whang, an oncologist at the University of North Carolina at Chapel Hill, made the difficult decision to switch one of his patients with advanced prostate cancer to a different systemic therapy, despite the fact the patient was eligible for Novartis' recently approved radioligand therapy Pluvicto (177Lu-PSMA-617).
"The reason I made the decision to switch to a different systemic treatment was because this patient couldn't wait the six months it would take to get Pluvicto," Whang said. "This is a lifetime for our metastatic prostate cancer patients." These patients have already been heavily treated with androgen receptor signaling inhibitors and chemotherapy, and yet their cancers have continued to spread.
Whang's experience is not unique. Across the country, oncologists who treat patients with metastatic castration-resistant prostate cancer (mCRPC) are finding their hands tied. They know their patients would likely benefit more from Novartis' prostate-specific membrane antigen (PSMA)-targeted radiopharmaceutical than they would from another round of chemo, but there's not enough of the newly approved drug to meet demand.
Patients are dying while waiting to receive their doses of Novartis' radioligand therapy. And the situation is unlikely to change until summertime, at the earliest, according to Novartis' best estimates, if a much-needed regulatory approval comes through for a US-based manufacturing site.
A spokesperson for the drug company confirmed on Wednesday that Novartis has stopped distributing Pluvicto to new patients — a "difficult but necessary step" to prioritize patients who've already started treatment. "Patients who are currently in our scheduling system and awaiting their first doses will need to be rescheduled," the spokesperson said.
The official notice that Novartis has pumped the brakes on new patient starts came just this week, but the supply constraints have been building for far longer.
At the Dana-Farber Cancer Institute in Boston, for instance, between May 2022 and September 2022, the average wait time for an eligible patient to start on Pluvicto was eight weeks. Due to supply constraints, only half of all patients approved for Pluvicto at the cancer institute had begun the therapy from May to September.
Seven percent of Dana-Farber patients had died waiting to start the treatment.
Demand outpaces manufacturing capacity
It's been just over a year since the US Food and Drug Administration approved the PSMA-directed radiopharmaceutical as an option for previously treated mCRPC patients whose tumors express PSMA, as determined by the gallium-labeled PET imaging agent Locametz (gallium Ga 68 gozetotide). Although Novartis already had a similarly designed therapy, the somatostatin-targeting radioligand Lutathera (lutetium Lu 177 dotatate), in its commercial portfolio, Pluvicto was the first targeted radiopharmaceutical approved for a large population of cancer patients. Lutathera, in contrast, is approved for patients with neuroendocrine tumors, a far rarer indication.
According to one estimate, there were around 22,000 cases of previously treated mCRPC in the US in 2020. In comparison, around 12,000 patients are diagnosed with neuroendocrine tumors each year. Scaling manufacturing and shipping lutetium-labeled radioisotopes for a far larger group of patients was a challenge for the drugmaker from the onset, and that quickly became clear across the oncology community despite Novartis' assurances to analysts that it was ready to meet demand.
Just a few months into the approval, however, Novartis halted all Pluvicto and Lutathera manufacturing at two of its facilities "out of an abundance of caution as a result of potential quality issues identified in its manufacturing processes." Those quality issues were resolved, according to Novartis. But now once again, the drugmaker is grappling with demand it can't meet.
Nuclear medicine experts and oncologists familiar with the intricacies of manufacturing and delivering this type of therapy were concerned about access barriers well before Pluvicto's approval. The radioactive isotope lutetium-177 requires specialized storage areas with lead walls, and due to the unsealed nature of the isotope, the therapy needs special equipment and expert handling to prevent contamination.
Due to the therapy's short half-life, there's a five-day window in which a batch of Pluvicto can get from its manufacturing facility into the patient's body and still be safe and effective. 
"Any interruption in the process, from unplanned manufacturing events to doses not arriving in time due to shipping delays and challenges associated with importing a nuclear medicine in the US may result in patient doses being rescheduled, which causes a ripple effect for patients in the queue," Novartis' spokesperson said.
Knowing this, Novartis, which currently produces Pluvicto at a facility in northwest Italy, had originally planned much of its commercial launch strategy around bringing Pluvicto production stateside. Novartis talked up plans to begin producing commercial Pluvicto at a plant in Millburn, New Jersey, and another in Indianapolis.
The Millburn facility is the site where Novartis already manufactures Pluvicto for clinical trials and for commercial distribution in Canada. It also makes Lutathera at this site. The facility does not, however, have the necessary FDA approval to supply Pluvicto in the US commercially, and the firm doesn't have a clear idea of how quickly that approval could come. The Indianapolis site likely won't be operational until the end of this year, positioning the already operational Millburn site as Novartis' only hope to begin manufacturing batches of Pluvicto for commercial use in the US rather than shipping them from Italy.
"We are [pausing] accepting new patient starts until we have more clarity on the FDA's approval of our Millburn site," said Novartis' spokesperson. "Pending FDA approval, Millburn could begin supplying commercial Pluvicto for US patients by this summer."
Between the New Jersey and Indianapolis sites, Novartis has said it is hoping to manufacture at least 250,000 doses of Pluvicto in 2024.
The drugmaker has requested an expedited review of the New Jersey facility from the agency, but the summer is still a long way off for patients and their families who have placed their hopes in the radioligand and have already waited weeks, and in some cases months.
Amanda Nizam, an oncologist at the Cleveland Clinic, welcomed Pluvicto's approval, since her patients with refractory mCRPC are often out of treatment options. Nizam, like Whang, said her patients have been affected by the supply constraints. Even patients currently on Pluvicto have had their treatments delayed or canceled, she said.
"We look forward to the opening of additional manufacturing sites," Nizam said, but many patients affected right now can't wait until summertime.
Novartis knows this. "We recognize that any rescheduled dose is distressing for patients and their loved ones and poses challenges for the treatment centers," the company spokesperson said. "We are striving to serve as many patients as possible as quickly as possible as we work through the current situation."
But even as it acknowledges its inability to meet demand in the currently approved mCRPC setting, Novartis is moving ahead with plans to expand Pluvicto's use into earlier lines of treatment for prostate cancer. If the company is successful, it will have to produce Pluvicto for even larger patient populations.
During a quarterly earnings call to discuss Novartis' 2022 fourth quarter and full-year financials last month, CEO Vas Narasimhan talked up plans to evaluate Pluvicto in the Phase III PSMAfore trial involving chemo-naïve mCRPC patients and in the Phase III PSMAddition trial in metastatic hormone-sensitive prostate cancer patients. Based on positive readouts from the PSMAfore trial, Novartis has said it is planning to file for regulatory approval during the second half of this year for that earlier-line treatment setting.
Narasimhan admitted during Novartis' recent earnings call that perhaps the drugmaker didn't fully appreciate just how many patients would be clamoring to get Pluvicto once it came on the market. "From a demand standpoint, I would say our initial estimate of the VISION [clinical trial] population has underestimated the potential of this patient population, and we certainly have not fully penetrated the VISION population in the United States," he said.
While the late-line market opportunity for Pluvicto is between $500 million and $750 million, Novartis has projected a $2 billion market opportunity for the drug factoring in anticipated approvals in earlier settings. Pluvicto brought in $179 million in Q4 2022, more than double its revenues from Q3 2022.
Despite production shortfalls, Novartis could still achieve its Pluvicto sales expectations over the long term. In the short term, however, the consequence of the company underestimating demand is hitting patients. As Novartis waits for clarity from the FDA on its Millburn manufacturing site, patients and their oncologists across the country will need to reconsider treatment plans, many will need to begin new systemic therapies to try to prevent their cancers from spreading as they wait, and some patients will die waiting.