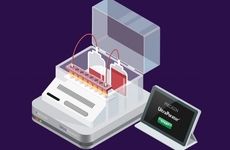 NEW YORK – With a semi-closed, non-viral place-of-care manufacturing system and a unique cell construct designed for in vivo expansion, Germantown, Maryland-based Precigen is on a mission to overcome barriers to CAR T-cell therapy efficacy and access.
Myriad challenges have hindered CAR T-cell therapy's acceleration and adoption over the past decade, but arguably the two most intractable have been the therapy's limited efficacy against solid tumors and its steep access barriers. Precigen is trying to overcome both with its pipeline of so-called "UltraCAR-T" therapies.
Three such therapies are already in clinical development. The firm is studying PRGN-3005 in ovarian cancers, PRGN-3006 in acute myeloid leukemias and myelodysplastic syndromes, and PRGN-3007 in various ROR1-expressing cancers. Recently, the firm decided to expand the PRGN-3005 ovarian cancer trial to multiple sites, so that the autologous UltraCAR-T therapies will be manufactured and patients can be treated at the same centers where they enrolled in the trial.
This marks a shift from commercially available CAR T-cell therapy, in which patients must wait weeks, if not months, as their harvested and frozen cells are shipped out to a manufacturing facility, modified to express the CAR and expanded ex vivo, then frozen again, shipped back to the patient's place of care, and infused as a one-time treatment. In manufacturing the cells at the same place where patients are treated, Precigen hopes to avoid lengthy delays and costly logistics.
Non-viral, point-of-care manufacturing
The semi-closed manufacturing system that Precigen has built, dubbed the UltraPorator, is designed to allow clinicians at any hospital equipped with a clean room to manufacture Precigen's autologous cell therapies from patients' harvested immune cells overnight.
"You don't need to send cells to any other place or spend hundreds of thousands of dollars somewhere else," Precigen CEO Helen Sabzevari explained. "This [UltraPorator] is the whole process."
Sabzevari explained that the machine itself is an electroporation device, similar in basic design to an established lab transfection device like Lonza's Nucleofector, but with proprietary hardware and software that, according to Sabzevari, increase the throughput, cell viability, and consistency.
Up to 4 billion harvested T cells from a patient are loaded into a holder and dropped into the machine. At this point, non-viral plasmids, which contain up to three effector genes, and buffer material held in a single bag are added to the device, which applies specialized electrical pulses to deliver the plasmids to the T cells' nuclei to modify them.
After this transfection step, the cells are washed and transferred to another bag, which gets placed in an incubator. The transfection process itself takes under 12 minutes, according to Sabzevari. The cells then remain in the incubator overnight, and the next day, after a quality-control process to ensure the cells are sterile and express the intended CAR, hospital clinicians can infuse the product directly back to the patients.
"Once they see the tumors, they start to expand directly themselves, and they persist and start to kill the tumor cells," said Sabzevari. In the case of solid tumors, she acknowledged that the main challenge for "conventionally" produced CAR T-cell therapy is that the cells quickly become exhausted. Because Precigen's UltraCAR T cells are "young," and not yet exhausted when they enter the body, the company is betting that the cells will continue circulating until they infiltrate the tumor.
The key, according to Sabzevari, is that unlike other modified CAR T cells which expand ex vivo, the Precigen cells are designed to expand only after they're infused into a patient's body. To accomplish this, the firm engineers a membrane-bound IL-15 onto the UltraCAR T cell to fuel T-cell expansion. This component is transfected as part of the vector.
"I call it a backpack of food for T cells," Sabzevari said of the membrane-bound IL-15. "It allows the T cells, in the absence of seeing the antigen, to persist. It gives them enough energy to keep on going … [and] in the presence of an antigen, it allows them to expand even further."
The firm also transfects the cells to express a "kill switch," which, with the administration of a specific activator, can eliminate the cell therapy in the body of a patient experiencing toxicities.
Pivoting away from viral vectors
The fact that Precigen's therapies are manufactured using plasmids as opposed to lentiviruses in the transfection stage is critical to point-of-care manufacturing, according to Sabzevari.
"The reason that everyone has to go to [centralized] manufacturing is because you cannot use any kind of a virus in a clean room of a hospital," she said, referring to the good manufacturing practices (GMP) facilities, which are needed to manufacture currently marketed CAR T-cell products but aren't available within most hospitals.
"You have to build these manufacturing facilities for hundreds of millions [of dollars] if not more," she said. "Then, the cells have to be in these facilities for months … and eventually, you have to get rid of the virus because you cannot be injecting a lentivirus that is not incorporated into a cell to a patient because that would be a safety hazard. … There are huge quality assurance procedures on top of manufacturing."
Several academic cancer centers and hospitals are equipped with facilities to manufacture CAR T cells with viral vectors safely, but not on a commercial scale. The first US Food and Drug Administration-approved CAR T-cell therapy tisagenlecleucel (Novartis' Kymriah), for instance, was initially developed at UPenn, but is now manufactured at one of a select few Novartis centralized GMP cell therapy facilities in Switzerland, France, New Jersey, or Japan.
Some firms with similar point-of-care aspirations for CAR T-cell therapies, such as Orgenesis, and the nonprofit Caring Cross, are working on validating fully closed systems to eliminate the manual aspect and human contact with the viral vectors. On top of safety concerns, the industry is also facing a viral vector bottleneck, and companies must find a way to acquire or manufacture their own lentiviral vectors.
Precigen isn't the only firm using non-viral gene transfer, though. Alaunos Therapeutics (previously Ziopharm), for example, is applying its Sleeping Beauty transposon/transposase-based approach in manufacturing autologous T-cell receptor therapies. But Precigen may be unique in bringing its therapy to multisite trials with place-of-care manufacturing.
According to Sabzevari, any hospital that has a cleanroom — or, more simply, any hospital already able to do a bone marrow transplant — could install and run an UltraPorator. "This is not going to be a device that's going to cost a million dollars," she added, calling the cost "very reasonable," but stopping short of sharing a specific price tag. The systems are currently in use at the Fred Hutchinson Cancer Center, the University of Washington, and at the Moffitt Cancer Center.
Sabzevari said the firm will be announcing the additional centers that will join the PRGN-3005 trial later this year. "Many, many more high-powered centers will be joining," Sabzevari said, emphasizing that enabling the staff at the hospitals themselves to conduct manufacturing marks a big shift from cell therapy drugmakers that currently embed their own employees within large facilities. The model, she added, is commercially scalable.
Of course, most cancer patients don't receive care at a "high-powered center," or even at a hospital with a clean room that could allow for a bone marrow transplant. The majority of patients receive their care in community oncology practices, and it is unlikely, Sabzevari admitted, that a small community oncology practice would have its own UltraPorator.
As such, for many patients, this would not truly be place-of-care therapy since they would still need to go to a larger hospital with the right capabilities. That said, traveling to the nearest full-service hospital with a cleanroom may be less burdensome than traveling to a major comprehensive cancer center or specialized academic hospital wherein today's commercially available CAR T-cell therapies are currently administered.
Ongoing validation, regulatory approach
The extent to which Precigen's model will expand access won't be clear until its therapies are commercialized, and they still have a ways to go in terms of clinical validation. Still, early trials have yielded promising data. For example, interim data from a small cohort of heavily pretreated, lymphodepleted AML patients in a Phase I/Ib trial showed that Precigen's PRGN-3006 product, which targets CD33, led to a 50 percent objective response rate.
In a Phase I/Ib ovarian cancer trial, meanwhile, the PRGN-3005 UltraCAR-T cells, which target MUC16 on tumor cells, persisted in patients' peripheral blood for more than three months after infusion. Although it's too early for preliminary efficacy data readouts, the firm reported a "decrease or stabilization of total target tumor burden at the first restaging in a majority of patients."
Beyond AML and ovarian cancer, Precigen is evaluating the autologous UltraCAR-T approach in a Phase I/Ib trial of ROR1-positive cancer patients with hematologic cancers including chronic lymphocytic leukemia, mantle cell lymphoma, acute lymphoblastic leukemia, and diffuse large B-cell lymphoma, and solid cancers including triple-negative breast cancer. The FDA cleared an investigational new drug application for that therapy this past October, and the firm anticipates it will begin dosing patients this year.
According to Sabzevari, Precigen is well aware of the regulatory hurdles that cell therapy drugmakers have faced in terms of validation. Often, drugmakers will validate their therapy based on a small, manual-scale manufacturing system during development, but then have to revalidate the manufacturing system again if they make any sort of automated tweaks to the process ahead of commercialization.
"When you are talking about commercialization, you have to make sure that your manufacturing process is scalable," Sabzevari said. "That is one of the biggest issues the whole industry has [and] exactly the reason we developed the UltraPorator."
In discussions with the FDA, she said, Precigen has been working to validate the UltraPorator process in tandem with the UltraCAR-T therapies themselves. The firm is staying tight-lipped about the potency assay it will use to demonstrate to the FDA that it is manufacturing a product that is consistent and active before infusing it into a patient.
According to Sabzevari, Precigen has at least reached an agreement with the FDA about the parameters it is currently using before UltraCAR-T therapy infusion in the ongoing trials. She expects the firm's potency assay approach will evolve closer to commercialization, which could present added challenges, but Sabzevari expressed confidence that her firm and the agency were on the same page.
While the company's products make their way through clinical trials, Sabzevari is hopeful that Precigen will help usher in a future where CAR T-cell therapy access will be much more streamlined and patients won't have to wait so long or travel too far to get them. "[An] oncologist will ask the clean room of the hospital to create [the specific] UltraCAR-T using a plasmid sitting on the shelf in the hospital; the patient will go to the apheresis unit of the hospital," she described. "They will do the cell transfection overnight; the next day the cells will be QC'd and counted, then infused back to the patient."