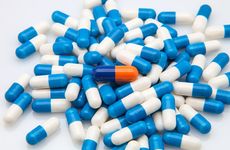 NEW YORK – In 2021, new precision oncology drugs and biomarker tests came to market, but oncologists, drugmakers, and test developers also openly acknowledged the reality that often cancer patients in underserved communities don't have access to these advances and were willing to embrace strategies aimed at diminishing these inequities. 
By Precision Oncology News' count, the US Food and Drug Administration last year approved 26 precision cancer treatments — four autologous CAR T-cell therapies and 22 drugs indicated for a biomarker-defined population (see chart of approvals here). Eleven approvals were for new drugs and 15 were approvals of expanded indications of already marketed drugs. In comparison, the FDA approved 27 precision oncology drugs in 2020.
But unlike other years, in 2021 the field didn't just celebrate the availability of new drugs, biomarker tests, and research innovations. The excitement over these successes was tempered by honest acknowledgement from stakeholders across the cancer community that there is still a long way to go to ensure that cancer patients have equitable access to precision oncology advances.
Cancer centers, oncology and genetics professional societies, patient advocacy groups, pharmaceutical companies, and diagnostics firms in 2021 all renewed their commitment to removing access barriers in healthcare and research as the COVID-19 pandemic continued to flare up across the US and disproportionately impact the economically disadvantaged and people of color. But unlike in 2020, when pandemic-related restrictions brought many aspects of routine healthcare to a halt, many of the services critical to cancer diagnoses and treatment recovered by 2021.
Analysis presented last year by Diaceutics, a diagnostics data analytics firm, showed that at the start of the pandemic surgical pathology testing significantly declined across 11 cancer types, resulting in nearly 32,200 missed cancer diagnoses. However, by June 2020, surgical pathology test volumes had increased for all cancers back to pre-pandemic levels, except for lung and breast tumors.
Similarly, by 2021, a lot of drugmakers and academic institutions had resumed cancer drug trials that they had halted in those early pandemic months, by relying on telehealth and other decentralized or near-patient approaches. "It's interesting to see how a lot of companies have found a way to navigate within the pandemic and keep their trials going," said Susanne Munksted, chief precision officer at Diaceutics.
Munksted sees the renewed focus on patient access and clinical trial diversification as a silver lining of the pandemic and expects stakeholders' commitments in these areas to continue beyond the pandemic. "That's a very positive thing for patients," she said.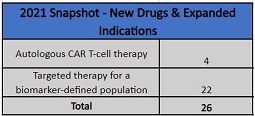 Milestones and setbacks
In the past year, there were several precision oncology milestones, and at the top of the list is the approval of the first KRAS inhibitor sotorasib (Amgen's Lumakras) in the US for previously treated, advanced non-small cell lung cancer patients harboring KRAS G12C mutations. In approving sotorasib, the FDA also approved two companion diagnostics — Qiagen's tissue-based Therascreen KRAS RGQ PCR kit and Guardant Health's blood-based Guardant360 CDx — for identifying patients who are most likely to respond to the drug.
NSCLC patients with EGFR exon 20 mutations, a subgroup with particularly poor outcomes that previously lacked targeted treatment options, as of 2021 have two personalized therapies: amivantamab (Johnson & Johnson's Rybrevant) and mobocertinib (Takeda's Exkivity). Previously treated, advanced lymphoma patients now have another CAR T-cell therapy option with the approval of lisocabtagene maraleucel (Bristol Myers Squibb/Juno Therapeutics' Breyanzi); while previously treated, advanced multiple myeloma patients now have their first CAR T-cell therapy option with idecabtagene vicleucel (Bristol Myers Squibb/ Bluebird Bio's Abecma).
Biomarker informed drugs continued to be approved in earlier lines of therapy. 2020 ended with the FDA's approval of osimertinib (AstraZeneca's Tagrisso) as an adjuvant treatment for EGFR-mutated NSCLC, and this year again, early-stage NSCLC patients with PD-L1-positive tumors garnered access to the checkpoint inhibitor atezolizumab (Genentech's Tecentriq) as an adjuvant treatment.
Although precision oncology drugs have historically been available for patients with advanced or refractory disease, the approval of osimertinib and atezolizumab in adjuvant NSCLC suggests that over the past two decades drugmakers have amassed enough confidence in the efficacy, safety, and value of biomarker-informed therapies to evaluate them in earlier treatment settings, where there is a better chance of curing patients.
Studies involving early-stage cancer patients tend to be riskier, explained Charles Fuchs, senior VP and global head of oncology and hematology at Genentech, because the trials are larger, take years to accrue, and have longer follow-up times because the outcome of interest isn't whether the drug shrinks tumors but whether it prevents recurrence. When Genentech "believes in a molecule, in a target, in an approach," Fuchs said, the company has committed to "taking the risk" and exploring the drug's activity in earlier settings alongside metastatic indications.
Drugmakers are also eyeing earlier treatment settings for CAR T-cell therapies. At the American Society of Hematology's annual meeting in December, Gilead Sciences and subsidiary Kite Pharma released data from the single-arm ZUMA-12 trial, which showed a 78 percent complete response rate among high-risk large B-cell lymphoma, or LBCL, patients who received first-line axicabtagene ciloleucel (Yescarta; axi-cel).
"This was extremely compelling," said Sonali Smith, chief of the hematology/oncology section at the University of Chicago. Smith expects that CAR T-cell therapies will continue to move into earlier lines and eventually, more institutions will be able to better manage treatment-related toxicities and administer them in the outpatient setting.
Also at the ASH meeting, the Phase III TRANSFORM and ZUMA-7 studies demonstrated the potential of axi-cel and Bristol Myers Squibb's lisocabtagene maraleucel (Breyanzi; liso-cel) as second-line therapies for relapsed or refractory LBCL patients. However, a third Phase III trial, BELINDA, failed to show an event-free survival advantage for Novartis' tisagenlecleucel (Kymriah; tisa-cel) compared to chemotherapy followed by autologous stem cell transplant in second-line LBCL. The negative trial baffled oncologists as to why tisa-cel appears to have comparable efficacy to axi-cel in later-line LBCL settings but not in this earlier indication.
With CAR T-cell therapies, 2021 ended with "a hint of a step backward," where the field saw that not all cell therapies are equal, reflected Howard McLeod, medical director of precision medicine at the Geriatric Oncology Consortium, a group of community oncology practices focused on reducing age-based disparities in cancer research and improving education. "You have all these CD19 CAR T-cell therapies and they should all be equal, but they're not," McLeod said, adding that the divergent trial findings suggest that "we don't have a clue how to differentiate" these therapies.
Experts discussing the BELINDA trial at the meeting wondered if the allowance of bridging chemotherapy and longer CAR T-cell manufacturing times, during which patients' health could have worsened, could have limited tisa-cel's benefit. "It's a bit difficult to compare across trials … [and] I'm not quite sure where this is heading," said Lee Greenberger, CSO of the Leukemia & Lymphoma Society. The data from these trials taken together, he said, "does suggest that CAR-T, at least some of the products, will be superior to standard of care, and can produce better event-free survival and safety profiles."
In 2021, more developers of cell therapies also moved into the solid tumor space. For example, Carisma Therapeutics began studying an anti-HER2 CAR macrophage treatment; Kiromic Biopharma is developing a CAR T-cell therapy for iso-mesothelin-expressing solid tumors, and Lyell Immunopharma is investigating a CAR T-cell therapy for ROR1-positive breast and lung cancers. Poseida Therapeutics reported encouraging preliminary data on its P-PSMA-01 CAR T-cell therapy in heavily treated, metastatic castration-resistant prostate cancer. And several companies, including Bellicum Pharmaceuticals and Exuma Biotech, garnered funding to advance CAR T-cell therapy programs in various solid tumor indications.
Imperfect biomarkers
In 2021, debates continued around established immunotherapy biomarkers such as PD-L1 expression and tumor mutational burden, or TMB. The FDA approved atezolizumab for adjuvant treatment of PD-L1-positive NSCLC based on interim data from the IMpower010 study, which showed a disease-free survival advantage for patients on the immunotherapy compared to those on best supportive care. IMpower010 is "one of those efforts where we see the revolution of cancer immunotherapy," Genentech's Fuchs said. "We understand the biomarkers that inform who best benefits … and as a result, we have what is the first approved immunotherapy in the curative setting in lung cancer."
Although the FDA approved adjuvant atezolizumab for early-stage NSCLC patients with PD-L1 expression in at least 1 percent of tumor cells, data from IMpower010 showed that patients with PD-L1 expression in 50 percent or more tumor cells fared far better than those with intermediate levels of PD-L1 expression in 1 to 49 percent of tumor cells. The exploratory analysis in the intermediate PD-L1 expression group only intensified oncologists' longstanding ire toward PD-L1 expression as an unsatisfactory predictive biomarker and sparked debate on whether to prescribe adjuvant atezolizumab only in high PD-L1 expressers or in the broader biomarker-defined population.
Fuchs characterized PD-L1 as an "imperfect" but "validated" biomarker. "One thing about people like me and others in cancer research is that, in a good way, we're not satisfied," he said. "We're always wanting to advance the science … and deliver more for patients. … We want to be even smarter about informative biomarkers beyond PD-L1." While Genentech is using a range of technologies to improve understanding of disease biology and identify better immunotherapy biomarkers, Fuchs believes PD-L1 still "brings value" by helping identify patients who might benefit from checkpoint inhibitors.
In 2021, oncologists continued to be divided over the use of TMB to inform the pan-cancer administration of pembrolizumab (Merck's Keytruda). Researchers from Memorial Sloan Kettering, in particular, published data in an effort to further underscore that the TMB cutoff of 10 mutations per megabase that the FDA approved for pan-tumor administration of pembrolizumab is too broad and will lead to use of immunotherapy in patients who won't derive any benefit. They and others also asserted that a tumor's mutation burden isn't an accurate reflection of its immunogenicity, while supporters of TMB continued to argue for its predictive value in the absence of better predictive markers.
These controversies have spurred significant research to try to identify better immunotherapy biomarkers, though no standout alternatives emerged last year. Genentech, for one, is focused on improving understanding of neoepitopes that can enable more precise discrimination of responders and non-responders to immunotherapy. TMB is really "the tip of the iceberg" to understanding why a tumor may become vulnerable to immunotherapy, Fuchs said. "We want to dig deeper and understand how we can leverage that phenomenon to improve cancer therapy."
Committing to diversity, equity, inclusion
2021 was also a year of open and honest discussion about longstanding geographic, economic, and racial inequities in healthcare access, including to precision oncology advances. "DEI [Diversity, Equity, and Inclusion] is incredibly important, and it's finally having its day in the sun," said UChicago's Smith, who also chairs the Lymphoma Research Foundation's scientific advisory board. "Every institution and organization is renewing focus on it."
She noted that in the South Side of Chicago, where she practices, about a third of patients in clinical trials are African American or Latino, but she acknowledged there's a lot of room for improvement when it comes to enrolling older patients, those with comorbidities, and rural residents. "It's one thing to renew focus on [DEI] and another thing to actually make headway," Smith said. "It is really hard to make sure everybody has access."
In precision oncology, the challenge is multifold in that patients first must have access to biomarker testing and then garner access to the drug or clinical trial that oncologists decide on based on test results. Research presented at the American Society of Clinical Oncology's annual meeting last year showed inequities in this regard. For example, researchers highlighted that despite increasing biomarker testing rates among lung cancer patients overall, most still aren't receiving next-generation sequencing-based panels that gauge multiple actionable biomarkers at once and provide the best chance of getting on biomarker-targeted drugs or precision medicine trials.
Another study showed that NGS testing rates and clinical trials access were lower among Black lung cancer patients compared to their white counterparts. Other surveys further exposed the need to address physicians' implicit bias in offering genetic testing to Black and minority patients they perceived to have lower comprehension and economic challenges.
Encouragingly, several cancer-focused organizations, healthcare systems, and drugmakers are going beyond discussion and research and implementing projects to try to improve precision oncology access. For example, McKesson, a provider of medical supplies, drugs, and health technology solutions, formed a consortium, called MYLUNG, where community-based cancer centers will identify the barriers their lung cancer patients are facing in accessing genetic testing and establish best practices to mitigate them.
Drugmakers with a significant pipeline of precision oncology drugs, like Genentech, are also motivated to improve biomarker test access and ensure their therapeutic products are reaching the right patients. Genentech, in collaboration with its cancer testing business Foundation Medicine, is particularly interested in enabling better access to ctDNA testing, Fuchs said, since it can be potentially useful to more patients by overcoming the sample access difficulties of tissue-based NGS. The company is also providing grants to cancer centers serving diverse communities and supporting programs aimed at reducing biomarker testing access barriers.
Moreover, last year, Roche (Genentech's parent firm) was among the first biotechs to embrace a decentralized approach to studying the activity of its ALK inhibitor alectinib (Alecensa) in ALK-positive solid tumors other than NSCLC through its ALpha-T study. Foundation Medicine is identifying in its database cancer patients with ALK-positive tumors who might be eligible for the trial. Then, decentralized trial facilitator Science 37 enrolls patients, and with the help of nurse navigators, wearables, and local imaging centers, ensures that they can keep seeing their community oncologists while partaking in the study.
Fuchs acknowledged that decentralized trials are "complicated" to execute and very different than the traditional, site-based research that drugmakers are used to in drug development. Experts are awaiting more data showing that decentralized strategies actually improve diversity within clinical trials, particularly precision oncology studies. It is also unclear whether the FDA will maintain the regulatory adjustments that allowed drugmakers to employ remote and telehealth strategies in drug trials during the pandemic. Others are urging legislators to change physician licensing laws so oncologists with expertise in precision oncology can provide tele-healthcare support to patients in communities outside of the states they're licensed to practice in.
These uncertainties may be why most drugmakers are still waiting to see how early studies like ALpha-T turn out before investing in decentralized approaches. Genentech, however, indicated it will support more decentralized trials to improve research participation in the community setting, where most cancer patients receive treatment. "We don't think [ALpha-T] is our only foray into decentralized trials," Fuchs said. "This is the beginning of an effort we want to expand on."
Greenberger similarly highlighted that LLS last year offered $3.75 million in funding to organizations that want to partake in a "hub-and-spoke" system, where experts at major medical centers design clinical trials but the studies enroll in the communities where cancer patients live. The project has so far funded efforts at Weill Cornell Medicine, Mayo Clinic, and Vanderbilt University Medical Center, and is looking to fund several more in 2022.
McLeod, meanwhile, is focused on solving what many call "the last mile" problem in precision oncology. Amid the myriad clinical trial opportunities and steady stream of marketed drugs and biomarker tests in precision oncology, many oncologists are struggling to keep up to date in their practice. When Precision Oncology News surveyed oncologists in 2021 about challenges they faced, they most frequently cited difficulties staying current with actionable biomarkers and guidelines. In the same survey, three-fourths of respondents — mostly at top academic institutions and large medical centers — indicated that their employers provided access to a molecular tumor board, or MTB, to help oncologists treat patients based on biomarker test results and the latest practice standards.
In step with increasing complexity in precision oncology, McLeod sees doctors making more use of MTBs when they have access to them. "But we're also seeing disparities being introduced in places that don't have access to MTBs, and oncologists are really on their own and don't have anyone to go to," said McLeod, who is also cofounder and managing director of Clarified Precision Medicine, a company that provides doctors and healthcare systems access to precision medicine experts.
"We're seeing a real need for more MTB access and routine MTB access," McLeod said, noting that National Cancer Institute-designated comprehensive cancer centers don't have enough precision oncology experts to fully support regional partners. He also emphasized the importance of having regular MTB access. "The idea that you look at three patients a month [within an MTB] is great from an education standpoint, but that's not a way to elevate practice," he said.
Anticipating new liquid biopsy tests
Stories involving liquid biopsy testing to detect cancer early, track progression, and guide therapy were among the most popular in Precision Oncology News in 2021 — a sign of mounting anticipation among oncologists for less invasive diagnostic tools. (See here for a more extensive recap of all the liquid biopsy advances in 2021.)
Readers closely followed Grail's launch in the US of its multi-cancer early detection blood test, Galleri, and the subsequent release of data from the PATHFINDER trial, which showed a 45 percent positive predictive value for an earlier version of the liquid biopsy assay and demonstrated its ability to detect cancers, often in early disease stages, across 13 tumor types.
On the other side of the pond, last September, the UK's National Health Service launched a 140,000-patient trial to assess Galleri's ability to detect 50 cancer types in early stages. The NHS expects the first results in 2023, but may expand enrollment to as many as 1 million people if initial data look promising. Diaceutics' Munksted highlighted the effort as an example of the type of initiative that can not only generate interest but also improve understanding of the value of diagnostics in the general population.
Other diagnostics players, meanwhile, are entering the early detection market for specific tumor types. Guardant Health, already a player in blood-based CDx testing, reorganized its leadership and business structure to create a separate arm focused solely on the cancer screening space in preparation for launching a DNA methylation-based blood test, initially for colorectal cancer, in the first half of this year. Once launched, the test will have an established path to national Medicare coverage.
Freenome has also focused its first blood-based early detection efforts on colorectal cancer, but is now expanding into pancreatic cancer, which is typically diagnosed in later stages and has extremely poor prognosis. The company's test gauges epigenetic patterns and CA-19-9 levels and has demonstrated sensitivity in the range of 82 percent and 100 percent.
Last year also brought a more reliable Medicare reimbursement environment for liquid biopsy testing for minimal residual disease for monitoring cancer patients for progression and recurrence, which bodes well for a host of potential new entrants in the space, including NeoGenomics, ForesightDx, and others. Drugmakers and researchers are also employing more sophisticated trial designs to refine the use of MRD to inform treatment benefit, for example, for determining the ideal sequence of treatments to stave off resistance.
At the San Antonio Breast Cancer Symposium last year, researchers detailed findings from the PADA-1 trial, in which all hormone receptor-positive metastatic breast cancer patients started off on first-line treatment with an aromatase inhibitor and the CDK4/6 inhibitor palbociclib (Pfizer's Ibrance). But as soon as ESR1 mutations were detected in blood ctDNA in some patients — but progression wasn't yet seen on imaging analysis — investigators switched out the aromatase inhibitor with the selective estrogen receptor degrader, fulvestrant, while maintaining CDK4/6 inhibition. Using this endocrine therapy "switch strategy," median progression-free survival was 5.7 months for patients who stayed on the aromatase inhibitor-palbociclib regimen and 11.9 months for those on fulvestrant-palbociclib.
In the past, oncologists have questioned the specificity and sensitivity of ctDNA testing, Munksted said, and have been hesitant to trust the clinical relevance of test results. "There's been progress made on this front," she said, adding that the precision oncology field is certainly heading toward much greater use of liquid biopsy testing in hematologic and solid tumors. "We just need more scientific proof."
More precision, more pain
There is sure to be more activity in the cancer liquid biopsy space this year, both in terms of new early detection offerings and MRD tests. McLeod is particularly optimistic about the future of early detection liquid biopsy testing but he's not expecting this technology will perfectly catch all cancers. Just like mammography and colonoscopy detects many but not all cancers, the field can expect the same on the molecular side, McLeod said, except ctDNA testing will be easier on the patient. "I've yet to meet a woman who enjoys the process [of mammography]," he quipped.
On the precision immunotherapy front, he is also looking forward to seeing more data on investigational anti-TIGIT therapies. Exploratory analysis from Genentech's CITYSCAPE trial last year showed that its investigational anti-TIGIT therapy tiragolumab paired with atezolizumab improved median progression-free survival in metastatic NSCLC patients with PD-L1 expression in 50 percent or more tumor cells.
McLeod observed that researchers have tried to inhibit different components of the immune checkpoint apparatus that looked promising preclinically but then didn't pan out in human studies. "And here, a TIGIT inhibitor actually did something," he said. "The idea that there might be more than just PD-1, PD-L1, and CTLA4 [checkpoint inhibitors], is promising."
Genentech is hoping to confirm the benefit of the tiragolumab-atezolizumab combination in PD-L1-positive, advanced NSCLC in the Phase III SKYSCRAPER-01 trial and expecting new data from several tiragolumab trials this year. On the heels of Genentech's success, other drugmakers, including AstraZeneca and Novartis, are also exploring the activity of anti-TIGIT therapies in NSCLC and PD-L1 expression as a predictive biomarker.
In 2022, experts are also optimistic that the commitments stakeholders made last year to addressing access disparities in cancer care will continue. Diaceutics' Munksted expects more technology-enabled near-patient trials as drugmakers study more biomarker-informed drugs in a pan-tumor fashion. The biomarkers of interest in these studies are often rare in individual tumor types, making it hard to find eligible patients. To address this challenge, Diaceutics in December launched a service for its pharma partners, called Test Signal, which makes them aware when a patient in Diaceutics' lab network tests positive for a biomarker for which they have an associated marketed therapy or drug trial.
These types of precision oncology-focused patient matching services, available through Diaceutics, Foundation Medicine, and others, are making it easier to find that "needle in a haystack" cancer patient sooner than previously possible, Munksted said. Demand for these services is increasing as more drugmakers are conducting multi-cohort basket and umbrella trials to investigate whether a biomarker predictive of response to treatment in one type of cancer behaves similarly in different tumor types.
For example, the FDA approved Amgen's sotorasib for KRAS G12C-mutated advanced NSCLC in May 2021, based on results from the multi-cohort CodeBreaK 100 trial. The same study later in the year showed more limited efficacy for the drug in KRAS G12C-mutated advanced colorectal cancer patients.
McLeod is optimistic that ongoing studies in 2022 will yield similar insights for other biomarkers, for example alterations in FGFR1/2/3, and help the field understand if they are truly predictive of treatment in a pan-tumor fashion. "We have a number of biomarkers for which we need to ask definitively, 'How good are these biomarkers? Are they good for all tumor types or only in certain tumor types?'" McLeod said. "We want everything to be simple, but it's not."
The answers to these questions may add complexity for practicing oncologists, but it's also a sign of increasing precision in precision medicine. "I'm glad we're entering this era of greater complexity where we start having these caveats and what ifs," McLeod said. "But it's going to be a pain."