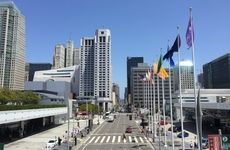 NEW YORK – Clinicians, scientists, and other members of the cancer care and research community gathered in San Francisco for the American Society of Clinical Oncology's Gastrointestinal Cancers Symposium from Jan. 23 to 25. The meeting featured an array of presentations on the research advances being made in treating cancers of the esophagus, stomach, pancreas, small bowel and hepatobiliary tract, and the colon, rectum, and anus. Here is a roundup of the abstracts that highlighted a precision cancer approach in either diagnosis or treatment.
---
Results of a 50-gene breast cancer RNA subtype classifier applied to 167 colorectal cancer patients
NantHealth presented data on how it used whole-exome tumor/germline sequencing and matched transcriptome sequencing to identify a higher percentage of colorectal cancer patients with HER2 signaling compared to immunohistochemistry or fluorescence in situ hybridization.
Further, the NantOmics Nant50 gene classifier was used to evaluate ERBB2 gene expression, which has been used in breast cancer to divide patients into subgroups. Additionally, the group that had highly expressed HER2 did not have mutations in other targetable genes such as PIK3CA and BRAF, indicating that it could be important to target HER2 in this population.
"Our analysis shows that conventional testing methods may miss potentially actionable HER2 signaling in [colorectal cancer] patients," NantHealth Chief Medical Officer Sandeep Reddy said in a statement. "The significant difference suggests that up to 40 percent more patients may be eligible for HER2-directed therapies, which has implications for drug development and clinical trials."
CEACAM6 as a candidate biomarker for pelareorep sensitivity in pancreatic adenocarcinoma
Scientists presented data on how the immunomodulatory carcino-embryonic antigen-related cell adhesion molecule (CEACAM6/CD66c) may be a predictive biomarker in pancreatic cancer patients for response to the treatment pelareorep (Oncolytics Biotech's Reolysin). When comparing good responders to pelareorep to those with poor outcomes, researchers found that patients with low levels of CEACAM6 had an 80 percent improvement in progression-free survival (10.32 months versus 5.72 months).
"This statistically significant result highlights the potential for CEACAM6 to become an additional prognostic biomarker for pelareorep and could provide considerable clinical value as we investigate its potential in pancreatic and other GI cancers," Oncolytics Biotech CEO Matt Coffey said in a statement.
Nivolumab plus low-dose ipilimumab as first-line therapy in microsatellite instability-high/DNA mismatch repair deficient metastatic colorectal cancer: Clinical update
Bristol-Myers Squibb provided data updates on the Phase II Checkmate trial combining two of its drugs, nivolumab (Opdivo) and low-dose ipilimumab (Yervoy), in microsatellite instability-high/DNA mismatch repair deficient (MSI-H/dMMR) metastatic colorectal cancer patients. 
For all 45 patients, with a median follow-up of 13.8 months, the overall response rate was 60 percent, and responses were consistent with the overall population across subgroups including age, Eastern Cooperative Oncology Group (ECOG) performance status, prior adjuvant/neoadjuvant therapy, and mutation status. Seven patients experienced grade 3 to 4 treatment-related adverse events and three patients had treatment-related adverse events leading to discontinuation. Researchers concluded that nivolumab plus low-dose ipilimumab has potential as a new first-line treatment option for patients with MSI-H/dMMR mCRC.
Performance of a blood-based test for the detection of multiple cancer types
GRAIL presented data from its methylation-based cfDNA early multi-cancer detection test that can also predict the tissue of origin (TOO) for gastrointestinal (GI) tract cancers.
This is based off the observational and prospective Circulating Cell-free Genome Atlas (NCT02889978) study, which enrolls individuals with cancer and without cancer. Patients' plasma cfDNA was analyzed using a cross-validated targeted methylation sequencing assay. Methylation fragments were combined across targeted genomic regions and assigned a probability of cancer and a predicted TOO. The overall predicted TOO accuracy was 92 percent among the samples.
Researchers concluded that this single, noninvasive blood test could be a practical method for detecting GI and other cancers.
Precision medicine in colorectal cancer: Gaps in patients' literacy of biomarkers and genetic testing
Scientists from the Colorectal Cancer Alliance conducted an online survey to assess patients', survivors', and caregivers' knowledge and understanding of biomarker testing. They found that patients don't really understand the full implications of biomarker testing and suggested that medical teams may need to make a greater effort in educating patients early in their treatment journey.
A randomized, multicenter, Phase II trial of gemcitabine and cisplatin, with or without veliparib, in patients with pancreas adenocarcinoma and a known germline mutation in BRCA1/2 or PALB2 

Researchers evaluated gemcitabine and cisplatin with or without AbbVie's PARP inhibitor veliparib in a randomized Phase II trial and found that patients with pancreatic ductal adenocarcinoma with germline BRCA1/2 or PALB2 mutations in the entire trial experienced a high response rates, progression-free survival, and overall survival. Both treatment arms exceeded threshold response rates, with more than 30 percent of patients in this study alive at two years. Researchers concluded that this study confirms gemcitabine plus cisplatin as a reference treatment in this subset of patients.