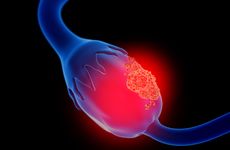 NEW YORK – Beyond known factors like cancer stage and the presence of germline BRCA1 and BRCA2 mutations, methods for predicting outcomes for ovarian cancer patients are not well-established.
High-grade serous ovarian cancer, which makes up two-thirds of ovarian cancer cases, varies significantly from patient to patient, both in terms of the genomic makeup of the tumor and the clinical outcomes. In an effort to better calculate a patient's survival — and potentially shed light on the best course of treatment — researchers from 86 organizations around the globe collaborated on the development of a prognostic gene expression signature for high-grade serous ovarian cancer.
The signature, which weighs the expression of 101 genes, may be useful for guiding treatment strategy based on patients' prognoses, and with further validation may even be useful for predicting response to specific drugs, researchers said in a recent paper in the Annals of Oncology.
The gene signature was developed and validated using roughly 4,000 ovarian cancer tissue samples, and when combined with other factors like age and cancer stage, was found to be a better predictor of patients' survival than age and cancer stage alone.
"The fact that [the signature] does better than age and stage alone says a lot," said Joshua Millstein of the University of Southern California, one of the researchers who developed the signature and an author of the paper. "It moves the field forward and shows that it's possible to develop a fairly useful prognostic gene expression signature."
To develop the signature, the researchers conducted a meta-analysis of six transcriptome-wide microarray studies and a comprehensive review of the published and unpublished literature to identify 513 candidate genes. Then, using 4,071 formalin-fixed paraffin-embedded tumor tissue samples available from 20 previously conducted studies, the researchers narrowed down the genes. Out of the 4,071 samples, 3,769 had survival data and could be evaluated for expression levels of the 513 candidate genes using NanoString's nCounter technology.
Researchers analyzed 2,702 samples from 15 studies as a training cohort and 1,067 samples from six studies as a validation cohort to identify the expression levels of 101 genes that tracked with patients' overall survival.
"There was no obvious subset of signature genes that performed as well or nearly as well as the full 101 gene signature," the authors wrote. They did, however, highlight five genes found to be the most significant prognostic markers according to single-gene analyses: TAP1, ZFHX4, CXCL9, FBN1, and PTGER3.
Because the full signature spanned so many genes, the researchers realized that patients could fall on a wide spectrum in terms of their expression scores. For this reason, and to make the signature feasible for future clinical use, the researchers devised five groups, or quintiles, within which patients could fall based on their gene expression scores. Each quintile was associated with a survival estimate of between 2.3 years to 9.5 years.
"If a patient is measured with this technology, a continuous score is created, and depending on what that score is, we can estimate the probability of survival relative to the patients in this study," Millstein explained, adding that the choice of five groups was somewhat arbitrary, but certainly made it easier to assess. "Overall survival in each group differed in quite an extreme way," he added.
When the researchers applied the signature to their full cohort of samples, they found that the gene expression score, together with patients' age and stage, was able to more accurately predict survival than could age and stage alone. "This could provide a valuable tool for oncologists and their patients to determine how aggressively to pursue treatment," Millstein said, "and I think it would provide information that patients and their providers would be very interested to know."
Value of FFPE samples, next steps
Though other gene expression signatures have been developed to assess ovarian cancer survival in the past, Millstein emphasized a key difference in this newly developed signature: the choice to use formalin-fixed, paraffin-embedded (FFPE) tumor tissue samples.
Most signatures to date, he explained, have been established using fresh, frozen tissue, which is more difficult — and indeed, more expensive — to collect on a large scale. For this reason, he said, past signatures have been developed and validated in smaller sample groups, usually totaling several hundred patients, as opposed to the roughly 4,000 that Millstein and his colleagues analyzed. The method also makes the signature more feasible for future routine use.
"Formalin-fixed, paraffin-embedded tissue is commonly collected already in the clinic," Millstein said. "We developed the methods so that they could be applied on a patient-by-patient basis."
While the FFPE method of sample collection positions the signature to potentially become a useful tool in clinical practice, Millstein emphasized that prospective validation studies are needed first, since this study was conducted in an entirely retrospective manner.
The scores could potentially be used within clinical trials to stratify ovarian cancer patients according to their risk of progression and be used to guide treatment strategy. In the latest publication, the data suggested for instance that patients in the quintile with the worst survival might benefit from more aggressive intervention. Although the signature's ability to predict response to specific treatments needs further validation, a predictive claim would certainly increase the clinical utility of the scores.
Finally, Millstein and co-authors suggested that the signature presents an opportunity for targeted drug development. Because patients in the quintile with the poorest outcomes had increased expression of IGF2, FGFR1, and MYC, for example, the researchers wrote that the signature presents "a possible argument for the use of IGFR1, FGFR, bromodomain (MYC) [as targets] or a combination of PARP and CDK4/6 inhibitors."
Ultimately, because many of the genes included in the signature were involved in immune-related pathways, the researchers concluded that the signature "indicates an important role for the immune system in overall survival and supports further investigation of immune therapy in ovarian cancer."