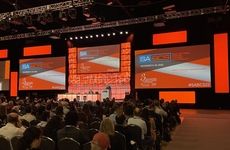 SAN ANTONIO – Two Phase III trials of Daiichi Sankyo and AstraZeneca's Enhertu (trastuzumab deruxtecan) confirmed the drug's benefit as a second- and third-line treatment after prior antibody-drug conjugate therapy.
On Wednesday at the San Antonio Breast Cancer Symposium, researchers presented data from the randomized DESTINY-Breast02 and DESTINY-Breast03 studies evaluating Enhertu in patients with HER2-positive metastatic breast cancer. The results reshuffle the treatment sequence for HER2-positive breast cancer, confirming Enhertu as the preferred option for second-line and third-line treatment.
The second-line study, DESTINY-Breast03, compared Enhertu against Genentech's Kadcyla (ado-trastuzumab emtansine or T-DM1). Researchers led by Sara Hurvitz, director of the breast cancer clinical trials program at the University of California, Los Angeles, presented updated survival data, showing that 77.4 percent of patients on Enhertu were alive at two years, compared to 69.9 percent of patients on Kadcyla. At three years, Enhertu continued to show a greater survival benefit, with 69.3 percent of patients still alive on the drug versus 55.4 percent on Kadcyla. The median overall survival was not reached in either arm.
In the updated analysis, median progression-free survival for patients on Enhertu was about four times longer compared to those on Kadcyla: 28.8 months versus 6.8 months, respectively.
At one year, three-quarters of Enhertu-treated patients had not progressed compared to 33.9 percent of patients who had not progressed on Kadcyla. At two years, 53.7 percent of patients in the Enhertu arm had not progressed, while only 26.4 percent of patients in the Kadcyla arm had not progressed at two years.
More than three-quarters (78.5 percent) of patients responded to Enhertu in the trial, compared to a 35 percent response rate with Kadcyla. One in five patients in the Enhertu arm (21.1 percent) experienced a complete response from treatment, versus 9.5 percent on Kadcyla.
Earlier data from the DESTINY-Breast03 trial led to Enhertu's approval this year in the US and Europe as a second-line therapy for HER2-positive metastatic breast cancer patients who have received prior treatment with an anti-HER2 therapy.
"These updated results demonstrate remarkable overall survival and progression-free survival benefits, solidly placing [Enhertu] as the standard of care after trastuzumab and taxane," Hurvitz said.
The third-line trial, DESTINY-Breast02, enrolled patients with HER2-positive metastatic breast cancer who were previously treated with Kadcyla and compared the activity of Enhertu against physician's choice of either Genentech's Herceptin (trastuzumab) plus chemo or GlaxoSmithKline's HER2 inhibitor Tykerb (lapatinib) with chemo. With this study, researchers aimed to confirm results from the Phase I DESTINY-Breast01 trial in the third-line setting.
Enhertu improved progression-free survival compared to the physician's choice treatment, with a median of 17.8 months and 6.9 months, respectively. At two years, 42.2 percent of patients in the Enhertu arm had not progressed compared to 13.9 percent who hadn't progressed with their physician's choice of treatment.
Median overall survival was also longer for patients on Enhertu, 39.2 months, versus 26.5 months on the physician's choice treatments. Nearly 70 percent of patients responded to Enhertu compared to 29.2 percent in the comparator arm.
Ian Krop, chief clinical research officer at Yale Cancer Center, said in a presentation of the DESTINY-Breast02 results that although the trial was positive, Enhertu should be used earlier than the third-line setting whenever possible.
"We in oncology tend to use our best therapies earlier; we don't hold them back, and the main reason for that is because unfortunately there's significant attrition of patients from one line to the next," Krop said. In DESTINY-Breast02, for example, 30 percent of patients who went off therapy were not able to receive another line of treatment due to disease progression, toxicity, or death.
"Given the unprecedented efficacy of [Enhertu] in this trial and in previous trials, it would really be a shame for a patient not to receive that drug just because you're waiting to use it in a later line, which they may never get to because of some unexpected event," Krop said.
However, he noted the results show that Enhertu is effective for patients who haven't previously received Enhertu by the third line. "However, those patients are becoming less and less common," he added.
Krop suggested the ideal treatment sequence now is a regimen containing Genentech's Perjeta (pertuzumab) in the first line, Enhertu in the second line, and Kadcyla or chemotherapy in the third line for patients who haven't already been treated with Enhertu.
Enhertu is also approved in the US for HER2-low expressing metastatic breast cancer, HER2-mutated non-small cell lung cancer, and HER2-positive gastric cancer. Researchers are also evaluating Enhertu alone or with Perjeta as a first-line treatment for HER2-positive metastatic breast cancer in the DESTINY-Breast09 trial.
Hurvitz noted that questions remain about the efficacy of Enhertu in patients with brain metastases. Although the DESTINY-Breast03 trial enrolled some patients with brain metastasis, participants with active, untreated brain metastases were excluded.
"This is changing our paradigm, thinking about the ability of bulky molecules to cross the blood brain barrier," Hurvitz said. "We did see about two-thirds of patients with baseline brain metastases have an objective response in the brain in this trial. It does give us some interesting hints to the activity of this drug in the brain."