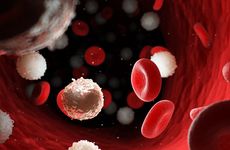 NEW YORK – When patients are diagnosed with early-stage, asymptomatic chronic lymphocytic leukemia (CLL), current international guidelines recommend they undergo active surveillance and proceed with interventional treatment only once their disease begins to progress.
But for the roughly 70 percent of patients who present with early-stage disease, it's difficult to anticipate how long it might be before progression occurs, making interventional treatment necessary.
A group of researchers jointly led by Adalgisa Condoluci and Davide Rossi of the Institute of Oncology Research in Bellinzona, Switzerland have developed a simple predictive tool to help asymptomatic CLL patients and oncologists estimate that time to first treatment (TTFT). Their tool incorporates three widely available laboratory tests for assessing the absolute lymphocyte count, the presence of palpable lymph nodes, and the mutation status of IGHV genes.
The predictive scoring system based on the results from these three tests, which the researchers titled "International Prognostic Score for Asymptomatic Early-stage Chronic Lymphocytic Leukemia" was published in the journal Blood last week. In an interview, Condoluci noted that the test will benefit from further prospective evaluation, but tools like IPS-E may be particularly useful during a public health crisis when immunocompromised patients are being advised to stay home.
Scoring TTFT
Based on the results of the three tests, the IPS-E tool determines whether an early-stage CLL patient is at low, intermediate, or high risk of having to start treatment within five years of diagnosis. By assigning one point to each of the variables — that is, one point for an absolute lymphocyte count of over 15x109/1, one point for the presence of palpable lymph nodes, and one point for the presence of unmutated IGHV genes — and then adding up the sum of those points, the tool assigns a score of between zero and three, with zero being low risk, one being intermediate risk, and 2-3 being high risk.
A low-risk TTFT score corresponds to an 8.4 percent risk of progression within five years of diagnosis and needing to start treatment. If the patient is deemed to be at intermediate risk, that means there's a 28.4 percent chance of progression and having to start treatment within five years of diagnosis. For high-risk patients, the chance of five-year progression and need for treatment is at 61.2 percent.
To build and validate the scoring system, the researchers analyzed data from 11 international cohorts involving nearly 5,000 patients with early-stage CLL. Initially, they considered 19 different baseline biomarkers with the potential to inform the tool. Among the genetic biomarkers originally considered were IGHV and TP53 mutations, as assessed by Sanger sequencing locally, as well as ATM, MYD88, NOTCH1, and SF3B1 mutations, assessed by targeted next-generation sequencing.
Ultimately, IGHV status was the only genetic mutation factored into the prognostic scoring system, displaying the strongest effect on TTFT. Part of the reason for this, the researchers wrote, is that patients with ATM and NOTCH1 mutations are more likely to have unmutated IGHV. Conversely, not all patients with unmutated IGHV have these other genetic abnormalities. This makes IGHV unmutated status a better prognostic biomarker than the other genetic mutations on their own.
"Among CLL patients managed with active surveillance, the IGHV unmutated status is the biomarker with the strongest impact on TTFT prognostication," wrote Condoluci and colleagues.
Because the three independent factors that play into the IPS-E tool are already gauged through clinically available tests, Condoluci said that the prognostic tool could be available to clinicians and patients immediately.
Currently, absolute lymphocyte count and the presence of palpable lymph nodes are determined early on when CLL is diagnosed, but IGHV mutation status isn't usually gauged until later in the disease trajectory, once the CLL has progressed. Given the prognostic value of this molecular biomarker in this study, Condoluci said that IGHV mutation testing ought to be performed early on, at the point of diagnosis. The fact that IGHV mutation status never changes during the course of a patient's disease further strengthens the case for early testing, in her view.
Added value in the era of COVID-19
Though the IPS-E score would benefit from further prospective validation, during the global COVID-19 pandemic healthcare providers are in need of tools that would help them triage which cancer patients can delay treatment and which urgently need to come into the healthcare setting, despite the risk of exposure to COVID-19.
Condoluci noted that international recommendations from the European Hematology Association and the American Society of Clinical Oncology currently indicate that during the pandemic physicians should postpone routine follow-up visits of patients not on active treatment and reduce visits to the safest and most feasible level without jeopardizing care.
While the pandemic was not a factor that played into the tool's development, it has certainly put a spotlight on the value of such a tool, especially for patients living in communities where a trip to the hospital or clinic could increase their risk of exposure to the virus. In the context of CLL specifically, a cancer for which first-line treatment is often chemotherapy, delaying treatment to the extent possible could prevent patients from becoming immunocompromised due to treatment and, accordingly, making them more susceptible to COVID-19.
"Though it has not been specifically addressed in CLL, the risk of severe COVID-19 may be increased in CLL patients in general and in particular if they are receiving treatment," said Condoluci. "In the current pandemic, IPS-E could be considered as a support for patients' counseling and for medical resources allocation … [and used] to identify patients at low risk of progression who can be easily followed by general practitioners …  and avoid crowded hospitals."
Although the researchers have validated their tool using data from 11 international cohorts — including one training cohort and 10 additional validation cohorts — Condoluci said the tool warrants prospective validation.
Condoluci and colleagues suggested in their paper that as new independent outcome predictors for early-stage CLL are discovered, they can be added to IPS-E. They added, though, that relying too heavily on this tool does currently pose some risk of bias in terms of the timing of scheduled evaluations and the possibility of premature censoring.  
"In this sense, a prospective study could be designed to further assess and eventually strengthen this prognostic tool," Condoluci said. She did not share specific plans for prospective studies.
Going forward, the authors concluded, the tool could be useful not only for individual treatment predictions but also for designing clinical trials for high-risk, early-stage CLL patients, "an issue that has gained momentum due to the availability of effective small molecules with manageable toxicity."