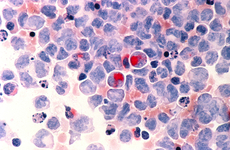 NEW YORK – Syndax Pharmaceuticals' menin inhibitor revumenib demonstrated a 30 percent complete response rate in a trial involving refractory leukemia patients with alterations in KMT2A or NPM1, who often have a poor prognosis on standard therapies.
This data has bolstered Syndax's decision to seek the US Food and Drug Administration's approval for revumenib, which the firm is hoping will be the first menin inhibitor to come to market. According to Syndax CEO Michael Metzger, based on Phase II data readouts expected in Q3, the firm aims to file a new drug application for revumenib in patients with KMT2A-rearranged relapsed or refractory acute leukemia by year-end. In 2024, the firm will report top-line data on revumenib in patients with NPM1-mutant relapsed or refractory acute leukemia and file an NDA in this setting.
This week in Nature, researchers published results from the Phase I/II AUGMENT-101 trial involving 68 patients, most of whom (88 percent) had relapsed or refractory acute leukemias harboring KMT2A rearrangements or NPM1 mutations. Study participants had various leukemia subtypes including myeloid, lymphoid, or mixed phenotype leukemias in the Phase I dose escalation portion of the trial. Patients were assigned to two cohorts based on whether they were taking strong CYP3A4 inhibitors — such as cobicistat, an antimicrobial drug typically used to increase the exposure of other treatments for leukemia, but which can also increase toxicity — and whether they were not taking these drugs. Both groups received revumenib monotherapy.
KMT2A rearrangements and NPM1 mutations are both associated with poorer prognosis in leukemia patients, according to Eytan Stein, senior author of the paper and chief of the leukemia service in Memorial Sloan Kettering's division of hematologic malignancies. KTM2A mutations are rarer, occurring in up to 10 percent of acute myeloid and acute lymphoblastic leukemia, while NPM1 mutations only occur in acute myeloid leukemia and are more common, appearing in up to 30 percent of patients.
"KMT2A rearranged patients are a very, very high-risk group," he said. "It's slightly different for the patients with NPM1 mutations, though. The outcomes of these patients are a little all over the place because other co-mutations with the NPM1 mutation can affect outcomes."
Stein's group enrolled patients in the trial who had no standard-of-care options. "These were the patients that had relapsed after getting everything that was known, and they had a very poor prognosis," he said.
Of the patients enrolled in the trial, patients most commonly had acute myeloid leukemia (82 percent), followed by acute lymphoblastic leukemia (16 percent), and one patient had mixed-phenotype acute leukemia. Most patients in the study were adults; eight children or adolescent patients also participated. All patients were heavily pretreated with a median of four prior lines of therapy.
Often, for leukemia patients who are heavily pretreated, there isn't a successful standard-of-care therapy, Stein said. Oncologists will often try to find a clinical trial for these patients, "but when we don't have a clinical trial, we often give patients a standard reinduction chemotherapy," he explained. "But that causes a lot of toxicity and doesn't lead to remissions very frequently."
Among 60 evaluable patients across both arms in the recently published study, 30 percent achieved a complete remission or complete remission with partial hematologic recovery. Fourteen of the 18 patients who had complete remissions had undetectable measurable residual disease, as assessed by multiparameter flow cytometry. The overall response rate was 53 percent and included patients in complete remission, those who had complete remission with incomplete platelet recovery or with incomplete hematologic recovery, or patients in a morphologic leukemia-free state.
"These findings were amazing," Stein said. "Essentially you're taking people who have failed everything, they don't have any treatment options left, and you're giving them an oral therapy twice a day with very few side effects that gets them into remission."
The median time to complete remission was 1.9 months, and patients who achieved a complete remission or complete remission with partial hematologic recovery had a median duration of response of 9.1 months. Across all patients, regardless of response, the median overall survival was seven months.
All responses to revumenib were among patients with KMT2A-rearranged or NPM1-mutated leukemia. The eight patients in the study with neither alteration didn't respond to the drug. Fifteen of 46 patients with a KMT2A rearrangement and three of 14 patients with NPM1 mutations achieved a complete response.
Stein also highlighted the high proportion of patients who achieved complete remission and reached undetectable measurable residual disease. "With our most sensitive methods, we are unable to detect any hint of leukemia in these patients, for an oral targeted therapy to do that is extraordinarily rare."
There are no approved menin inhibitors or therapies that treat leukemias characterized by KMT2A rearrangements or NPM1 mutations. Syndax is hoping to change that and submit data from the Phase II portion of this trial as part of a revumenib NDA by the end of the year. The firm will first seek approval in KMT2A-rearranged leukemia patients, as it needs to enroll more patients with NPM1-mutant acute leukemia before seeking approval in this subset of patients next year.
Beyond Syndax, other firms are also testing the activity of menin inhibitors in this patient population. In February, Kura Oncology began a Phase II trial of its menin inhibitor ziftomenib in patients with relapsed or refractory AML who harbor NPM1 mutations.
Researchers presented data from a Phase I study of ziftomenib in NPM1-mutant and KMT2A-rearranged leukemia in December and reported that only one patient with KMT2A-rearranged disease responded to the drug. Among patients with NPM1-mutant AML, 30 percent had a complete remission.
Other companies developing menin inhibitors in earlier stages include Biomea Fusion, which is exploring BMF-219 in a Phase I study in patients with acute myeloid leukemia harboring MLL/KM2TA gene rearrangements or NPM1 mutations; Daiichi Sankyo, which has an ongoing Phase I/II trial of its drug DS-1594 in acute myeloid leukemia and acute lymphoblastic leukemia characterized by an MLL rearrangement or NPM1 mutation; and Sumitomo Dainippon Pharma Oncology, which is studying its menin inhibitor DSP-5336 in acute myeloid leukemia patients who have an MLL rearrangement or a NPM1 mutation.
Syndax is studying revumenib in several acute leukemia trials including in combination with standard chemotherapy and with AbbVie's and Genentech's Venclexta (venetoclax) plus chemo, as well as in earlier lines of therapy. "With a top-line data readout for the AUGMENT-101 trial and expected NDA filing later this year for revumenib, we expect revumenib could become the first menin inhibitor approved for patient use," Metzger said in an email.