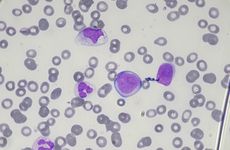 This story has been updated to include statements from Courtney DiNardo.
NEW YORK – Researchers are seeing encouraging results from early phase trials of targeted treatments for glioma and acute myeloid leukemia.
Last weekend at the American Society of Clinical Oncology's virtual annual meeting, four groups presented results from trials where IDH-mutated glioma patients saw their tumors shrink and some AML patients with these mutations experienced complete remission.
Some of the AML patients even went on to receive a stem cell transplant, which is considered a curative treatment for the disease.
Ingo Mellinghoff from Memorial Sloan Kettering Cancer Center presented updated efficacy and safety data from a non-enhancing glioma cohort in the ongoing perioperative Phase I study of Agios' vorasidenib for patients with IDH-mutated tumors. Vorasidenib is Agios' brain-penetrant pan-IDH inhibitor, which had previously shown the ability to shrink tumors in glioma patients after surgery.
Non-enhancing gliomas are identified when MRIs show no contrast enhancement following gadolinium injection. Low-grade brain tumors usually do not enhance while high-grade tumors have a different degree of enhancement.
The data cutoff date for the analysis presented at ASCO was March 3. 
In the single-arm dose-escalation study, there were 22 patients with a histologically or cytologically confirmed IDH1 or IDH2 mutation who had progressed on standard treatment. Of these 22 patients, 14 discontinued treatment: 10 due to disease progression, two due to an adverse event, and two because they withdrew from the trial. As of March, eight patients remained on treatment. The median duration of treatment was 25.8 months, and 68 percent of patients remained on treatment for more than one year.
Twenty patients in the cohort had an IDH1 mutation, one had an IDH2 mutation, and one did not receive a biopsy but was presumed to have an IDH mutation because of elevated levels of 2-HG, a metabolite produced when IDH is mutated.
The overall response rate to vorasidenib in this group was 18.2 percent, and 72.7 percent of patients had stable disease. One patient had a partial response to treatment, characterized as tumor shrinkage of greater than 50 percent. Three patients had a minor response, defined as tumor shrinkage between 25 percent and 50 percent.
With 59.1 percent of events reported, the median progression-free survival was 31.4 months. More than half of the patients were progression-free at two years.
No new safety signals were reported in this study. Mellinghoff noted that patients had the most favorable safety profile at vorasidenib dosing levels below 100 mg daily.  
Based on these and other results, he added, vorasidenib at a dose of 50 mg per day is being studied in the INDIGO Study, a global randomized Phase III study in grade II, non-enhancing, IDH1- or IDH2-mutated glioma patients after surgery.  
At ASCO, Macarena Ines De La Fuente from the University of Miami also presented updated data from the Phase IB/II study of Forma Therapeutics' olutasidenib, alone and in combination with azactidine, in patients with IDH1-mutated relapsed or refractory gliomas. The data cutoff for the analysis presented at ASCO was March 31.  
Olutasidenib is a central nervous system-penetrant inhibitor of mutated IDH1. Patients enrolled in the trial had to have a histologically or cytologically confirmed IDH1 R132-mutated glioma that had either progressed or recurred on standard therapy, or have not responded to previous therapies. Patients who had been previously treated with an IDH1 inhibitor were excluded.
The study enrolled 26 patients into the olutasidenib arm and six patients into the olutasidenib and azacitidine arm, but the safety review committee decided to discontinue the combination arm.
There were different types of gliomas across patients, but most patients had either anaplastic glioma or glioblastoma.
At data cutoff, 11 patients remained on olutasidenib, including one patient who started in the combination arm and switched over. Half of the patients in the olutasidenib monotherapy arm discontinued treatment due to disease progression, two patients discontinued treatment due to an adverse event, and one withdrew consent. Most adverse events were grade 1 or 2. Common toxicities included fatigue, nausea, diarrhea, and liver enzyme elevation.
In the monotherapy arm, the disease control rate was 50 percent and one patient had a partial response. The average time to response was 1.9 months. The median duration of treatment was 4.2 months with a duration of response of 10.1 months. A blinded independent review committee assessment found that four patients had their tumors shrink more than 50 percent.
During a discussion of the data, Michael Weller from the University of Zurich noted that 23 out of the 26 tumors that were treated with olutasidenib had enhancing glioma tumors, which meant that they tended to have a poorer prognosis than non-enhancing tumors and represented a difficult-to-treat and rare subset. He said that it's important when comparing endpoints to note that these are effectively two different study populations.
Although Weller remarked that both drugs appeared to be active in patients, he said that "there is still controversy on how important the IDH mutation is for the tumor once we diagnose these tumors. How long during the disease process does the tumor really need the mutant IDH protein?"
If the IDH inhibitors are working and are eliciting responses, Weller said, that would indicate that IDH has a sustained function in driving cancer and could potentially defer more toxic treatments for patients with low-grade glioma.
Testing out combinations in AML
In AML, meanwhile, IDH-targeting treatments produced high response rates, and some patients from the studies presented at ASCO went into remission and were able to get curative treatment.
Curtis Lachowiez from the MD Anderson Cancer Center presented data from the Phase IB/II study of Agios' IDH1-inhibitor ivosidenib combined with BCL2 inhibitor venetoclax (Abbvie's Venclexta), with or without azacitidine, in IDH1-mutated myeloid malignancies. Most patients had relapsed or refractory acute myeloid leukemia. Patients had to have a confirmed IDH1 R132 mutation to be included in the trial. Grade 3 or 4 adverse events occurred in more than 10 percent of patients, with the most common being pneumonia and febrile neutropenia.
The study included three cohorts. The six patients in cohort 1 received ivosidenib and 400 mg of venetoclax, the six patients in cohort 2 received ivosidenib and 800 mg of venetoclax, and the eight patients in cohort 3 received ivosidenib, 400 mg of venetoclax, and azacitidine.
Across all treatment groups, the composite complete remission rate was 78 percent overall and 100 percent for treatment-naïve patients. Half of the patients who achieved complete remission also were negative for minimal residual disease.
Of the 18 evaluable patients, nine remain on the study, and three proceeded to receive a stem cell transplant following complete remission.
The overall response rate across all groups was 89 percent. All patients evaluated in cohort 2 and 3 had a reported response, while 67 percent in cohort 1 responded. When the response was analyzed by disease subgroup, patients with de novo AML, secondary or previously treated AML, and myelodysplastic syndrome had an overall response rate of 100 percent. In the relapsed and refractory AML subgroup, the overall response was 75 percent.
The median overall survival in cohort 1 was 9.7 months and was not reached in cohort 2 or 3. Median progression-free survival was 2.4 months in cohort 1, 9.4 months in cohort 2, and was not reached in cohort 3.
Investigators also performed molecular profiling in all patients' tumors and found that 66 percent of patients with no response or who relapsed on treatment had active signaling mutations, such as in RAS or receptor tyrosine kinase pathways that have previously been found to confer resistance to venetoclax and ivosidenib. Comparatively, these signaling mutations were found in only 18 percent of patients who had durable responses. Patients with active signaling mutations tended to have worse prognosis on treatment, with a median overall survival of 8.5 months and a median duration of response of 1.6 months.
This represented the data from the Phase IB portion of the study, and Lachowiez said the efficacy data from Phase II will be reported soon.
Finally, Courtney DiNardo from MD Anderson Cancer Center presented data from the randomized Phase II study of the IDH2 inhibitor enasidenib (Celgene's Idhifa) combined with azacitidine versus azacitidine monotherapy in IDH2-mutated AML that's newly diagnosed and ineligible for chemotherapy.
Enasidenib is approved in the US for IDH2-mutated relapsed or refractory AML.
In a previous Phase I/II study, enasidenib monotherapy produced an overall response rate of 30.8 percent in patients with newly diagnosed IDH2-mutated AML, with a complete remission rate of 18 percent. In a separate Phase III study of azacitidine in the same group of patients, the overall response rate was 27.8 percent and the complete remission rate was 19.5 percent.
In this Phase II study, 33 patients were randomized to the azacitidine arm, and 68 patients were randomized to the enasidenib and azacitidine combination arm.
At the time of data cutoff in August 2019, 94 percent of the patients in the azacitidine arm had discontinued therapy, while 69 percent in the combination arm had discontinued. The most common reason for discontinuation was progressive disease.
The overall response rate in the combination arm was 71 percent compared to 42 percent in the azacitidine arm. In the combination arm, 53 percent of patients had a complete remission, while 12 percent of patients in the azacitidine arm had a complete remission.
Median progression-free survival was 17.2 months in the combination arm and 10.8 months in the azacitidine arm. However, the median overall survival was 22 months in the combination arm and 22.3 months in the azacitidine arm. Eight patients from the azacitidine only arm received subsequent treatment with enasidenib monotherapy, and four were still alive at the time of data cutoff.
In an email, DiNardo said that the lack of difference in overall survival could be due to the fact that some patients in the azacitidine arm received other treatments after discontinuation.
"This was not a blinded study, so it is possible that patients treated on the azacitidine only arm were transferred off study earlier, for alternative or combination approaches," she said. "And indeed eight patients went on to receive enasidenib after study completion, which might explain in part why patients on the azacitidine alone arm are doing well, too."
Reflecting further on the lack of an overall survival advantage in the trial, DiNardo noted that the primary endpoint of the study was response and so, it was not powered for overall survival.
In this study, four patients ultimately proceeded to stem cell transplantation, three from the combination arm and one from the azacitidine arm.
The most common grade 3 or 4 treatment related adverse events were cytopenias and IDH differentiation syndrome. Two patients' deaths were possibly attributed to IDH differentiation syndrome. Overall, 43 percent of patients in the combination arm and 44 percent of patients in the azacitidine arm died. Most deaths were attributed to progressive disease.
Even though this study failed to show a survival advantage, the results may still be meaningful in this particular group of patients, according to DiNardo. "This is a newly diagnosed population of older and unfit AML, where standard curative treatment is not recommended. Survival in this population is usually only 10 months or so," she said.
"Ultimately, this study demonstrates the favorable responses seen with azacitidine paired with this targeted IDH2 mutation-specific treatment," DiNardo said at ASCO. Further, the response rates seen with the combination treatment was higher than each monotherapy alone, and the combination was well tolerated by older patients.
"These findings are significant, given that the older a patient is, the more likely they are to have an IDH2 mutation," DiNardo had explained in a statement last year at ASH. "This combination treatment may offer an alternative option for older patients who may not be candidates for intensive chemotherapy or who have relapsed disease."