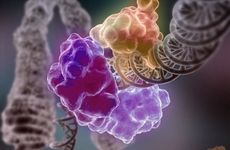 NEW YORK – While BRCA mutations are key events in the development of some tumors, they are likely passenger mutations in others — a finding with likely treatment implications, according to a new analysis conducted by researchers led by a team from Memorial Sloan Kettering Cancer Center.
Clinicians are increasingly using PARP inhibitors to target mutations in BRCA1 and BRCA2 genes in a range of cancers, but MSKCC's Barry Taylor and his colleagues noted that it is unclear whether germline and somatic BRCA1 and BRCA2 mutations always have similar biological and therapeutic roles.
"Mutations in BRCA1 and BRCA2 are emerging as important therapeutic targets, but the current clinical development and continued off-label use of PARP inhibitors broadly assumes that germline and somatic mutations in BRCA1 or BRCA2 are tumor-agnostic biomarkers, with similar biological and therapeutic importance wherever they are identified," Taylor and his colleagues wrote in their paper published in Nature yesterday.
Whether PARP inhibitors will be effective in a tumor-agnostic fashion against any cancer with a BRCA1/2 pathogenic alteration is a question of interest to researchers. For example, within the Targeted Agent and Profiling Utilization Registry (TAPUR) basket trial, there are currently seven cohorts investigating the activity of the PARP inhibitor olaparib (AstraZeneca's Lynparza) in different tumor types characterized by BRCA1/2 mutations.
In exploring this same question, researchers led by Taylor analyzed tumor and normal samples from more than 17,000 cancer patients to identify both somatic and germline alterations. As they reported in Nature, the researchers found that either type of mutation — somatic or germline — within cancers typically associated with BRCA mutations may increase their sensitivity to PARP inhibitors. However, such mutations within cancers not usually linked to BRCA mutations — tumor types other than breast, ovarian, pancreatic, and prostate cancers — were usually secondary mutations, and targeting those with PARP inhibitors may not be an effective treatment.
"Our results indicate that mutant BRCA1 and BRCA2 have pleiotropic effects that are tumor lineage-dependent and that most BRCA1/2 alterations in non-BRCA associated cancers may be incidental findings unrelated to tumor pathogenesis and unlikely to be therapeutically actionable," Taylor and his colleagues wrote in their paper.
The researchers analyzed germline blood and matched tumor tissue samples from 17,152 cancer patients with one of 55 different tumor types. In all, 2.7 percent of patients had a germline pathogenic BRCA1 or BRCA2 allele, and of the remaining 16,690 patients with wildtype germline BRCA1 or BRCA2 genes, 5.5 percent had a somatic BRCA1 or BRCA2 mutation. Most commonly, these somatic BRCA1 or BRCA2 mutations were missense mutations of uncertain significance, but 307 patients had a somatic mutation in BRCA1 or BRCA2 expected to lead to a loss of function.
Slightly more than half the patients with these germline pathogenic or somatic loss-of-function BRCA1 or BRCA2 mutations had breast, ovarian, prostate, or pancreatic cancer, all of which are linked to BRCA1 and BRCA2 carrier status. Within these BRCA1- and BRCA2-linked cancer types — except for prostate cancer — germline pathogenic alterations were more common than somatic loss-of-function alterations, as the researchers expected.
However, the researchers found that these alterations had different effects on homologous recombination based on which tumor type they were found in. Studies have shown that because BRCA1 and BRCA2 proteins are integral to homologous recombination, a way in which double-stranded DNA breaks are repaired, mutations in these genes can hobble the DNA repair process, cause errors, and lead to certain cancers, such as ovarian and breast cancer.
In this study, though, tumors with BRCA1 or BRCA2 mutations in BRCA-linked cancer types, such as breast and ovarian tumors, had high homologous recombination deficiency levels, while only a portion of non-BRCA-associated cancers with biallelic BRCA inactivation had any indication of homologous recombination deficiency. Because of this, the researchers hypothesized that many heterozygous somatic BRCA mutations in tumors may be passenger, rather than driver, mutations.
They further argued that therapies like PARP inhibitors that target the DNA damage repair process might not work for all cancer patients with germline BRCA mutations. When they sifted through treatment outcome data, the researchers found that patients with BRCA1 or BRCA2 mutations who had a BRCA-associated cancer generally derived greater benefit from PARP inhibitor therapy than patients without these mutations. But, they also found that that was not the case if patients had a non-BRCA-associated cancer.
They likewise noted that patients with a BRCA-associated cancer with somatic loss-of-function BRCA mutations also had improved PARP inhibitor response, similar to the response seen in germline carriers.
"[O]ur data suggest that mutant BRCA1/2 is unlikely to be of similar therapeutic relevance in all cancer types in which it is found," the researchers wrote.