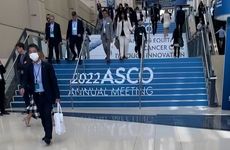 CHICAGO – In a series of presentations at the American Society of Clinical Oncology's annual meeting, researchers shared findings that largely confirmed consistent benefit with Novartis' Pluvicto (177Lu-PSMA-617) across subgroups of metastatic castration-resistant prostate cancer (mCRPC) patients and shed light on how prior and concomitant treatment regimens and PSMA PET imaging results play into the degree to which patients benefit.
Researchers discussed efforts to better define which prostate cancer patients benefit most from PSMA-targeted radiopharmaceuticals like Pluvicto and how to optimize patient selection via PSMA PET imaging. However, these discussions happened against the backdrop that real-world access to Pluvicto is presently in limbo following a production hold Novartis announced last month — a point that went largely unmentioned during presentations. 
Nitin Vaishampayan, a radiation oncologist at Wayne State University School of Medicine, shared results from a post hoc exploratory subgroup analysis of the Phase III VISION trial, the study that the US Food and Drug Administration relied on to approve Pluvicto for PSMA-positive mCRPC patients. The study showed a survival benefit for Pluvicto plus physician's choice of standard-of-care therapy versus standard-of-care therapy alone.
Vaishampayan and colleagues scrutinized patients' prior treatment regimens and looked at whether Pluvicto survival differed according to the number of androgen receptor pathway inhibitors they received. They also assessed whether the specific type of physician's choice standard-of-care treatment patients received with Pluvicto made a difference in survival.
The sub-analysis showed that PSMA-positive mCRPC patients in all prior-treatment subgroups benefited more from Pluvicto plus standard treatment versus standard treatment alone, as did patients across all concomitant standard-of-care treatment groups. There were, however, some small differences in outcomes between these subgroups that Vaishampayan shared as potentially warranting follow-up studies.
For instance, there was a trend toward improved survival outcomes among patients who received just one prior taxane-containing treatment regimen versus two or more before Pluvicto. The median overall survival for those who received just one taxane before Pluvicto was 16.2 months versus 13.6 months among patients who received two or more. Outcomes were also slightly improved among patients who received androgen receptor pathway inhibitors as the concomitant standard treatment with Pluvicto versus those who did not. Patients who did receive these therapies had a median overall survival of 17.8 months versus 12.4 months among patients who did not.
Overall, though, which treatments patients received previously or the therapies they paired with Pluvicto didn't make a difference in whether patients benefited from the targeted radiopharmaceutical versus standard treatment alone. This, according to Vaishampayan, "suggests that disease biology, rather than prior and concomitant treatment context, drives outcomes."
In a discussion following Vaishampayan's presentation, Susan Slovin, a medical oncologist at Memorial Sloan Kettering, suggested that these slight differences in survival among Pluvicto-treated subgroups might be seen as hypothesis-generating, but noted, "long-term consequences are unknown."
Outcomes according to PSMA PET imaging criteria
After Vaishampayan presented his VISION sub-study, Andrew Armstrong, a medical oncologist at the Duke University School of Medicine, shared results from a separate sub-study of the same trial, this one diving into the specifics of imaging-related biomarker parameters and their impact on response.
When the FDA approved Pluvicto, of note, it included eligibility criteria in the label specifying that patients have to have at least one PSMA-positive lesion, as determined by PSMA PET imaging with Novartis' Locametz (68Gallium-PSMA-11). Various guideline bodies have since issued recommendations clarifying that other PSMA PET imaging approaches, including fluorine-18-based PET imaging, could work for selecting these patients, too. But for the purpose of the VISION trial and its sub-studies, Locametz was the PET imaging agent in question.
What Armstrong and colleagues, including the lead investigator, Phillip Kuo, a professor of molecular imaging at the University of Arizona College of Medicine, asked in their VISION sub-study was whether using different parameters for defining "PSMA-positive" influenced patient outcomes on Pluvicto. They looked at patient outcomes according to PSMA PET imaging parameters including the region of the body where the lesions showed up on scans; the mean standardized uptake value (SUV) of the PSMA-targeted imaging agent across the whole body; the maximum SUV of the PSMA-targeted imaging agent in a given lesion with the highest expression; the volume of PSMA-positive tumors; and the tumor load, which is defined as the tumor volume multiplied by the mean SUV.
"Among men with PSMA-positive mCRPC on PET CT, when they're treated with [Pluvicto], they demonstrate a better outcome if they have a whole-body SUV mean that is more intense," Armstrong said. When the investigators broke patients on VISION into quartile groups based on their SUV values, patients whose tumors fell into the highest quartile, with SUV mean values of at least 9.9, had the highest median overall survival on Pluvicto. For these mean SUV-high patients, overall survival on Pluvicto-plus-standard therapy was 21.4 months. Meanwhile, for patients with mean SUV values in the lowest quartile, meaning those that fell below 5.7, the median overall survival time on the therapy was 14.5 months. The median progression-free survival times for patients in these highest- and lowest-mean SUV quartiles treated with Pluvicto and standard of care were 14.1 months and 5.8 months, respectively.
To be sure, these patients in the lowest SUV mean quartile group still experienced benefit with Pluvicto compared to the standard-of-care only control group, Armstrong clarified. "But you can see the phenomenal progression-free survival of patients with a very bright PSMA PET scan at a whole-body level," he said, referencing the visual brightness that appears on PSMA PET imaging when patients have the highest mean standard uptake value.
"These data support PSMA PET imaging — particularly with gallium-68 as was used in this study — to identify men who could more optimally benefit from targeted radioligand therapy," he said. In terms of the tangible implications of these findings, he suggested that PSMA PET imaging reports might include SUV mean at a whole-body level to highlight patients likely to have improved outcomes. 
Discussing Armstrong's presentation, MSK's Slovin said she considered the findings helpful with regard to the question, "how do we really read these things, and what can we use as a predictive radioactive biomarker?"
"The takeaway is that, among men treated with lutetium with PSMA-positive disease, higher whole-body SUV mean was associated with improved long-term outcomes," she said.
Taken together, Slovin acknowledged that these two VISION sub-studies are valuable for helping to guide the way oncologists use PSMA PET imaging and prior or concomitant treatment regimens to identify patients with the highest chance of benefiting from Pluvicto.
But research focused on maximizing the benefit of Pluvicto using a better-refined patient selection approach must also acknowledge some of the immediate pressing barriers to administering this therapy in the real world.
"It's not that easy to get this drug [especially] in community or rural practices," Slovin said in her discussion. "We've had patients traveling [internationally] just to get treatment. … We're limited by the availability of a nuclear medicine facility, regulatory and reimbursement support, and the impact from financial institutions," she said.
Indeed, targeted radiopharmaceuticals come with a host of logistical challenges and access barriers to begin with, including resource-intensive facility requirements and specialized expert staff trained in handling radioactive elements. The imaging agents aren't always easy for oncologists to get their hands on, or for patients to afford.
These challenges are all notwithstanding the fact that a month ago, Novartis voluntarily halted production of Pluvicto and its neuroendocrine targeted radiopharmaceutical, Lutathera (lutetium Lu 177 dotatate) at its New Jersey and Italy facilities, due to possible quality issues.
While the Swiss drugmaker has not been willing to share the specifics of what exactly catalyzed the pause, there are many ways in which the complex manufacturing process for these therapies can encounter manufacturing and supply-chain hiccups.
In terms of when Pluvicto production will resume, a spokesperson for Novartis told Precision Oncology News that the firm is gradually restarting production "in a phased manner, based on individual site readiness and requirements."
Even when production does resume, the Novartis spokesperson alluded to likely supply-chain challenges. "As radiopharmaceutical therapies are made-to-order for specific patients and require coordination of radioisotope components, there is a need to plan ahead in order to ensure on-time delivery," they said. "We expect that initial production supply may be limited as the different sites and lines restart, but we will do everything possible to address the accumulation of patient demand from these past few weeks as quickly as we can."
In other words, as soon as Novartis begins to manufacture Pluvicto once more, it will need to meet the demand from a whole lot of mCRPC patients who were unable to receive the treatment during the suspension period before it can move on to meeting demand from new patients.
To capture the current situation in radionuclide therapy for PSMA-positive mCRPC patients in her discussion on Sunday, Slovin asked the audience to indulge her a bit as she waxed poetic, invoking a quote from the science fiction writer William Gibson. "The future has arrived," she quoted. "It just hasn't been equally distributed yet."