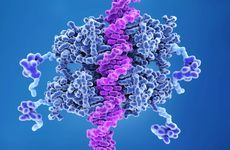 NEW YORK – Aprea Therapeutics announced earlier this month that its Phase III trial evaluating eprenetapopt (APR-246) and azacitidine for the treatment of front-line TP53-mutant myelodysplastic syndromes has completed patient enrollment, with topline results expected by the end of 2020.
Aprea is moving eprenetapopt into Phase III trials based on earlier data showing that its drug, which is designed to restore normal functioning of p53, allowed a significant proportion of TP53-mutated MDS patients to receive stem cell transplants in early trials when combined with azacitidine. For some MDS patients a transplant can be curative.
The multicenter, randomized trial involving 154 patients will evaluate eprenetapopt with azacitidine compared to azacitidine alone as front-line therapy in intermediate, high, and very high-risk TP53-mutant MDS, also referred to as pre-leukemia. Around 30 percent of MDS patients progress to acute myeloid leukemia. The primary endpoint of the study is the impact of the drugs on complete remission rate. 
The data from this registrational trial will support Aprea's new drug application for the eprenetapopt-azacitidine combination to the US Food and Drug Administration and its marketing authorization application to the European Medicines Agency in 2021.
Aprea was founded in 2006 by Klas Wiman, Galina Selivanova, Vladimir Bykov, Staffan Strömblad, Wenjie Bao, and Natalia Issaeva at the Karolinska Institute's innovations incubator in Stockholm, Sweden. "Klas spent his career focused on p53, the target, and as one of the early godfathers of p53 discovery, he discovered the compound that was to become eprenetapopt," said Christian Schade, CEO of Aprea.
Eprenetapopt, Aprea's lead product, is a small molecule that has been shown to reactivate mutant p53 in cancer patients and induce apoptosis in cancer cells containing the mutated p53 protein.
TP53 is the most widely mutated gene in human cancers. In its normal form, the p53 protein can help cells facilitate tumor suppressive responses by checking for errors in the cell cycle. Instead of targeting a subset of TP53 gene mutations, eprenetapopt binds to the mutated p53 protein, which stabilizes p53 back to its normal, functional form, and restores its ability to trigger death in cancerous cells without affecting normal cells.  
Around 2010, researchers started testing the safety of this compound in human trials in Sweden, Schade said. While the researchers did not initially select patients based on mutation status, they saw that the drug was active in patients who had a TP53 mutation.
The drug, combined with carboplatin and pegylated liposomal doxorubicin, was then evaluated in a Phase IB/II European trial of platinum-sensitive ovarian cancer patients who had their mutant p53 status confirmed by immunohistochemistry. In the trial, the adverse effects of the drug were mostly low grade, with the most common toxicities being nausea, dizziness, and fatigue. Early efficacy readouts showed that the drug had an overall response rate of 67 percent, and patients in the trial had a median overall survival of 24.3 months. 
On the back of that early data, Aprea attracted the attention of venture capitalists and investors, who put €40 million ($44.77 million) into the company. With these funds, Aprea moved eprenetapopt into the clinical proof-of-concept stage, said Schade. When data began to emerge in MDS, the firm pivoted to the hematological indications. Eprenetapopt was then advanced into two Phase IB/II trials in the US and in France for TP53-mutant MDS and AML.
Last year, Aprea announced the topline results from its Phase IB/II US trial at the Moffitt Cancer Center evaluating eprenetapopt with azacitidine as a frontline therapy in patients with TP53-mutant MDS or AML who had not been previously treated with a hypomethylating agent.
The overall response rate in 41 evaluable patients was 88 percent with a complete remission rate of 59 percent at data cut off in July 2019. The complete remission rate was 61 percent in MDS patients and 50 percent in AML patients. Moreover, 46 percent of patients in the study overall and 52 percent of MDS patients discontinued treatment and proceeded to have a stem cell transplant, which may be curative in AML and MDS.
TP53 mutations occur in almost half of all cancers and in about 20 percent to 30 percent of MDS patients. These patients tend to have poor response rates regardless of the therapy they receive. The Phase IB/II data demonstrated that not only was eprenetapopt restoring normal p53 function as designed, but that it was likely bolstering the potency of azacitidine, said Schade. Previously, the overall response rate observed for MDS patients on azacitidine monotherapy was around 27 percent. 
At the European Hematology Association's Annual Meeting, held virtually last week, Aprea presented data from a Phase IB/II trial conducted in France of eprenetapopt in combination with azacitidine in TP53-mutated MDS and AML.
At the data cut-off date of April 1, 2020, eprenetapopt elicited an overall response rate of 75 percent in 28 evaluable TP53-mutated MDS patients. Investigators also saw a complete remission rate of 57 percent. The median overall survival for 52 enrolled patients was 12.1 months with a median follow-up of 9.7 months.
Patients who remained on treatment for three or more cycles had a median survival of 13.7 months, whereas patients who stayed on treatment for fewer than three cycles had a median survival of 2.8 months. By the third cycle of treatment, responding patients had a decrease in the frequency of mutant TP53 variant allele from baseline, and 20 patients no longer had measurable mutant TP53 when assessed by next-generation sequencing.
"As that data [from France] began to confirm the data that we had seen in the US, we decided to take the company public, which we did last fall," said Schade, adding that the firm decided to use the proceeds, which totaled around $100 million, to expand the indications for the drug.
There are a number of studies underway at Aprea, including a maintenance study assessing eprenetapopt and azacitidine in MDS and AML patients post-transplant, which is currently enrolling patients. 
"One thing which was very exciting about the US data, which was presented at ASH last year, is that 52 percent of the patients moved on to transplant," said Schade. "In patients with the mutation, about one in 10 can make it to transplant."
In AML, Aprea is now starting a Phase I/II trial studying eprenetapopt and the Bcl-2 inhibitor venetoclax (Genentech/AbbVie's Venclexta), with or without azacitidine in relapsed or refractory patients. In the third quarter of 2020, Schade said that Aprea is planning to start two new studies in non-Hodgkin's lymphoma and in solid tumors in combination with an anti-PD-1 therapy.
If the drug is approved in MDS, eprenetapopt will become a first-in-class agent targeting p53. Schade anticipates that the company will likely need a companion diagnostic to detect TP53 mutations, pending positive outcomes in the Phase III registrational trial, and is in the early stages of planning its development.
"P53 is a target that has been hanging around for a long time, 50 percent of all tumor types have the mutation," said Schade. "To offer these patients with such a poor prognosis the opportunity to reactivate what is an important anti-tumor marker is very exciting for us."