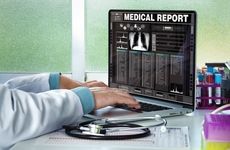 CHICAGO – A technology platform developed by Georgetown University Medical Center researchers and collaborators from cancer centers nationwide has dramatically cut turnaround time for assessing patient suitability for clinical trials and boosted the historically low trial enrollment rate for adults with pancreatic cancer.
The researchers reported their findings in a paper published online this week in the Journal of the American Medical Informatics Association.
By building software dubbed Virtual Molecular Tumor Board (VMTB), this team of cancer researchers and bioinformatics professionals was able to reduce median report turnaround time from 14 days to just four days over a four-year period, even though case volume nearly doubled annually.
More often than not in the trial, oncologists chose the VMTB recommendations over other treatment options if they decided on immunotherapies supported by molecular data.
Among those in the study cohort who started a new therapy for advanced pancreatic cancer after receiving a VMTB report, 16 percent started an off-label therapy and 22 percent enrolled in a clinical trial. The typical average for trial enrollment is less than 5 percent with this aggressive form of cancer, the authors said.
Because prognosis and survival for patients with pancreatic cancer tend to be poor, it is imperative to get people on the right therapies as early as possible and to find suitable clinical trials for more patients, according to corresponding author Subha Madhavan, director of Georgetown's Innovation Center for Biomedical Informatics.
"The whole idea is democratizing care," Madhavan said. "You may not have the expertise that's needed for that particular patient's molecular analysis in their care at that particular clinical site. With an asynchronous platform like this, you can leverage expertise far away," including Georgetown's Lombardi Comprehensive Cancer Center, City of Hope National Medical Center in Southern California, or the University of Texas MD Anderson Cancer Center.
This platform includes a knowledgebase, a scoring model, a rules engine, an asynchronous virtual chat room, and a reporting tool for generating personalized treatment plans. These plans are based on each patient's molecular profile, treatment history, current treatment guidelines, clinical trial eligibility criteria, and "clinically relevant" assertions of cancer-gene variants, according to the JAMIA article.
"The VMTB systematically allows clinician users to combine expert-curated data and structured data from clinical charts along with molecular testing data to develop consensus on treatments, especially those that require off-label and clinical trial considerations," the paper said.
The proprietary platform was built by Perthera, a McLean, Virginia-based maker of artificial intelligence technology for precision medicine, on top of curated public knowledgebases and rules. These include the Clinical Genome Resource consortium's ClinGen database, the Catalogue of Somatic Mutations In Cancer (COSMIC), My Cancer Genome, OncoKB, Clinical Interpretation of Variants in Cancer (CIViC), the US-based clinicaltrials.gov website and the European Union's clinical trials registry.
A team of curators comb medical literature for data on drug-gene relationships and continuously update the knowledgebase, which also gets regularly updated from new clinician reports generated through the VMTB system.
ClinGen has an advantage in that its database last year became the first public repository of genetic variants recognized by the US Food and Drug Administration under the agency's Human Variant Database Program.
The recognition of ClinGen means that genetic test developers can access data from the repository, which is maintained via the National Institutes of Health-funded ClinVar archive, and can use it to support claims for their diagnostic tests without the need for additional FDA review to confirm the suitability of the database.
The VMTB now includes more than 51,000 heuristic rules, the researchers reported. Madhavan said that the human mind cannot retain anywhere near this number of relevant data points that a system like VMTB can when considering treatment and trial options. With this in mind, the researchers found that the system returned more markers than manually compiled commercial lab test reports in 78 percent of the 1,725 cases studies, and it took far less time.
By taking into account treatment histories, users of the VTBM system avoided "standard" therapies in 64 percent of patients who had shown resistance or had adverse events associated with standard treatments, thanks to the software's ability to consider biomarkers. The technology had a particularly positive impact among patients who had proteomic immunohistochemistry profiles available, according to the paper.  
The VMTB platform helped boost trial enrollment rates in part by considering geography as well as eligibility criteria because patients are more likely to enroll in trials close to home than if they were forced to travel hundreds or thousands of miles, Madhavan said.
The authors noted that the vast majority of cancer patients are treated in community clinics and hospitals that do not have molecular tumor boards or specialized expertise in molecular medicine.
"[M]olecular tumor boards that allow relevant experts to review each case and make treatment recommendations by integrating molecular test results, data from electronic health records, knowledgebases with mechanistic evidence of biomarkers, and current clinical guidelines will help democratize access to academic medical center-level care in the community," they wrote.
Virtual tumor boards like the one the Georgetown-led project created will facilitate communication and collaboration, irrespective of geography, according to Madhavan. Since the system is asynchronous, experts can weigh in without having to be present at the same time as others.
The platform integrates data from EHRs, multi-omic tests, pathology reports, and pharmacy records. It's designed to "streamline the identification and prioritization of treatment options," including off-label alternatives if appropriate, according to the paper.
Patients came via referrals from the Pancreatic Cancer Action Network's (PanCAN) Know Your Tumor program, Zero – The End of Prostate Cancer, the Lung Cancer Alliance, and Hope for Stomach Cancer.
Of the 1,725 cancer patients analyzed, 1,163 had pancreatic adenocarcinoma, 103 had pancreaticobiliary tumors, 104 had been diagnosed with other gastrointestinal, and 355 had non-GI cancers.
Perthera, the vendor that provided the technology platform, had a prior relationship with PanCAN, as did the other participating cancer centers, so pancreatic cancer patient referrals already had been going to the Perthera platform, according to Madhavan.
Within VMTB, a scoring model calculates a disease relevance score for various drugs and drug combinations. Another algorithm identified appropriate open clinical trials based on clinical characteristics of each patient's tumor, treatment history, and molecular profile.
The researchers tested the efficacy of their VMTB platform by having a panel of GI oncologists assess the search for appropriate clinical trials for patients in advanced stages of pancreatic cancer.
They reviewed cases from 2014 through 2017, with volume rising steadily each year, from 46 in 2014 to 188 in 2015, 354 in 2016, and 622 in 2017. The size of the medical review team grew in that time period from three to 14.
The reviewers initially discussed cases by secure email, but the VTMB software gave them a secure portal with a chatroom. Each iteration of VTMB added new features, including viewing of patient medical records and past test reports, and the ability to generate reports with ranked therapeutic options. With each new version, review time for each case dropped.
The Google Firebase application development platform hosts the asynchronous chat room for medical and scientific experts to review cases virtually. The system then notifies clinical staff when various steps in the review and treatment processes have been completed, and facilitates the sending of reports to the attending oncologist for each patient.
While the majority of patients studied had pancreatic cancer, Madhavan wants to expand the technology to other cancer types. "It could be expanded to other patients with other advanced metastatic cancers, for example other GI cancers, sarcoma, [and] melanoma," she said.
But because each cancer type is different, the rules base has to be curated accordingly. For example, immunotherapies can be the first line of treatment for certain mutations related to melanoma and kidney cancers, according to Madhavan.
She also wants to translate the platform into the community setting, where perhaps 80 percent of cancer patients receive treatment.
The development team is considering how to integrate the technology with major EHRs, including those from Cerner and Epic Systems. "Could this be integrated into something like that to make it really easy for clinicians in community centers to take advantage of all this expert-curated knowledge so the patient doesn't have to go to the Lombardi hospital but they can actually go to a community clinic and get the same level of care from a precision oncology standpoint?" Madhavan said. "That would be our larger vision and an ambitious goal, but I think this is the first step to getting there."
Some of the paper's authors, including those from City of Hope and Cedars-Sinai Medical Center in Los Angeles, are implementing the VMTB platform in pretty much the same form that Georgetown has. "Some of them are locally championing this in their own local medical centers, in their own cancer centers," Madhavan said.
This platform is suitable for patients with any kind of advanced metastatic cancer, because that is who gets tumors sequenced.
"Anyone who has molecular testing goes through a platform like this. Our team really would like to see this be scalable and expanded to other cancer types," Madhavan said.
"We anticipate that this cloud-based technology for implementing precision oncology could be extended to facilitate collaborative diagnosis and treatment planning between dispersed networks of medical experts using molecular data to care for patients at academic and community centers alike across any disease type and use cases, including for pharmacogenomics and rare genetic disease diagnosis use," the researchers concluded.
The platform is cloud-based on Amazon Web Services, so it is relatively easy to scale.
Roche Diagnostics and GE Healthcare, which formed a partnership in early 2018, have been developing their own platform to support virtual tumor boards. The companies recently told GenomeWeb that this year's releases of Roche's Navify Tumor Board platform can support the concept of virtual tumor boards by integrating data from EHRs, laboratory, pathology, and imaging information systems, genomics, and administrative datasets.
Madhavan said she was aware of Navify Tumor Board, but declined to comment on that technology.