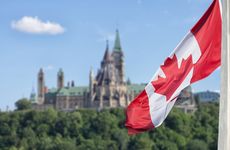 NEW YORK – Patient advocates have surveyed clinicians at cancer centers across Canada to identify gaps in access to biomarker testing and they hope the findings will spur policymakers to develop standardized guidelines and increase funding to make precision oncology more equitable.
The survey, led by the non-profit advocacy organization Colorectal Cancer Canada (CCC), is part of its "Get Personal" campaign to educate patients and influence health policy, and represents the first effort to assess the national landscape of cancer biomarker testing, according to Maria El Bizri, program manager at CCC. The education campaign is funded by grants from Amgen, Bayer, Pfizer, Eli Lilly, Taiho Oncology, Bristol Myers Squibb, Janssen-Johnson & Johnson, and the Don McQuaig Foundation, though these sponsors didn't influence the survey questions.
CCC has shared the findings from the clinician survey with stakeholders and is planning to publish them as it builds a case for advancing standardized cancer biomarker testing policies. "Although our healthcare system is administered by the provinces, it is essential that national guidelines be developed so that they can be adopted by all health ministries across the country," said CCC Chief Executive Barry Stein.
In Canada, its 10 provinces and three territories administer cancer care for patients and make decisions about which interventions to provide to residents. "This model generally hampers harmonization of healthcare and equity of access across the country," said El Bizri, and molecular profiling is no exception.
The list of molecular biomarkers that predict whether a cancer patient will benefit from a specific treatment is quickly growing, and guidelines bodies support assessment of multiple genes in certain tumor types, such as lung and colorectal cancer. Although Health Canada, the national health regulator, is approving more cancer drugs that are indicated for patients with certain tumor biomarkers, the provinces may ultimately decide not to fund these therapies and the associated biomarker tests for patients in that region after a health technology assessment.  
For example, Health Canada in July 2019 issued a notice of compliance approving larotrectinib's (Bayer's Vitrakvi) efficacy and safety in refractory cancer patients with any kind solid tumors driven by NTRK fusions when they are out of treatment options. However, after a health technology assessment in October of that year, the Canadian Agency for Drugs and Technologies in Health's pan-Canadian Oncology Drug Review (pCODR) was unconvinced that larotrectinib would yield a "net clinical benefit" compared to other options or best supportive care and recommended that the provincial governments not reimburse the drug.  
As a result, NTRK fusion testing is not being performed in many cancer centers across Canadian provinces, El Bizri said. CCC has submitted input from physicians and patients to the health technology assessment body to try to change its view, and Bayer has proposed to work with provincial authorities on risk-sharing agreements where the governments would fund larotrectinib only when it improves outcomes in patients. Meantime, the company has launched a patient assistance and NTRK fusion testing program to ease access for some eligible patients but noted in a statement that "these are not long-term, sustainable solutions for adult and pediatric patients with TRK fusion cancer who rely on public coverage."
"Provinces are generally not reimbursing for molecular profiling for a mutation when there is no approved drug available for it," El Bizri explained. In some case, such as in lung cancer, some provinces fund reflex testing for multiple biomarkers, she said, but there is no national policy guiding the adoption of predictive cancer biomarkers.
El Bizri highlighted the larotrectinib example as illustrative of the challenges Canadian cancer patients are facing in accessing precision oncology treatments and tests. Around the time of the negative larotrectinib health technology assessment in the fall of 2019, CCC joined up with a coalition of clinicians, drugmakers, and other stakeholders to address the access gaps in cancer molecular testing. The idea to do a survey, or an "environmental scan," of biomarker testing in Canadian provinces and advocate for national testing guidelines evolved out of the discussion within this coalition.
Surveying the testing landscape
From July to September of 2020, CCC and its advocacy partners disseminated the survey among oncologists, pathologists, and laboratory geneticists with the goal of gauging the biomarker testing environment for patients with all types of cancer. The insights from the 42 respondents at 24 institutions across the country in many ways confirmed what CCC and its partners had been observing all along in terms of the wide variance in the breadth and quality of biomarker testing patients were receiving.
In colorectal cancer, for example, for a long time, KRAS testing was the main biomarker analysis done to guide therapy decisions with monoclonal antibodies. More recently, guidelines bodies have recommended testing for mutations in other genes in the RAS pathway, such as NRAS, HRAS, and BRAF based on evidence showing that these biomarkers also influence patients' treatment responses. 
"In a publicly funded healthcare system, the funding for biomarker testing, as well as the infrastructure to support biomarker testing, is not able to grow as quickly as the science in cancer care," said Brandon Sheffield, a molecular and anatomic pathologist at William Osler Health System in Toronto, who also participated in CCC's survey. Even if an internationally recognized body, such as the College of American Pathologists, issues guidelines supporting testing for certain biomarkers, provincial governments may decide to not reimburse testing for them. Moreover, within the same province, healthcare institutions have different policies about whether to provide in-house testing for certain biomarkers, which causes further heterogeneity in terms of access.
"What we find is that a patient with colon cancer, depending on where they live and where they're tested, may get a very different set of results," said Sheffield. "Patients in some provincial governments may not have access to NRAS testing, for example." This inconsistency in test access from province to province is happening not just for colorectal cancer patients but for all cancer patients, he added.
Even though some biomarker testing is available at all the cancer centers represented in the survey, there was wide variability in turnaround times between institutions, sometimes in the same province. Sheffield noted that turnaround times can be two weeks to as long as two months, based on whether a patient is treated in an academic setting or at a community practice. "That's because academic centers have the ability to do biomarker testing in-house versus sending the tissue off to a different hospital," he said.
Notably, 80 percent of survey respondents flagged financial restrictions, such as lack of funding for biomarker testing, for laboratories and for reflex testing among the top adoption barriers. The survey also revealed how current funding streams may be hindering best practices when it comes to test ordering.
For example, most surveyed oncologists said that they are the ones ordering molecular testing for their patients, but many indicated that they want pathologists to be involved, since they have specialized knowledge on the latest profiling techniques and biomarkers. However, El Bizri pointed out that cancer centers receive government funding that they then allocate for in-house testing within hospital labs, but this may not be sufficient to reimburse pathologists for the extra work of helping with test ordering.
"It all comes down to where and how the hospital would like to place its budget," she said. "Currently, only oncologists have the authority to order tests. The pathologists receive the sample but cannot order a specific test, unless they receive advice from an oncologist."
Moreover, even when patients are tested, the survey showed that test results may not inform their care. For example, 31 percent of respondents said that between 50 percent and 75 percent of cancer patients at their institutions receive tumor profiling in time to decide first-line treatment. "We wonder about the other 50 percent that don't," El Bizri said, adding that 10 percent of respondents reported that only 1 out 10 patients were receiving test results in time for first-line therapy.
"This is very important for access to precision medicines," she said. "If they don't do screening or don't have the results in time, then they won't get the right medicine at the right time."
Importantly, most respondents said that molecular profiling decisions end up being used to guide patient's treatments only when there is a Health Canada-approved drug available that is associated with that biomarker. However, in precision oncology, often the best treatment for a patient based on biomarker results is off-label therapy or a drug still in clinical trials.
There are limited opportunities for accessing precision cancer drugs in these other ways in Canada, where there isn't government payor coverage for off-label indications. Sheffield pointed out that the US Food and Drug Administration has approved more biomarker-informed precision oncology drugs than Health Canada has. Similarly, there are many times more drug trials enrolling in major US cities than in Canadian cities, he added. 
When it comes to testing, "the problem is even more ground level than that. In Canada, we're talking about the difference between having access to testing for one or two genes, when what really is needed is having access to 10 genes on a panel," Sheffield said. "The commercial assays that are offered by US labs have as many as 500 genes on a panel."
That breadth of panel testing would be prohibitively expensive in a public healthcare care system, he said, estimating that a large NGS panel from a US lab has a list price of $6,000, while most panel tests being run in Canadian labs cost a small fraction of that price. "Having national biomarker guidelines will help justify the cost of testing to our payors and the government," Sheffield said. 
Patients' perspectives
After the clinicians' survey, CCC is now exploring cancer patients' knowledge and experiences with biomarker testing, including restrictions they faced during the process of getting tested. The survey includes questions that try to get at how well patients understand the term "biomarker testing," at what stage of cancer they first learned about testing, and if doctors ever offered it while planning their treatment. 
"Similar national surveys have been conducted in other countries, but this one will be the first with Canadian-specific data," said El Bizri, adding that CCC is eager to reach patients who have received biomarker testing, as well as those who haven't, so the survey reveals populations that lack access, exposes gaps in the process, and identifies policies that need addressing.
One weakness in the clinicians' survey, she acknowledged, was that no representatives from the Canadian territories with significant indigenous populations, filled it out. However, El Bizri expects the precision oncology barriers to be worse for indigenous cancer patients in these remote territories, since even in the provinces, molecular profiling is largely available at cancer centers in major cities and rarely in community hospitals. "We would think molecular profiling is not being provided to these populations upfront," she said. "[Patients] may be getting tested if they are sent to major cancer centers outside the territory."
Although CCC hasn't yet made inroads with advocacy organizations in the territories that can get the patient survey in the hands of indigenous participants, this is a future goal.
Ultimately, CCC and its advocacy partners will share the learnings from these surveys with pharmaceutical companies that are investing in developing precision oncology drugs, which rely on biomarker testing, as well as with national and provincial government leaders. The data, CCC's Stein hopes, will demonstrate the need for national guidelines for cancer molecular profiling, which can help standardize testing across the provinces.
Currently, there is no body that pens national biomarker testing guidelines, but given the movement in precision oncology toward tissue-agnostic indications, such as larotrectinib, Stein believes funding policies need to keep up with the latest science. "While generally it is a provincial matter, we argue that there is a need for national policy on molecular profiling that may manifest in increased transfer of funds to ensure adoption," he said.
"If patients are to have access to precision medicines, it is essential that they are aware of their molecular profile," he continued. "It is outdated to request [testing] by tumor type or by drugs available for that specific tumor type, as we are beginning to see drugs that are being developed to address a specific mutation regardless of the site of the disease."
In particular, El Bizri hopes that after being presented with the data, policymakers will recognize the need to increase funding for in-house biomarker testing, which can reduce turnaround times for test results that are critical to patient care.  
Sheffield is similarly optimistic that the survey will draw decision-makers' attention to disparities that exist in Canada, from patient to patient and location to location, when it comes to biomarker testing. "I hope the importance of comprehensive testing, like next-generation sequencing, is acknowledged," he said. "And I'm really hopeful that ultimately not just colorectal, but all cancer patients will be able to gain access to this lifesaving testing, regardless of where they live and where they're being treated."