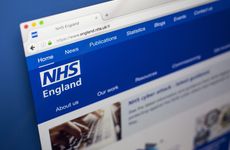 NEW YORK – In light of the COVID-19 pandemic, the UK's National Institute for Health and Care Excellence has issued a list of interim treatment options aimed at limiting the risk of infection for cancer patients in England.
The interim changes, which are in effect within National Health Service England for a period of three months starting April 23, include several precision oncology treatments that NICE hasn't yet reviewed or has previously reviewed and not recommended for availability through the NHS, such as the lung cancer drug osimertinib (AstraZeneca's Tagrisso). Several indications in the interim guideline don't even have marketing authorization in the UK, such as Bristol-Myers Squibb's immunotherapy nivolumab (Opdivo) as a first-line option for metastatic colorectal cancer patients if they have microsatellite instability or mismatch repair deficiency. 
NICE is a body within the Department of Health in England that appraises the efficacy, safety, and cost-effectiveness of healthcare interventions and recommends whether they should be provided to patients via the NHS. The therapy options in the interim guidance were compiled based on the opinions of NICE's Chemotherapy Clinical Reference Group and cancer pharmacists and were endorsed by NHS England.
These experts considered four criteria when deciding which therapies to make available temporarily: whether the treatment would be less immunosuppressive and mitigate the risk of SARS-CoV-2 infection or serious illness from infection; whether the treatment can be given at home or in a setting that reduces the chance of infection; whether the therapy is "less resource intensive" for healthcare settings that may be focused on treating COVID-19 patients; and that the treatment will not require significant changes to how care is provided or additional training.
In order to add therapies to this list, NICE's experts would need to have sufficiently robust data on their safety and efficacy and a clear view of their cost-effectiveness. "They're not letting just anything through," said Riyaz Shah, a consultant medical oncologist at Kent Oncology Center. He noted, however, that the cost-effectiveness calculation is going to be different during a pandemic, because the equation must give more value to treatment strategies that limit how often patients come into healthcare facilities for tests, treatments, and checkups, and therefore, lower their risk for SARS-CoV-2 exposure.
According to British public health authorities, as of Monday, there have been approximately 223,000 confirmed cases of COVID-19 in the UK, and more than 32,000 deaths. Around 137,000 of these confirmed cases and more 29,000 COVID-19 deaths have occurred in England. Some of the most at risk populations are the elderly and those with underlying cardiac conditions and cancer.
"We've been trying to limit many vulnerable patients' interactions with the hospital, and patients themselves want to limit their interactions with hospitals, which are regarded as epicenters of infection," said Justin Stebbing, professor of cancer medicine and medical oncology at Imperial College and Imperial Healthcare NHS Trust. "Switching to tablet treatments and giving non-immunosuppressive treatments are two ways to do that."
In the case of AstraZeneca's pill osimertinib, for example, the survival and cost-effectiveness data for the third-generation tyrosine kinase inhibitor originally did not meet NICE's threshold. NICE earlier this year did not recommend the drug for inclusion within the NHS for EGFR-mutated, locally advanced or metastatic non-small lung cancer despite data showing that patients on this drug lived longer than those receiving first-generation EGFR inhibitors gefitinib (AstraZeneca's Iressa) and erlotinib (Genentech's Tarceva). 
In its review, NICE focused instead on the fact that there was no evidence showing how osimertinib-treated patients fared compared to those receiving the second-generation inhibitor afatinib (Boehringer Ingelheim's Gilotrif). Additionally, priced at £5,770 ($7,116) for 30 tablets of both 80 mg and 40 mg doses, NICE said osimertinib didn't meet its cost-effectiveness bar and excluded the drug from the Cancer Drugs Fund, as well.
However, in its interim guideline, NICE lists the drug as a first-line option for NSCLC patients to delay the need for chemotherapy, which suppresses patients' immune system, weakening their ability to fight off infections. "The cost effectiveness in the COVID-19 era is different because the minute you start giving first- and second-generation TKIs, you're paying for the cost of the drug, [but] the patients are more likely to progress quicker," said Shah.
Once patients start progressing, that triggers further work ups, including additional biopsies and genetic testing for acquired resistance mutations. "I suspect [NICE] looked at the whole picture and thought … it made sense to minimize the number of interventions needed to manage patients," and "maybe that just changed the cost-effective argument in favor of osimertinib," Shah said. 
An AstraZeneca spokesperson did not specify whether the company is providing osimertinib to the NHS at a discount. In order to place this and other drugs on NICE's interim options list, the spokesperson said that the company had in place confidential arrangements.
NICE's interim options list also features other AstraZeneca drugs with precision oncology indications that aren't broadly available within NHS England. For example, for advanced ovarian cancer patients with BRCA1/2 mutations, NICE now says that patients should receive olaparib (AstraZeneca's Lynparza) or another PARP inhibitor once they stop responding to first-line platinum-based chemo.
Last year, NICE recommended olaparib in this setting within the Cancer Drugs Funds, which makes the drug available under a managed access agreement and allows for further collection of data until 2023. The lack of data on whether olaparib improves survival in this setting "makes the estimates of cost effectiveness very uncertain," NICE stated in its appraisal last year. "Therefore, olaparib is not recommended for routine use in the NHS."
The interim guidance, however, is allowing ovarian cancer patients to more broadly access not just olaparib but other PARP inhibitors, too, which are available in pill form. This means patients will not have to come into the hospital setting for chemotherapy infusions. NICE said it is hoping that this additional option will reduce hospital admissions and the risk of neutropenia (low white blood cell count), which is commonly experienced with chemo.
NICE's list contains other changes that follow the same theme of limiting hospital visits, easing therapy administration, and reducing toxicities. "A lot of it is actually very common-sense advice about minimizing the risk of immunosuppression … and the number of visits to the hospital," Shah said. "It's about decommissioning as much in-and-out-of-hospital activity as you can, because that just puts the patient, the staff, and other patients in the hospital at risk."
Another pandemic-related change in the same vein involves AstraZeneca's immunotherapy durvalumab (Imfinzi), which NICE recommends administering every four weeks to NSCLC patients who have had chemo-radiotherapy, regardless of PD-L1 expression status. The drug is licensed in the UK as an infusion treatment every two weeks for patients with locally advanced, unresectable NSCLC who express PD-L1 in at least 1 percent of tumor cells and who have not progressed on platinum-based chemoradiation.
Stebbing recognized that although the pandemic has deprived many patients of the care that they normally would have received, these interim changes, opening up access to certain therapies while limiting certain procedures, may highlight instances where doing less might be more beneficial.
"Everyone is very focused on the fact that it's possible the virus has killed many more people indirectly than it has killed directly, by depriving them of regular care for cancer or other things," he said. "But on the other hand, we might learn that sometimes, making regimens that keep people out of hospital might be better, and that we don't need to do so many blood tests all the time and so many scans."
For his HER2-positive breast cancer patients, Stebbing has been recommending patients have infusions of Genentech's trastuzumab (Herceptin) or pertuzumab (Perjeta) every four weeks, instead of every three weeks as would be done normally. These adjustments haven't garnered pushback from funding bodies, which he noted have been quick to recognize the pressure the healthcare system and providers are under and have been willing to be flexible.
"Typically, if you have a break from treatment for more than six weeks, previously, the Cancer Drugs Fund would often stop you going back on it," he said. "But things like that have gone away. They've recognized that these are extraordinary times and you need extraordinary measures."
NICE is also broadening access to pembrolizumab (Merck's Keytruda) to all metastatic NSCLC patients, when previously the drug was available to those with at least a 50 percent PD-L1 expression tumor proportion score. In advanced melanoma, however, even though patients have access to pembrolizumab, recognizing that the immunotherapy would require infusion in a hospital setting, NICE is suggesting prioritizing oral BRAF inhibitors as a first-line option for patients with BRAF mutations.
Before the pandemic, unresectable, advanced triple-negative breast cancer patients with PD-L1-positive tumors had early access to Genentech's immunotherapy atezolizumab (Tecentriq) in combination with nab-paclitaxel chemotherapy. Under the interim guidance, metastatic TNBC patients, regardless of their PD-L1 status, can receive atezolizumab instead of chemotherapy to reduce adverse events and delay having to go on more immunosuppressive chemo.
The interim therapy list contains a significant addition for metastatic colorectal cancer patients, who can now receive Bristol-Myers Squibb's immunotherapy nivolumab (Opdivo) as a first-line option if they have microsatellite instability or mismatch repair deficiency. Similarly, the aim here, NICE said, is to reduce the number of hospital admissions and risk of neutropenia.
"Until this statement came out, [this indication] was not available on the NHS at all," said Shah. "You had to look for trials. This is a big change in colon cancer."
While NICE's interim options list provides access to pricey precision oncology drugs during the pandemic that NHS patients previously didn't have access to, the changes are temporary, which does concern oncologists. If NHS England were to suddenly stop access to this list of drugs, but a patient had just started on a treatment on the list and seemed to be tolerating it and benefitting, it would be unethical to take the patient off it, Stebbing said.
In issuing the interim guideline, NICE noted the changes are effective for a three-month period as of April 23, but the group also stated that patients who start on a listed regimen during the pandemic "should be allowed to continue the treatment until they and their clinician jointly decide it is appropriate to stop or to switch to a different treatment." Moreover, if any of the regimens on the list are undergoing NICE technology appraisal and NICE issues an appraisal guidance, that latter guidance will replace the temporary guidelines, even if they're published during the pandemic.  
If the final appraisal guidance from NICE is supportive of access, that will maintain drug availability for patients, but it could also go the other way. Shah hopes that at least for some of the therapy options on the interim list NICE will end up issuing positive technology appraisals that will make the regimens available permanently, or at least, that the body will extend interim access for a longer period if the pandemic continues.
Of course, it's hard to predict what NICE will do in this regard since it's not known how the pandemic will play out. The government over the weekend released a phased plan for reopening the economy, optimistically projecting that elementary schools could open by June 1 and the hospitality sector could open by July, if COVID-19 infection and death rates continue to drop. The reopening plan will also be contingent on whether NHS facilities have enough capacity and personnel to care for the infected, and there is sufficient personal protective equipment.  
"The reality is this is a three-month guideline. Neither you nor I know what's about to happen in the forthcoming year with COVID-19. People are talking about a second peak. People are talking about easing lockdown restrictions," Shah said. "This may be an ongoing issue … Three months from now, if the situation isn't settled, NICE and NHS England may just say, 'Look, we're going to extend this interim guidelines for another three months or six months.' Everything is up for change."
If NICE decides not to update this guideline, patients already on treatments may be able to remain on them, but no new patients will have access. After these drugs have already become integrated in practice to an extent, rolling back the policy to a time when these drugs weren't available within the NHS may also create disruptions in care delivery.
"All oncologists will be a bit worried about that," said Shah. "When you add a regimen onto our electronic prescribing systems, that's a huge amount of work … [and] requires multiple checks, multiple people, and can sometimes take weeks to sort out. So, to have that happen for a three-month treatment would be very, very upsetting for a lot of people."
---
Precision Oncology News is closely tracking how the COVID-19 pandemic is impacting the development of and access to molecularly-informed cancer treatments. We want to hear from oncologists, cancer drugmakers, molecular diagnostics firms, and patients. If you want to share your experience please contact [email protected].