Proteomics technologies such as mass spectrometry are coming into their own as powerful tools to deliver insights across every stage of the oncology drug discovery pipeline.
Advances in quantitative proteomics have the potential to improve cancer research and treatment by uncovering and validating novel drug targets, helping to understand drug mechanisms of action, and searching for new diagnostic, prognostic, or predictive biomarkers.
Biognosys is driving this trend with the development of new technologies and methods in mass spectrometry proteomics across the oncology pipeline, from target and biomarker discovery and validation through to clinical trials.
The company demonstrated this next-generation proteomics approach at the recent American Association for Cancer Research (AACR) Annual Meeting, where scientific experts and collaborators presented a number of studies based on its research platforms.
Target validation de-risks oncology drug development
One of the biggest challenges in oncology drug development is hitting the right target. Therefore, high-resolution drug-target interaction studies are essential for validating targets in the earliest stages of drug development to avoid costly failures further down the road.
Target validation studies can identify the true target of a drug as well as off-target effects, de-risking the development process and preventing unacceptable toxicity in the clinical stages of research.
Biognosys' TrueTarget platform, powered by the Limited Proteolysis Mass Spectrometry (LiP-MS) technology co-developed with Professor Paola Picotti and colleagues at ETH Zurich, provides peptide-level resolution of drug-target interactions across the whole proteome for target deconvolution and validation.
Unlike other technologies – such as X-ray crystallography, cryogenic electron microscopy (cryo-EM), and nuclear magnetic resonance (NMR) spectroscopy – LiP-MS is high-throughput, unhindered by limitations such as protein size or location. It also avoids the need for compound labeling, which can interfere with target binding.
The practical application of TrueTarget was featured in an oral presentation at AACR 2022 by Yuehan Feng, director of scientific alliances at Biognosys, who described the findings of a collaborative project with Cedilla Therapeutics focusing on two well-characterized oncology drug targets, BRD4 and EGFR.
The study results accurately pinpointed the binding site of a BRD4 inhibitor in the full-length protein, which is too large to be used with conventional methods. The study also comprehensively mapped the binding sites of two epidermal growth factor receptor (EGFR) inhibitors, showing a close match with data from other structural techniques.
In a further collaboration with AstraZeneca, presented as a poster at AACR, the TrueTarget platform was used to map the selectivity and mode of action of a novel CDK9 inhibitor. The researchers identified the targets of the inhibitor across the whole proteome, as well as mapping the precise binding sites, highlighting the utility of TrueTarget for target validation and lead optimization (figure 1).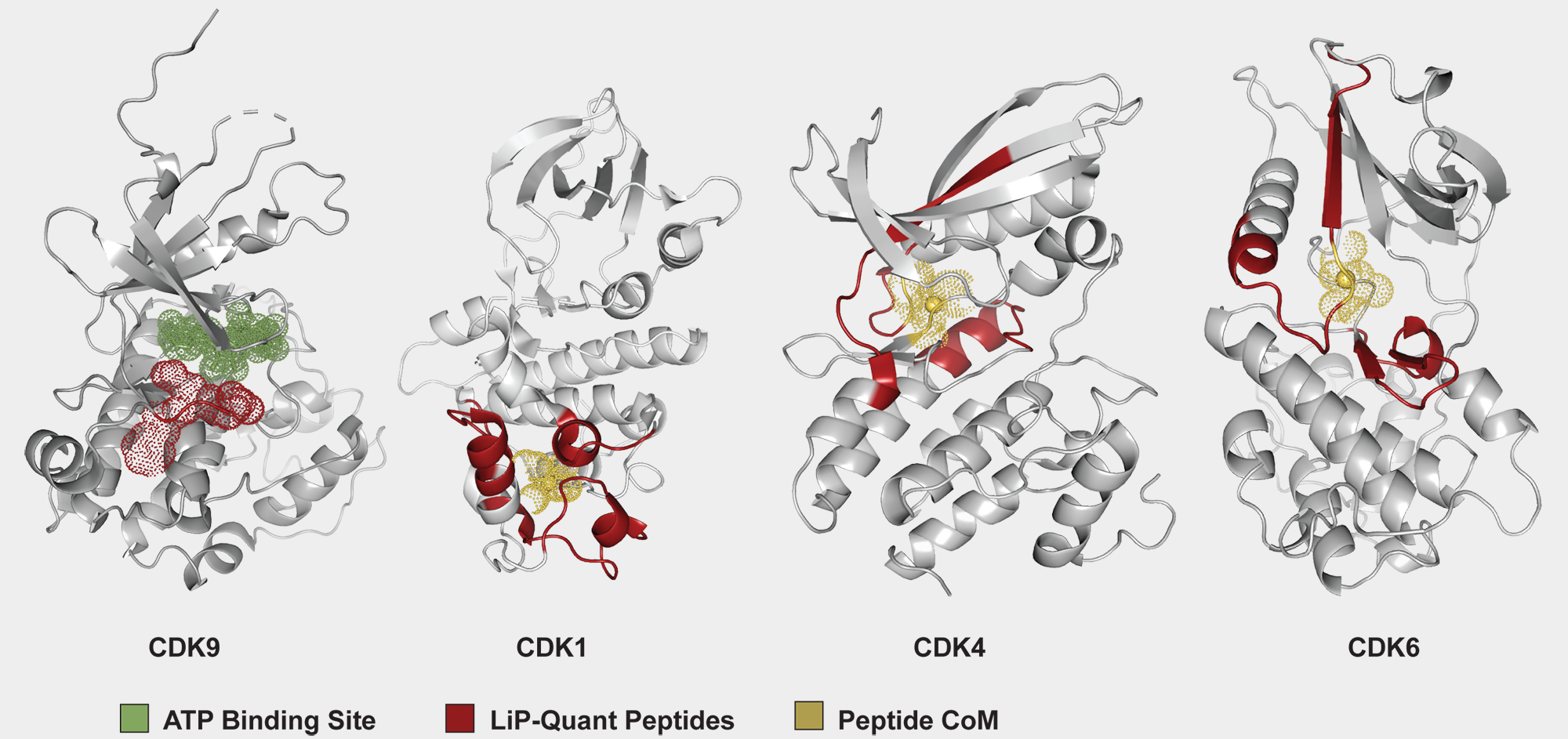 Discovery proteomics reveals new biomarkers in cancer
Information from genomics and transcriptomics has generated valuable insights into the underlying genetic drivers of cancer. Still, relying solely on these approaches risks missing crucial information about the characteristics and behavior of tumors within the body.
By capturing the full phenotype of cancer cells, as well as immune cells and the surrounding tissue, proteomics can provide more accurate information about what is really happening in and around the tumor site.
Biognosys' TrueDiscovery platform uses unbiased mass spectrometry to scour the complete proteome in cells, tissue, and biofluid to discover the unknown, providing new insights to drive first-in-class oncology drug development.
Transferable across species and sample types, TrueDiscovery powers biomarker discovery and mechanism-of-action studies, as well as providing an in-depth look at phosphorylation state and immune-signaling proteins.
As a demonstration of this approach, Biognosys scientists have applied this platform to a large cohort of blood plasma samples from lung, colorectal, pancreatic, breast, and prostate cancer. The automated plasma depletion proteomics workflow quantified more than 2,700 proteins per sample across a cohort of 180 people, revealing multiple potential biomarker candidates.
In collaboration with precision oncology specialists NeoGenomics, the TrueDiscovery platform was also applied in combination with the NeoGenomics MultiOmyx multiplexed immunofluorescence (mIF) spatial analysis platform.
Profiling of tissue samples from metastatic melanoma patients, separated into responders and non-responders to PD-1-targeted immunotherapy, led to the identification of more than 100 proteins significantly up- or down-regulated between the groups, which could be further developed into predictive biomarkers of treatment response.
Mapping phospho- and immuno-peptides
In addition to quantifying and identifying proteins across the entire proteome, TrueDiscovery provides critical functional information. The technology can identify numerous post-translational modifications that are relevant in cancer. For example, the phosphorylation profiling solution quantifies thousands of phospho-proteins, at phospho-site resolution, in an unbiased manner and at scale.
This approach was showcased at an AACR 2022 session on patient-derived xenografts, in a presentation of data profiling the phosphorylation network in patient-derived tumor models produced in collaboration with Crown Bioscience. The researchers evaluated the impact of three different inhibitors in three tumor models, characterizing global protein expression and signaling patterns induced by the inhibitors, including phosphorylation changes (figure 2).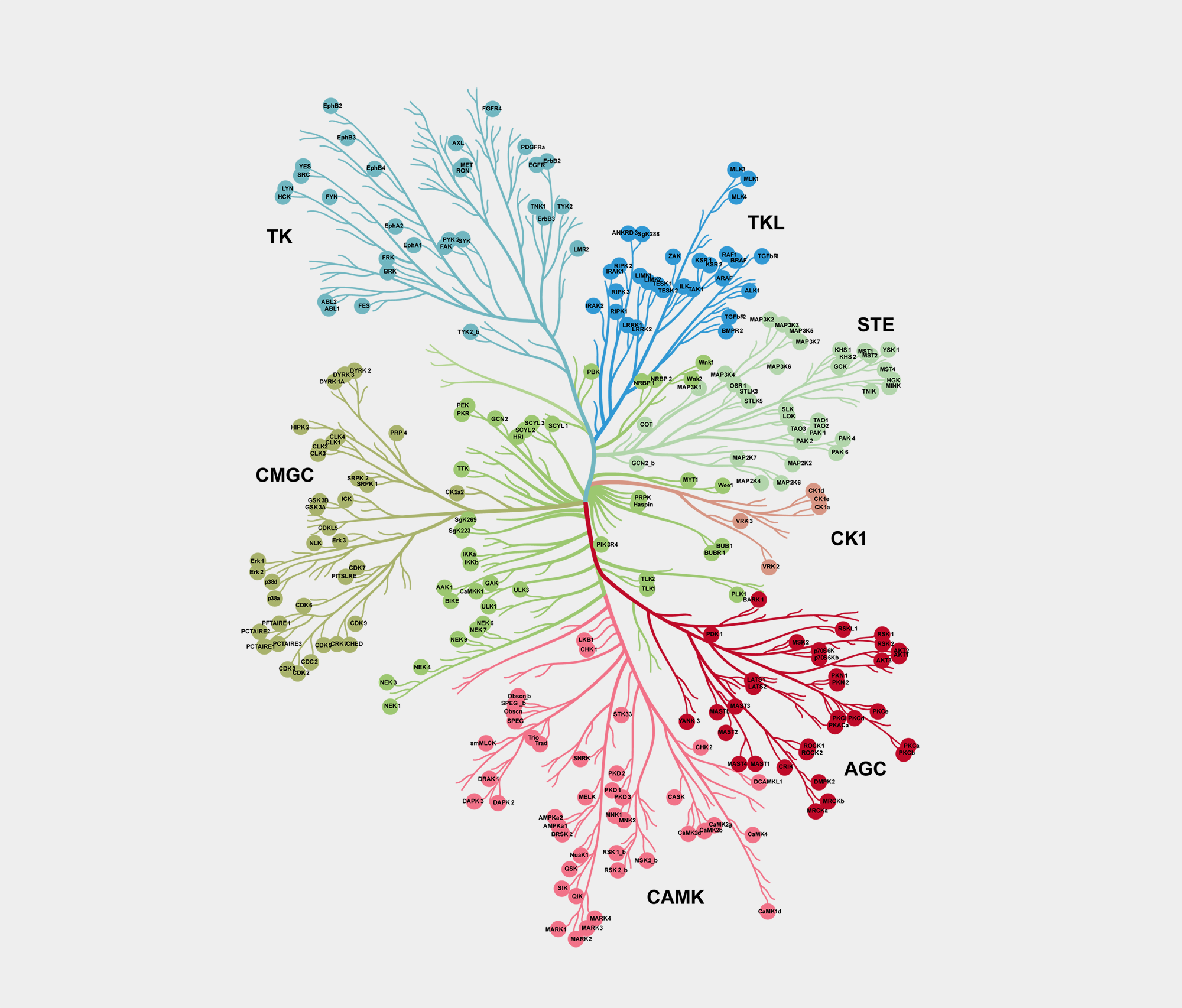 In another session on tumor immunity, Biognosys demonstrated the utility and scalability of the TrueDiscovery proteomics platform for immunopeptidome profiling. This is an emerging tool for immuno-oncology research, underpinning the development of more personalized immunotherapies through the identification of cancer-specific neoantigens.
Starting with as little as 15 mg of lung tumor tissue obtained from needle biopsies, researchers were able to identify around 11,000 MHC Class I and 9,000 MHC Class II immunopeptides per sample, including several thousand peptides that were upregulated in the cancer tissues.
Fresh insights across the oncology pipeline
These studies presented at AACR 2022 collectively demonstrate the value of next-generation proteomics across the oncology pipeline, producing fresh insights in the search for novel targets and biomarkers.
Proteomics is also highly valuable in the later stages of oncology research, including for patient stratification and monitoring and companion diagnostics. Supporting the final stage of the journey, Biognosys' TrueSignature platform provides fully customizable proteomic biomarker panels for pharmacodynamic readouts and clinical endpoint monitoring.
As the first global proteomics service provider to be GLP certified for preclinical studies and GCP compliant for clinical studies, Biognosys can support each step of the oncology drug development journey, from discovery all the way through to the clinic.
View and download the AACR 2022 presentation and posters summarized in this article here.