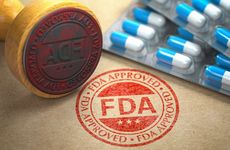 This story has been updated to include information about Ayvakit's wholesale acquisition cost.
NEW YORK – The US Food and Drug Administration has approved avapritinib (Blueprint Medicines' Ayvakit) for unresectable or metastatic gastrointestinal stromal tumors (GIST) harboring a PDGFRA exon 18 mutation.
"GIST harboring a PDGFRA exon 18 mutation do not respond to standard therapies for GIST," Richard Pazdur, director of the FDA's Oncology Center of Excellence, said in a statement. "However, today's approval provides patients with the first drug specifically approved for GIST harboring this mutation."
Approximately 6 percent of GIST patients have PDGFRA exon 18 mutations. Among mutations that occur in exon 18, the D842V mutation is the most common. However, patients with a D842V mutation have limited treatment options. For example, one retrospective study showed that no GIST patients with a D842V mutation responded to imatinib (Novartis' Gleevec).
The agency did not approve the drug with a companion diagnostic to identify patients with PDGFRA mutations. "The FDA approval represents a call to action to conduct mutational testing in all patients with GIST before initiating kinase inhibitor therapy, as recommended by clinical guidelines, so appropriate patients may realize the benefits of this promising new medicine," said Michael Heinrich at Oregon Health & Science University, an investigator on the Phase I NAVIGATOR trial that led to the approval of the drug in this setting.
That study involved 43 patients, all with a PDGFRA exon 18 mutation; 38 of these patients had the D842V mutation. Among those with an exon 18 mutation, 84 percent saw their tumor shrink, with 7 percent experiencing a complete response. In the subgroup with the D842V mutation, 89 percent saw their tumors shrink, and 8 percent had a complete response.
The median duration of response in the study was not reached, since around a third of patients in the trial who are still responding have been followed for less than six months. So far, 61 percent of patients in the trial have responded to the drug for six months or longer.
In the study, patients experienced common side effects, such as edema, nausea, fatigue, and cognitive impairment. The drug can cause intracranial hemorrhage and may require dose reductions. Central nervous system effects with the drug could necessitate temporarily or permanently stopping the drug.
The FDA has granted avapritinib breakthrough therapy, fast track, and orphan drug designations. In reviewing the new drug application for avapritinib, the agency decided to split the indications for the drug into two separate applications: one for patients with PDGFRA exon 18-mutated GIST that the FDA has now approved, and another investigating the drug in fourth-line GIST, where an FDA decision is expected later this year.
In a call with investors Thursday, the company said the drug was priced at $32,000 a month and that they will have a patient assistance program. In early Friday morning trading, Blueprint's stock was up by nearly 3 percent.